House Democrats Add Teacher Money in Bid to Pass Afghanistan War Funding Bill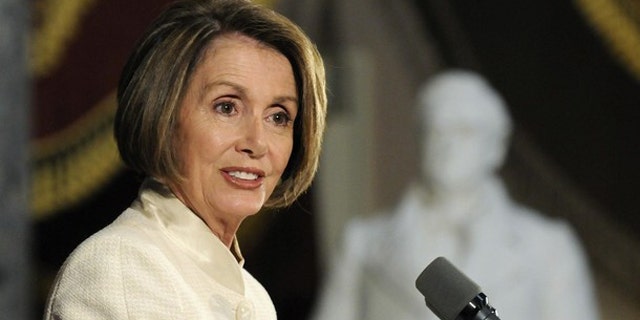 WASHINGTON -- House Democrats, who are trying to pass a long-stalled war funding bill this week, have attached $10 billion to help local school districts avoid teacher layoffs when schools reopen.
The approximately $70 billion measure is anchored by President Barack Obama's $30 billion request for the troop surge in Afghanistan and contains money for disaster aid accounts, foreign aid and disability benefits for Vietnam veterans exposed to Agent Orange.
The bill's release late Tuesday night was the surest signal yet that House leaders are committed to passing it this week, despite great resistance among many Democratic lawmakers and deepening anxiety over the Afghanistan war effort among Obama allies such as House Speaker Nancy Pelosi, D-Calif.
The Senate passed an almost $60 billion version of the bill last month. Successful action by the House would send the measure into negotiations aimed at producing a final measure next month for Obama's signature.
The difficulty in passing the bill in the House is magnified by disagreement between Republicans supportive of the war -- who insist the measure be "clean" of unrelated spending -- and Democrats who want funding for the unpopular war to carry unrelated party priorities. Republicans are threatening to withhold support for the overall package if Democratic add-ons are included.
Democrats such as Appropriations Committee David Obey of Wisconsin, who's deeply skeptical of the Afghanistan effort, are insisting the measure carry billions of dollars in funding to help revenue-starved school boards avoid teacher layoffs. A $23 billion, debt-financed plan has been scrapped over deficit concerns, but has been replaced with a $10 billion "education jobs fund" financed by multiple cuts from prior spending bills, including last year's stimulus bill.
There's also more than $500 million in new money to hire more border patrol agents and pay for other security initiatives along the U.S.-Mexico border -- though $200 million in previously appropriated money for a border fence, popular with Republicans, would be rescinded.
And there's $18 billion in new Energy Department loan guarantees, to be evenly split between nuclear and renewable energy projects.
Defense Secretary Robert Gates has been agitating for the war money, requested in February, but the real deadline for Congress isn't until the August recess.
Part of the delay has been over finding offsetting budget cuts to finance the teacher jobs initiative. The sometimes combative Obey has been wrestling with the White House budget office over the cuts.
The package unveiled Tuesday includes unspent defense funds, as well as money cut from community development and rural Internet projects.