Honduran Ruling Party Officially Wins Presidency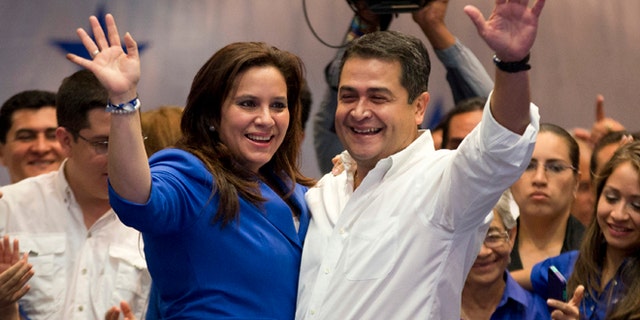 TEGUCIGALPA, Honduras (AP) – Honduras' electoral court has officially declared ruling party candidate Juan Orlando Hernández the winner of Sunday's presidential election, with 80 percent of the vote counted.
Hernández got 35 percent of the votes to 29 percent for his closest challenger in an eight-candidate field, Xiomara Castro, the court said Wednesday. The body already had said Monday that Hernández held an irreversible lead in the count.
Castro reacted to Wednesday's declaration by saying that there was fraud in the election and that she will present the evidence Friday.
She led for months in the polls until Hernández erased her lead by presenting himself as the law and order candidate in an impoverished country with the world's highest homicide rate and much of the cocaine traveling from South America to the U.S.
Castro's husband, former President Manuel Zelaya, was ousted in a 2009 coup, and her campaign was considered his attempt at a political comeback. Castro declared herself the winner Sunday, and the couple has said they don't accept the official results.
The court said there were delays in the count because 20 percent of the vote tallies from the polling stations couldn't be fed into the scanner and needed to be counted by hand. The court expects to have a full count by Friday.
Zelaya said the fraud occurred in that 20 percent.
José Antonio de Gabriel, deputy head of the European Union's team of election observers, said the irregular votes came from all over the country and not from areas that heavily favored Castro.
"They represent the same statistical universe as the votes already counted," he said.
The U.S. State Department issued a statement congratulating "the people of Honduras for their strong participation" in the election.
"We note that Organization of American States and European Union electoral observation mission reports reflect a transparent process," it added.
Follow us on twitter.com/foxnewslatino
Like us at facebook.com/foxnewslatino