Gang Blamed for Honduras Massacre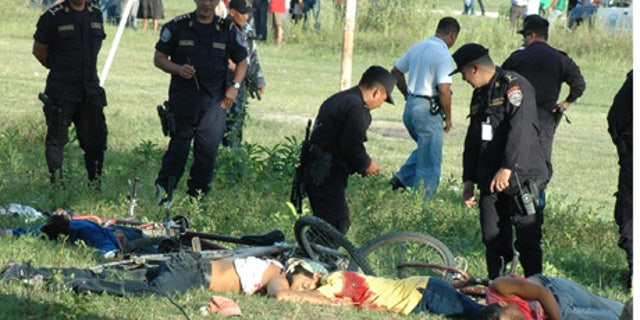 Nine members of the Mara 18 Gang apparently used AK-45 and M-16 weapons to massacre 14 people on a football field in the northern city of San Pedro Sula in Honduras, according to the Vice Minister for Security Armando Calidonio.
Calidonio says the nine killers were apparently gunning for a youth named Froylan, who was one of the eight injured in Saturday's attack. He says the shooting appears to be part of a battle for gang territory in the northern city of San Pedro Sula.
Mass shootings are not uncommon in Honduras and "mara" street gangs are often blamed for rampant violent crime, extortion and drug cartel killings.
Calidonio says that after the shooting, the killers checked each of the bodies — apparently to see if they had gang tattoos or weapons.
The Associated Press contributed to this article.