Holder's legacy: Dems' midterm cash crush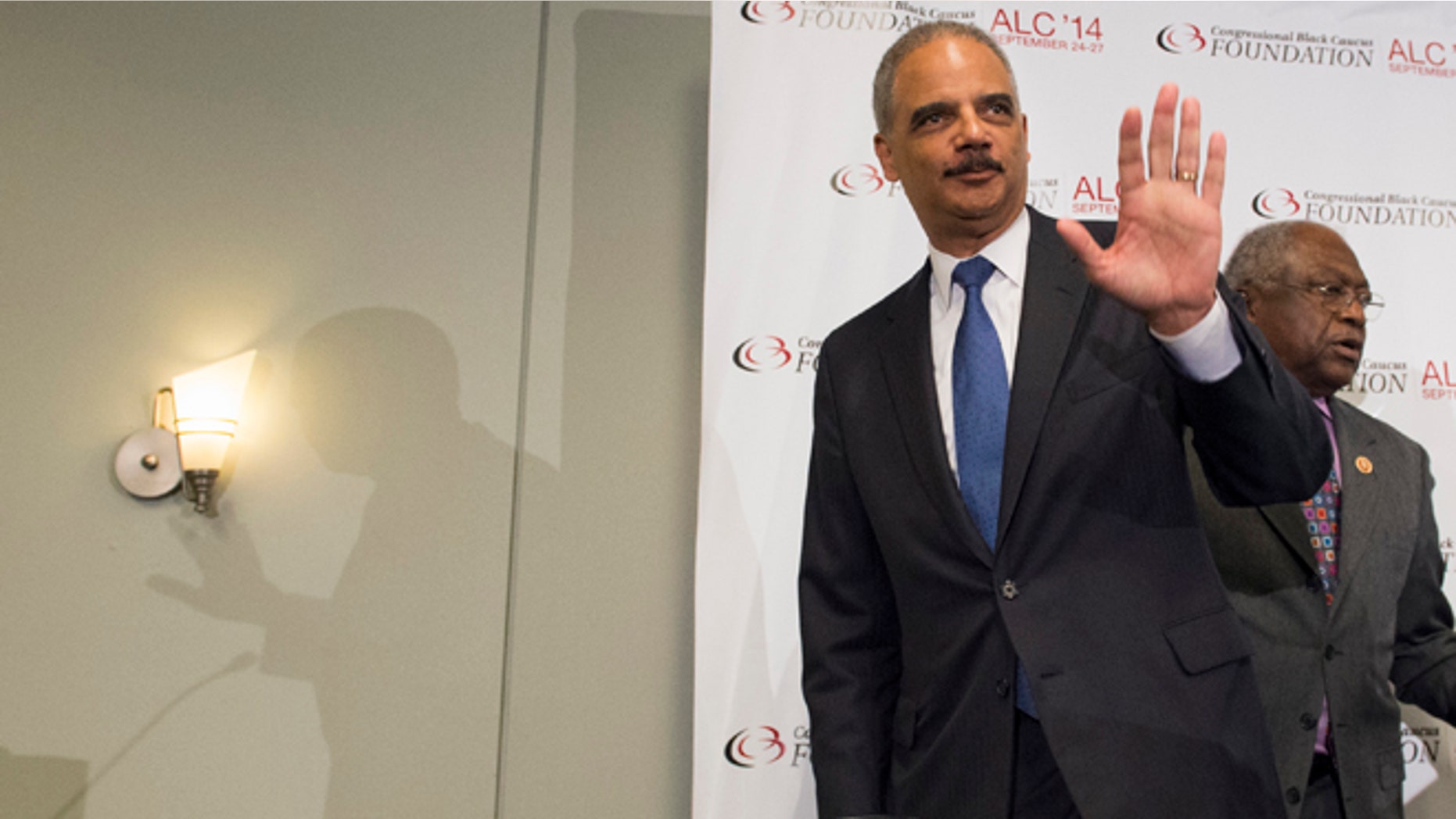 **Want FOX News First in your inbox every day? Sign up here.**
Buzz Cut:
• Holder's legacy: Dems' midterm cash crush
• Wolf looking for revenge with Orman
• Grimes poormouthing draws scrutiny
• Coakley now trails in Globe poll
• On like Donkey Kong
HOLDER'S LEGACY: DEMS' MIDTERM CASH CRUSH
Attorney General Eric Holder's legal legacy will be debated for months and years to come, but his most important political benefaction to his party is on display right now as Democrats continue to crush Republicans in campaign spending for November's midterm election. Republicans have long warned of a "chilling effect" on conservative groups and donors while the investigation into the targeting of President Obama's political enemies by the IRS drags on. And according to key players in two significant conservative political groups, fear of IRS reprisals remains a top concern among anxious donors. "Unions don't worry about this. Harry Reid doesn't worry about this. But our [donors] constantly worry," one operative told Fox News First. "They think about their companies, their families and just the cost of dealing with audits and harassment."

[How will Democrats' spending advantage shape the battle for control of the Senate? Watch Political Pros Joe Trippi and Matt Schlapp discuss on "Power Play with Chris Stirewalt."]

The best bad reputation to have - More than 16 months after the IRS targeting scandal first came to light, there have still been no criminal charges lodged despite revelations of missing evidence, further proof of strong political bias in selecting targets and muddled answers from the agency about cooperating with congressional investigators. Meanwhile, the team Holder tapped to investigate has not exactly inspired confidence about tenacity and impartiality. So rather than resolving the matter, all of the attention to the still-unresolved corruption claims has mostly served to advertise the possibility of political punishment for administration foes. Having a reputation for a corrupt and partisan IRS, deserved or not, is the political equivalent of a football team having a reputation for dirty hits and cheap shots on defense: Whether it's is true or not, the other guys still flinch. Practically speaking, this is a bad reputation that is good to have. And rather than blowing the whistle, Holder has seemed very content to run out the clock.

[California Attorney General Kamala Harris, a favorite of the president and a liberal crusader, has to be considered the frontrunner for the post-election appointment to replace Holder.]

While operatives in pro-GOP groups claim that they will have the cash necessary to help tip control of the Senate, they concede that many donors have simply refused to open pocketbooks with two years still left of the Obama administration. "When you combine it with the kind of public pressure that [billionaire donors Charles and David Koch] have experienced, it's a real consideration, yes," said another operative.

-- 39 days until Nov. 4 --

WOLF LOOKING FOR REVENGE WITH ORMAN
Milton Wolf, who lost tough primary battle with Republican Sen. Pat Roberts, may dish out some political payback by endorsing Roberts' general election opponent, Greg Orman in the key Kansas Senate race. As Wolf weighs the move sources tell Politico, "[T]here's a big catch: To win Wolf's endorsement, Orman must first agree to caucus with the Senate GOP if he were to defeat Roberts…The two men were scheduled to meet Friday afternoon at Orman's house in Olathe, Kansas., just outside of Kansas City, according to two people familiar with the matter. One person said Orman's team sought the meeting but there was no ask for an endorsement. Another source said the meeting may be canceled now that the media have caught wind of it…An endorsement could provoke some sharp GOP backlash for Wolf, too. As Roberts has slipped in the polls, the GOP has made a furious push to showcase a united front behind his candidacy."

[Palin pans Orman - Former Gov. Sarah Palin, R-Alaska, warned the crowd at a pancake breakfast Thursday for Sen. Pat Roberts to be wary of opponent Greg Orman's claim to be an independent. L.A. Times: "'I know independence,' Palin said. 'Supporting Barack Obama, supporting Obamacare, supporting amnesty, supporting Harry Reid? That's not independent. That's someone who's trying to [snooker] ya, Kansas."]

Ambivalence advantage - In his column this week, George Will got into the complicated math surrounding Orman's potential party allegiance:  "If in January there are 51 or more Republican senators and 48 Democrats (counting the two 'independents' who caucus with them), Orman would join the Republicans. If there are 50 Republicans and 49 Democrats, would Orman conduct an auction: What problem-solving agenda would each party outline to engage him to give it control?"

New details renew Roberts' residency woes - Mortgage documents have come to light in the months-long controversy over Sen. Pat Roberts's residency. Topeka Capital Journal: "On Wednesday, records surfaced that Roberts signed a Deed of Trust in 1997 and 2003 for property owned in Alexandria, Va., with his wife, Franki, that contained text about a principal residence. The documents, which include a series of covenants, required Roberts to attest the couple within 60 days of executing the document "shall continue to occupy the property as borrower's principal residence for at least one year after the date of occupancy."

GRIMES POORMOUTHING DRAWS SCRUTINY
An ad from Democratic Senate candidate Alison Lundergan Grimes is raising eyebrows and questions. Washington Examiner: "The ad, called "Proud Man", highlights the Kentucky Democrat's grandparents' struggles to pay medical bills after her grandfather's stroke, and criticizes Grimes' opponent, Senate Minority Leader Mitch McConnell, for votes he's taken on Medicare. "His last ten years, he couldn't speak or work," Grimes says of her grandfather in the spot, "and they could barely afford the medicines." "Our life became something else," Grimes' grandmother says. "No vacations, no retirement." One hiccup: During the time period when Grimes' grandparents were struggling with basic necessities, her politically connected father made some hefty campaign donations and oversaw multimillion-dollar business deals."

PALIN AND MANESS TO DINE ON GATOR
The Times Picayune: "Former Alaska Gov. Sarah Palin will attend a Rob Maness event Saturday south of Marrero in Crown Point. The Maness campaign sent an invitation to its #OneOfUs endorsers, key volunteers and some political figures. The campaign is asking those who attend to bring one truly undecided voter. There's no cost to attend…'Rob's candidacy is confounding the 'experts' and is going to shock the establishment on Election Day, [the invitation reads]' The event will be held at Restaurant des Familles where guests will eat alligator, a throwback to one of Maness' ads released earlier this year where he fights an alligator."

In the Baier's den - "Well, first of all, what I say to that and the people that support me -- and I'm going to win this election just like I won my last ones. We're working very hard in delivering -- you know, is that I've worked with now three presidents and six governors. And I've been able to deliver for this state and for this nation regardless of who is in the White House. And I think that's what people want to see in a senator, particularly today, is a senator that can break through the gridlock and deliver."– Sen. Mary Landrieu, D-La., on Special Report with Bret Baier. Watch here.

POLL: SULLIVAN LEAD GROWING
The latest Republican poll from the U.S. Chamber of Commerce shows GOP Senate candidate Dan Sullivan up by 6 percentage points over Sen. Mark Begich, D-AK. The live-caller survey of 800 likely voters conducted by Dittman Research shows Sullivan leading with 49 percent compared to Begich at 43 percent, with 4 percent responding as undecided.

[The Alaska Dispatch News notes that the latest string of polls show Sullivan leading Begich in the Frontier State's Senate race]

Earthshaking endorsement - Watch the earthquake that rattled Alaska during a press conference announcing the backing of Sullivan by the Chamber of Commerce.

POWER PLAY: PICK SIX
With less than 40 days left to go in the Republican quest to pick up six seats and gain control of the Senate, former Howard Dean campaign manager Joe Trippi and American Conservative Union Chairman Matt Schlapp take us thourgh their pick six lists in today's edition of Power Play Political Pros. An added bonus: Trippi and Schlapp discuss the potential to flip bubble states Iowa and Alaska. Which blue seats are the most vulnerable in this year's midterms? Here are the top picks among Fox News First readers: Arkansas (13.6%), Montana (12.9%), West Virginia (12.1%), Louisiana (11.8%), South Dakota (11.7%) and North Carolina (8.8%).

Knocking at the pick six door - Alaska (8.5%), Iowa (5.7%), Colorado (3.7%) Reader Jim Hartman from Genoa, Nevada agrees with Fox News First readers' bubble state voting, saying the GOP needs at least one "…Iowa or Colorado as 'insurance' against a possible loss in Kansas."

Share your top six picks – just your top six please – to FOXNEWSFIRST@FOXNEWS.COM or tweet @cstirewalt.  And feel free to offer your analysis of the Senate landscape. We share the best submissions here.

HAGAN, TILLIS DIFFER ON ARMING REBELS
Fayetteville [North Carolina] Observer: "[Sen. Kay Hagan, R-N.C., and GOP challenger Thom Tillis] said this week that they support the airstrikes on extremists in Syria and Iraq….While the two candidates agree that the strikes are a necessary tactic, they differ on legislation approved by Congress last week to arm 'moderate' Syrian rebels…. 'We've got to know who these people are and make sure that if they (the weapons) go anywhere, they don't get into unfriendly hands,' [Tillis] said.…'Airstrikes alone will not destroy ISIS, and that's why I supported the bipartisan plan that passed the Senate last week to begin training and arming the moderate Syrian rebels," [Hagan] said in the statement provided by her office."
VETS LAUD ERNST'S SERVICE
Iowa Republican Senate candidate Joni Ernst touts her military service in Iraq in radio and television ads featuring testimonials from fellow veterans. In the radio ad, a former Iowa National Guard soldier says, "She puts people and their priorities ahead of her own. She looks out for everybody." In the TV ads, soldiers tell of Ernst's leadership during their deployment together. In the first ad, a retired Sgt. Major Chris Fox says, "We were getting ready to deploy to Iraq, Joni said the most important thing we can do for these soldiers, we can bring them all home alive and that's what she did." The second TV ad hits back at the attacks aimed at Ernst. "It's upsetting to see these attack ads against her because I know they're completely false," Iraq war veteran William Jacoby says. "They don't know her at all."

CAPITO HITS TENNANT'S JOB PERFORMANCE
Rep. Shelley Moore Capito, R-W.Va., hones in on Democrat Natalie Tennant's record in state, in this latest ad challenging Tennant's priorities and focus on her job, saying "But the job we hired Tennant for? Ballot printing errors that cost tax payers a fortune, leaked social security numbers, a private conference line, a 475K dollar mistake. Before asking for a promotion…Shouldn't Tennant do a better job at the one she has?"

DEMS ATTACK PERDUE ON WOMEN'S ISSUES
Georgians Together, the super-PAC backing Democrat Michelle Nunn, is out with its first ad, attacking Republican candidate David Perdue's background on equal pay and women's health, saying, "Candidate Perdue opposes laws that provide equal pay protections for women, and Perdue supports rolling back the clock, on women's healthcare, David Perdue, Georgia women just can't trust him. Michelle Nunn, Georgia women can always trust her."

WITH YOUR SECOND CUP OF COFFEE...
Overnight, a Russian Soyuz spacecraft successfully docked with the International Space Station with one American astronaut, Barry Wilmore, and two Russian cosmonauts, Alexander Samokutyaev and Elena Serova, the first Russian female cosmonaut in orbit since 1997, on board. Given the dreadful relations between Russia and the U.S., it might help to brush up on space law and the Outer Space Treaty. Yes, there is such a thing, thanks to the United Nations Office for Outer Space Affairs. The treaty was drafted during the height of the space race in 1966 was entered into force the following year. Among other principles, the treaty states that "the moon and other celestial bodies shall be used exclusively for peaceful purposes," "states shall be liable for damages caused by their space objects" and "states shall not place nuclear weapons or other weapons of mass destruction in orbit or on celestial bodies or station them in outer space in any other manner."

Got a TIP from the RIGHT or LEFT? Email FoxNewsFirst@FOXNEWS.COM

POLL CHECK
Real Clear Politics Averages
Obama Job Approval: Approve – 41.4 percent//Disapprove – 53.6 percent
Direction of Country: Right Direction – 26.8 percent//Wrong Track – 64.8 percent
Generic Congressional Ballot:  Democrats – 42.5 percent// Republicans – 46.5 percent

COAKLEY NOW TRAILS IN GLOBE POLL
In the latest poll from the Boston Globe, Republican gubernatorial candidate Charlie Baker is gaining momentum among likely voters over Democrat nominee Attorney General Martha Coakley. Baker sits at 40 percent of the vote, a gain of 4 percentage points from last week's poll, compared to Coakley's 38 percent.  Baker's favorability rating climbed 6 points to 51 percent, 5 points higher than Coakley.

IT'S 2016 ALREADY
Rubio getting to S.C. a day ahead of Jeb - Potential 2016 contender Sen. Marco Rubio, R-Fla., will head to Greenville, S.C. on Oct. 22 to boost his conservative bona fides at a private fundraiser for the influential Palmetto Policy Forum, a group with strong ties to former Sen. Jim DeMint, now the head of the Heritage Foundation. Rubio will also be attending a fundraiser for the South Carolina GOP the same day. His political mentor, fellow Floridian and possible 2016 rival former Gov. Jeb Bush, was already scheduled for a closed-door fundraiser for S.C. Gov. Nikki Haley the following day in Columbia.

Ryan to stump in Texas - Houston [Texas] Chronicle: "Congressman Paul Ryan will raise money Friday morning in Houston for Will Hurd, the Republican candidate in the sole competitive congressional election in Texas. Hurd is locked in a tight race with Pete Gallego, a freshman congressman who represents a West Texas district that spans 800 miles of border from El Paso to San Antonio."

Very interesting: Pfeiffer praises Rand - Buzzfeed:  "Sen. Rand Paul, R-Ky., is the most interesting Republican in the country, and the only one with a long-term vision that could threaten Democrats' coalition…Dan Pfeiffer, the top communications adviser to President Obama, argued Paul has a defined vision with a real appeal… if not the organization to take advantage of it…'The Republican I find most interesting is Rand Paul, and the reason I say that is he is the only Republican who seems to know about what their long-term structural problems are and trying to do something about it'…"

OBAMA'S MUTUAL MEDIA ADMIRATION SOCIETY
Asked by Buzzfeed what kind of news the president consumes, Senior White House adviser Dan Pfeiffer said that the New York Times was at the top of the stack and that the president disdained televised news. But Pfeiffer got specific and name-dropped several pro-administration writers, according to Capital New York: "'[President Obama] reads a lot of sort of opinion writers online, including a lot of people he thinks are smart, including [Vox's] Ezra Klein, [The Dish blogger] Andrew Sullivan and [New York's] Jonathan Chait,' Pfeiffer said."

[Midterm media update - This week, "#mediabuzz" host Howard Kurtz welcomes Roll Call's Christina Bellantoni, and Bob Cusack and Elise Viebeck from The Hill. Watch Sunday at 11 a.m. ET on the Fox News Channel, with a second airing at 5 p.m.]

WITHERSPOON'S STAR POWER
"Fox News Sunday with Chris Wallace" hosts Sen. John Barrasso, R-Wyo., and Angus King, I-Maine to discuss the campaign against ISIS. And, Chris features Power Player of the Week Reese Witherspoon discussing her latest project, "The Good Lie," in which her character comes to the aid of refugees of the Sudanese civil war. "Fox News Sunday with Chris Wallace" airs at 2 p.m. and 6 p.m. ET on Fox News. Check local listings for air times in your area.

AFTER YOU SMOKE IT, THE STATE SEEMS HUUUUGE…
Anne Armstrong, running as a write-in candidate for Rhode Island governor, seems very serious in her new campaign ad and wants you to know that marijuana "doesn't make people crazy." In fact, she uses it every day, cooking it into food, using it as medicine, as a dietary supplement "and yes, [she does] smoke cannabis, and yes, [she does] inhale." Just in case you do not believe her, Armstrong ends her ad lighting up a glass pipe brimming with ganja and closes with the sound of her deep exhalation off camera.

ON LIKE DONKEY KONG
A Polish zoo separated a very amorous pair of donkeys after public complaints and political pressure, AP reports. The animals, Napoleon and Antosia, had been together for 10 years and produced 6 progeny, but mothers of the human kind raised concerns that their children were too often bearing witness to, ahem, Napoleon's conquests. In response to the outrage, local official Lydia Dudziak, took up the campaign to separate the animals. After just a week apart, though, the two forlorn lovers were reunited, thanks in part to a social media campaign that resulted in nearly 7,000 signatures on a petition and nearly 10,000 likes on several Facebook pages.

AND NOW, A WORD FROM CHARLES…
"He has politicized the office in a way that I think many of us – liberal and conservative – will in the future regret…When you are the Attorney General of the United States, you have to subordinate that to what the law is, and he hasn't done that." – Charles Krauthammer on "Special Report with Bret Baier" Watch here.

Chris Stirewalt is digital politics editor for Fox News.  Want FOX News First in your inbox every day? Sign up here.