Gulp: Connecticut governor pushes back on chocolate milk ban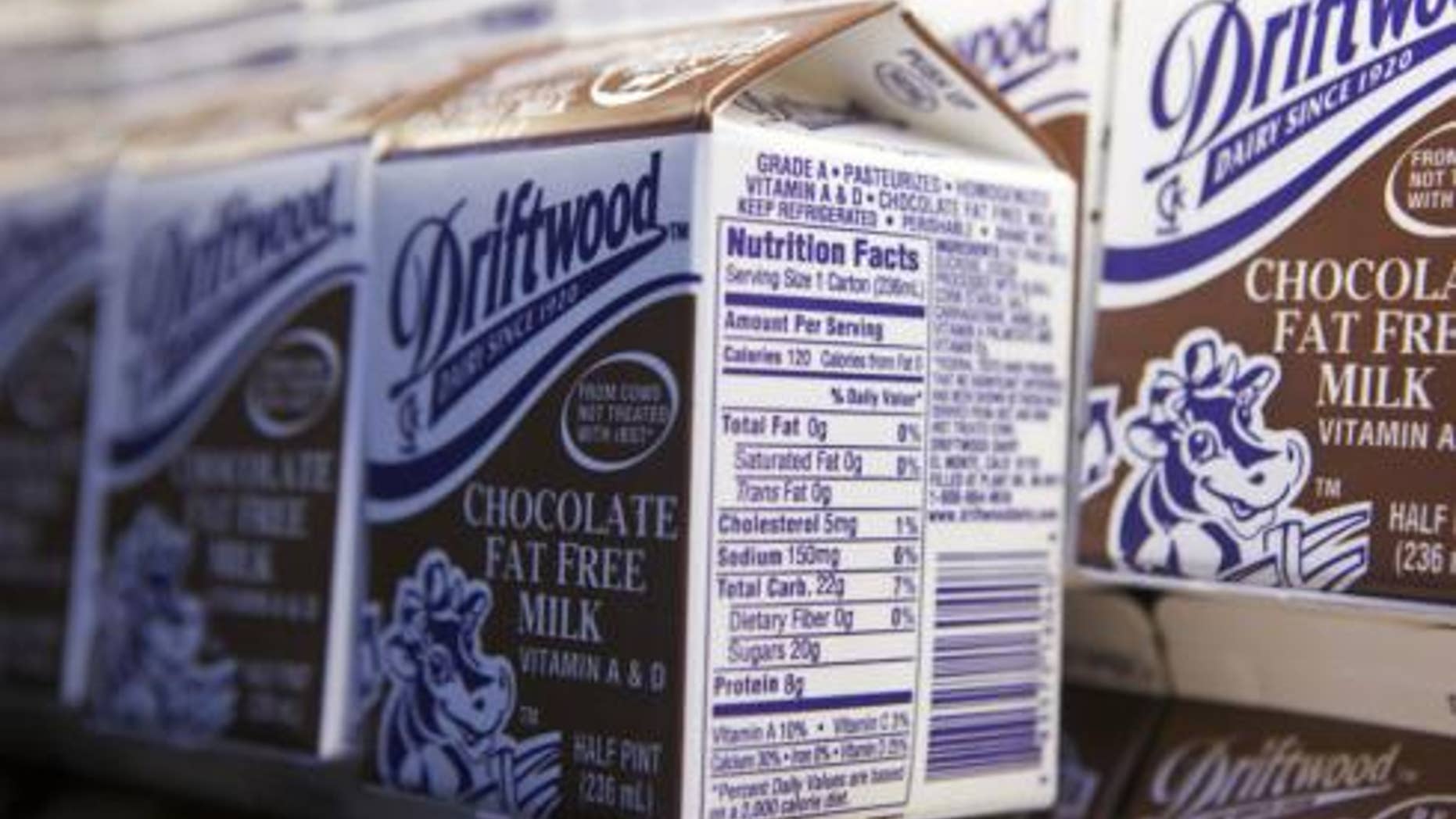 A ban on chocolate milk may be too much for the governor of Connecticut to stomach.
The state General Assembly earlier this week approved nutrition legislation that threatened to remove chocolate milk from public schools. But, drawing a line in the sand in the nanny-state debate, Democratic Gov. Dannel Malloy announced Friday that on the matter of lactose legislation -- he is intolerant.
"This specific bill has not yet come to the Governor's desk and will be reviewed in detail when it arrives," Malloy spokesman Andrew Doba said in a statement. "However, on the broader topic at hand, the Governor is not supportive of banning chocolate milk in public schools. While we must be extremely mindful of the nutritional value of what's offered to students, ensuring an appropriate array of options helps to ensure that kids received the calcium and other nutrients they need."
There's still some confusion surrounding the bill.
The legislation was intended to decrease the sodium in beverages served to young students as a way to combat the nation's growing obesity epidemic.
It was amended to state that no drinks with added sodium would be allowed. Chocolate milk, incidentally, typically contains 60-90 milligrams of added salt, according to experts, though it's not considered a high-sodium beverage. The sodium is added to neutralize the bitterness of the cocoa.
Chocolate milk was not the intended target of the legislation, but was likely to be affected. The ban, if passed, would have made Connecticut the first state in the country to eliminate chocolate milk from its public schools. (In 2010, the district serving Virginia's Fairfax County also banned chocolate milk, but the beverage was reportedly reinstated a year later in school cafeterias — though solely low-fat varieties and those without high-fructose corn syrup.)
Trish Molloy, president of the School Nutrition Association of Connecticut, told FoxNews.com her organization was in "total agreement" with Malloy, adding that she had no indication the ban was ever going to actually materialize.
[pullquote]
"The intent was never to eliminate chocolate milk," she said. "We all support the position that kids drinks more milk when flavored milk is available."
She said the "small amount" of sodium that is in chocolate milk is there "for a reason."
"We're still waiting [for] the final outcome, but we're confident it will be resolved," she said.
The state's legislature may pass a revised version of the bill next year if the governor does indeed veto it, Molloy said.
Studies indicate that overall milk consumption plummets by at least 35 percent when chocolate milk is eliminated from school menus, Heidi Harkopf of the New England Dairy and Food Council told The Hartford Courant.
Like its plain counterpart, flavored milk is a rich source of calcium, protein, vitamin D, vitamin A, potassium and niacin. Each eight-ounce serving of plain or flavored milk provides 300 mg of calcium, as much as one-fourth of the daily calcium requirement for children, according to the National Dairy Council.
"Flavored milk is a healthful, nutrient-rich product for schools and wellness policies and is the most popular milk choice among school children," a 2009 National Dairy Council report reads. "Since most of the flavored milk consumed in schools is low-fat or fat-free, its presence in schools may be helping children transition to consuming lower fat milk."