Group starts state-level push to cut off funds to Iran-tied companies, as deal nears vote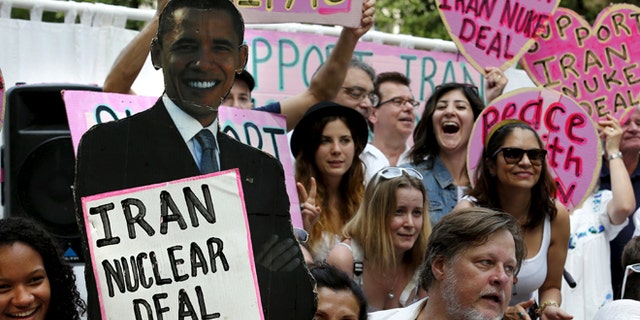 Current and former state officials are launching a new push to keep state tax dollars from going to companies that do business with Iran and other countries that sponsor terrorism, even as the Obama administration locks down support in Congress to preserve the controversial Iran nuclear deal.
Organizers of the Defund Iran group announced the state-level push on Tuesday. They made clear that their announcement was timed with Congress' imminent debate on the Iran nuclear deal. While enough Democrats have endorsed that deal in Congress to virtually ensure it survives a looming vote, Defund Iran wants to shift the debate to the state level.
"We know Iran is the biggest sponsor of terrorism," said group National Chairwoman Sarah Steelman, a former Missouri state treasurer. "This puts the power into the hands of the American people. It gives citizens the chance to vote."
Arizona, Colorado, Florida, Missouri and Ohio already have such laws or policies in place barring tax dollars from going to companies doing business with terror sponsors.
Defund Iran plans to target 15 additional states by the end of the month to make similar changes, with the longer-term goal of getting a related proposed amendment on as many as 25 state ballots by the November elections.
Group organizers say they were spurred into action by a passage in the 195-page-long Iran nuclear deal, formally known as the Joint Comprehensive Plan of Action.
"If a law at the state or local level in the United States is preventing the implementation of the sanctions lifting … the United States will take appropriate steps, taking into account all available authorities, with a view to achieving such implementation," reads the passage.
Steelman told FoxNews.com the group thinks the passage is directed at existing state laws that keep their tax dollars from countries with state-sponsored terror groups.
However, she acknowledged not knowing to what extent the administration might go.
"Think about that statement," she said. "Can you imagine the Justice Department coming after states?"
She estimated the economic impact of the group's effort could be in the low billions, considering pension funds across the country total roughly $4 trillion.
Group Co-Chairman Steve Montenegro, the majority leader in Arizona's GOP-run House, also said the passage raises concerns.
"This is something not seen out of this administration," he said. "And I'm used to seeing the federal government sue the state of Arizona."
The White House on Tuesday referred a request for comment to the Treasury Department, which did not immediately respond.
The nuclear deal was signed July 14 by Iran, the United States, Britain, China, France, Germany, Russia and the European Union. It eases billions of dollars in crippling economic sanctions on Iran in exchange for the rogue nation curtailing its nuclear development program.
Defund Iran organizers say they are specifically concerned about tax dollars going to defense- and energy-related companies that do business with the Iranian government.
"As a former JAG officer and military war veteran, I've seen the destruction and impact of terrorism," said Mark Waller, a group co-chairman and former Colorado House minority leader.
Organizers told FoxNews.com the ballot initiative seeks to pass state laws or constitutional amendments, or "codify" existing laws.
Colorado and Ohio, for example, have only a policy on their books. The group argues there is "tremendous support" for such ballot measures, citing a mid-August survey by conservative-leaning McLaughlin & Associates that shows roughly 70 percent of respondents, including 60 percent of Democrats, would back such an effort.
"This is one of those issues that will bring together Democrats, Republicans and Independents," said Ohio Treasurer Josh Mandel, an Iraq War veteran and another honorary national chairman for the group.
FoxNews.com's Joseph Weber contributed to this report.