Group of GOP Hopefuls Still Indecisive on 2012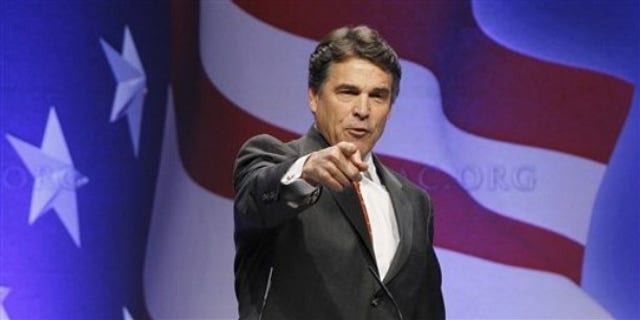 NEWYou can now listen to Fox News articles!
Indecision rules the day among a group of Republicans who haven't formally announced their intention to run for the GOP nomination.
Republican Texas Gov. Rick Perry is flirting with GOP voters, unwilling to say whether or not he'll make a run for the White House in 2012. But he sure sounds like a man itching to take on the current president.
At a speech in New York Tuesday night, Perry said President Obama has exhibited "abysmal leadership." Perry railed on the administration's strategy on job creation and accused the president of openly engaging in redistribution of wealth.
So far, Perry has declined to provide any sort of timeline for his 2012 decision, but says there is still "plenty" of time.
Larry Sabato, director of the University of Virginia Center for Politics, says Perry is savvy enough to see a potential opening.
"He's been in politics long enough to see a vacuum and to know how to fill it," Sabato said.
And a group of Arkansas state lawmakers agrees. They've formed a group called "Arkansans for Perry" and sent him a letter saying, "Your country needs you now."
They're not the only state-based coalition pushing a favored non-candidate. In South Carolina, a number of GOP lawmakers are calling on New Jersey's Republican Gov. Chris Christie to throw his hat into the 2012 ring.
For months, Christie has been insisting that he will not pursue the presidency in 2012. "I'm 100 percent certain I'm not going to run," Christie stated in a Tuesday night interview with CNN.
Christie's fans may take some consolation in the fact that he did not unequivocally rule out a 2016 run.
A number of candidates like Mike Huckabee and Donald Trump have announced that they are not running in 2012 but seemed to backtrack in recent weeks.
Sabato says it's not out of the realm of possibility one of them could make a return.
"All it takes is for a candidate to wake up one morning and say, 'You know, I think I'll run after all,'" Sabato said.
He added that sometimes the indecision is about changes in political conditions and sometimes it's a shift in a candidate's personal life.
However, Sabato doesn't think anyone will change Christie's mind this time around. "I've listened to him enough so that he's convinced me."