Greene's South Carolina Primary Foe Points to 'Oddities' in Election Results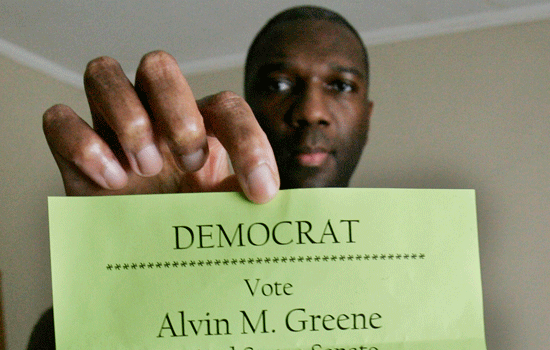 The South Carolina Democrat who lost the state's U.S. Senate primary in shocking fashion this week is now having experts take a closer look at the results after his campaign found some "oddities."
The Senate campaign of Vic Rawl, a four-term state lawmaker and former judge, told FoxNews.com that it has found two major irregularities in his defeat at the hands of Alvin Greene, an unemployed military veteran who is facing a felony charge for allegedly showing a college student pornography.
Greene performed better in Election Day voting than in absentee voting, and he received a majority of votes in more than 300 precincts, a most unusual result, Rawl's campaign argues.
"Bear in mind, we don't know what it means," said Rawl campaign manager Walter Ludwig, who sent the data to academic experts Thursday night. "We don't know what happened. We're not saying anything happened. We hope nothing happened."
Ludwig said the experts will see whether there are more irregularities in the results.
Greene, who has called himself a "legitimate candidate," could not be reached for comment for this story.
He won Tuesday with nearly 59 percent of the vote to Rawl's 41 percent, receiving more than 100,000 votes in the state's 46 counties.
But the election data showed that Greene fared worse in absentee voting than election day, when he performed at least 20 percent better in 10 counties and 43 percent in one, Ludwig said.
In another county, Rawl won the absentee vote count, 80 to 20 percent, but went on to lose to Greene by a margin of 60 to 40 percent, Ludwig said, adding that in other state races, the differences between absentee ballots and election day votes were very small and could be explained away by chance.
In that county of Lancaster, Greene received 81 absentee ballots compared to 424 for Rawl, according to the certified results. On Election Day, Rawl won the county with 1,026 votes to Greene's 944. But if the absentee ballots are subtraced, Greene received 861 votes to Rawl's 602.
A second irregularity that Rawl's campaign found was that Greene got more than 75 percent of the vote in 303 precincts, Ludwig said.
"That's pretty unusual even when you have a well-known incumbent being challenged by anyone," he said.
But the South Carolina Election Commission said there was nothing unusual about the results.
"We received the votes we received," said Gary Baum, director of training and public information for the commission. "They came in proper."