South Carolina Investigating Alvin Greene's Primary Election Win, Dems Say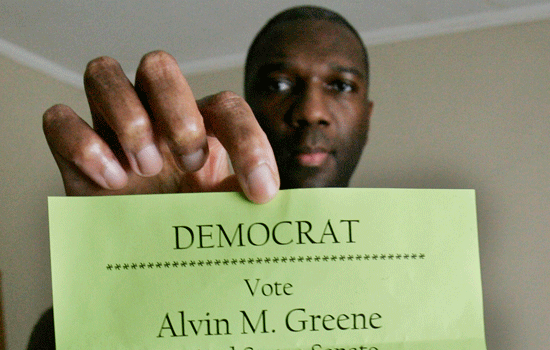 South Carolina authorities have launched an investigation into Democratic nominee Alvin Greene's Senate candidacy and surprise primary win, a state Democratic Party official told FoxNews.com, but law enforcement authorities have yet to confirm the investigation.
Keiana Page, a spokeswoman for the South Carolina Democratic Party, told FoxNews.com that state authorities launched the investigation Friday at the request of an unknown person. Neither she nor a law enforcement spokeswoman could provide details about what is being reviewed.
The law enforcement spokeswoman, Jennifer Timmons of the South Carolina Law Enforcement Division, or SLED, told FoxNews.com that she wasn't sure whether an investigation had been launched or a request for one had been sent. She said she was tracking that information down. But she added that a request for an investigation doesn't automatically lead to one.
On Thursday, House Majority Whip Jim Clyburn, D-S.C., called on federal authorities to launch a probe into how Greene, an unemployed military veteran, entered and won the state's Democratic primary for U.S. Senate without party support and little campaigning.
Greene, who has called himself a "legitimate candidate," could not be reached for comment for this story. Clyburn's office did not respond to a request to comment on the latest developments in South Carolina.
Greene, 32, stunned the Democratic Party establishment Tuesday night when he handily defeated Vic Rawl, a four-term state lawmaker and former judge, for the party's nomination. Rawl, who had campaigned little but already raised $186,000, was forced to scrap a fundraiser planned for Thursday night.
Greene has not yet reported any fundraising, run any ads or put up signs or a website in his challenge of Republican U.S. Sen. Jim DeMint. Greene had been considered such a long shot that neither his opponent nor the media bothered to check his background, which includes a November arrest on a charge of felony obscenity.
Greene, who says he left the military last August after 13 years in the Army and Air Force, has said he paid the $10,440 filing fee by saving up two years of his service pay.
Clyburn has suggested Greene is a Republican plant. On Thursday, he said he was skeptical Greene paid the fee himself and demanded that federal authorities investigate where the money came from. Clyburn notes that state law makes it illegal for candidates to let someone else pay their filing fee if their candidacy is intended to damage another candidate.
Party officials asked Greene to sit out of the race after reports surfaced that he faces a felony charge, which stems from a University of South Carolina student's complaint that he showed her a pornographic website, then talked about going to her room at a university dorm.
But Greene insists he's staying put.
"I am a legitimate candidate," Greene said Thursday, in response to questions about Clyburn's investigation request. "There's no need for it."
Greene would be required to report campaign spending to the Federal Election Commission, which regulates federal campaign finances. But the cash for the filing fee itself is given directly by candidates to the state party they wish to represent, and that money isn't subject to FEC filing requirements, officials with the agency said Thursday.
That answer doesn't satisfy Clyburn, who suspects there is more to be learned about Greene's pursuit. Clyburn also raised concerns about the possibility of a whisper campaign to encourage voters to pick the ballot's first name, which happened to be Greene's. He wants anything "untoward" in the race to be investigated.
"He's been paid to stay in it, by somebody," Clyburn said. "I just think this is a ploy by someone to dishonor and embarrass the Democratic Party."
The Associated Press contributed to this report.