Graham, Schumer offer immigration plans, as reform becomes hot post-race issue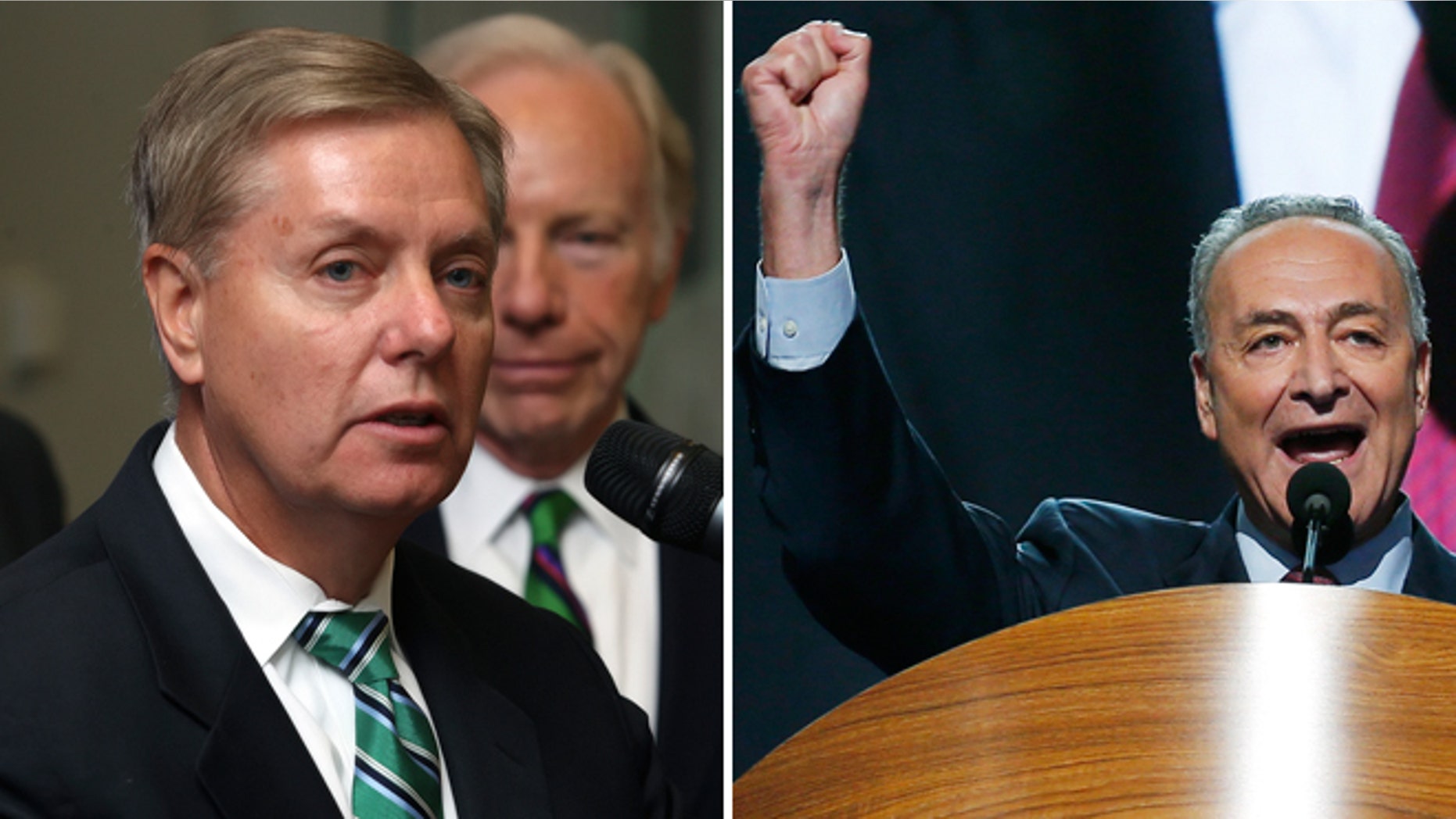 A top Democratic and a Republican lawmaker on Sunday each presented a similar plan for comprehensive immigration reform that would offer a path to citizenship for an estimated 11 million illegal immigrants in the United States -- but not until the country secures its borders.
Sens. Chuck Schumer, D-N.Y., and Lindsey Graham, R-S.C., discussed their proposals on separate morning talk shows -- just days after President Obama won re-election with more than 70 percent of the Latino vote.
Schumer said he and Graham have resumed talks on immigration policy that broke off two years ago.
He said on NBC's "Meet the Press" that they have put together a "comprehensive detailed blueprint" that has "the real potential for bipartisan support"
The plan is based on the assumption that most Americans are for legal immigration but "very much" against illegal immigration, said Schumer, chairman of the Senate Judiciary subcommittee on immigration, refugees and border security.
However, Graham made no mention of Schumer in presenting his proposal, in which applicants would begin the process by emerging from the "shadows" to pay a fine, then start paying taxes.
He said applicants also must learn to speak English and that they would have to "get in the back of line," which could mean the process for receiving a green card could take decades.
"They can't cut in front of the line regarding people who are doing it right," Graham said on CBS' "Face the Nation."
In the aftermath of the election Tuesday, Republican leaders have begun examining ways to bring Hispanics into the party. They made up 10 percent of the electorate in 2012, compared to 9 percent in the 2008 presidential election cycle.
A spokesman for the Republican National Committee told Fox News on Saturday that Chairman Reince Priebus has ordered a "full analysis" of the 2012 election cycle that will focus on why the party failed to connect with female, independent and younger voters, but more specifically Hispanics.
Obama helped his chances of winning the Hispanic vote in re-election when he said in June that the U.S. would suspend deportation for hundreds of thousands of young illegal immigrants brought to this country as children by their parents.
On Friday, House Speaker John Boehner, R-Ohio, said it was time to address immigration policy. He urged Obama to take the lead in coming up with a plan that would look at improved enforcement of immigration law and the future of the millions living in the country illegally. Boehner, however, did not commit to the citizenship issue.
Graham said that the "tone and rhetoric" Republicans used in the immigration debate of 2006 and 2007 "has built a wall between the Republican Party and Hispanic community," causing Hispanic support to dwindle from 44 percent in 2004 to 27 percent in 2012.
"This is an odd formula for the party to adopt, the fastest growing demographic in the country, and we're losing votes every election," he said. "It's one thing to shoot yourself in the foot, just don't reload the gun. I intend not to reload this gun when it comes to Hispanics. I intend to tear this wall down and pass an immigration reform bill that's an American solution to an American problem," he said.
Both senators said the overhaul would include developing a secure document to assure employers they're hiring people authorized to work in the country, and allowing legal immigration for needed workers at all skill levels.
Each path to citizenship would require immigrants to learn English, go to the back of the citizenship line, have a job and not commit crimes.
Graham said the overhaul would have to be done in such a way that "we don't have a third wave of illegal immigration" 20 years from now.
"That's what Americans want," he said. "They want more legal immigration and they want to fix illegal immigration once and for all."
In exit polls on Tuesday, the Associated Press found 65 percent favored offering most illegal immigrant workers in the United States a chance to apply for legal status, more than double the number who said most should be deported.
Even among Republicans, the party associated with crackdowns on illegal immigration, about half favored a path toward staying in the U.S.