GOP Hall of Famer Dole to stump for incumbent Sen. Roberts in home state Kansas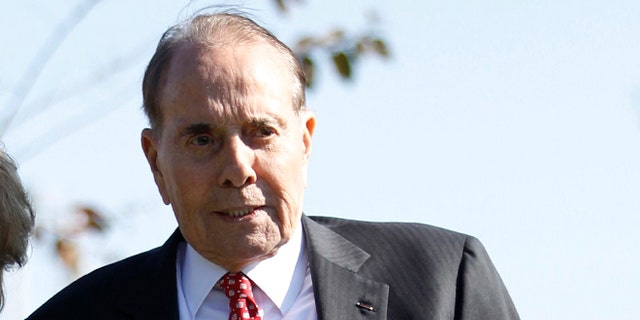 The campaign for incumbent Kansas GOP Sen. Pat Roberts is reaching into the GOP hall of fame to try to win a tight race and help the party take control of the Senate -- bringing 91-year-old Bob Dole on the trail.
The former 1996 GOP presidential nominee and Senate majority leader from Kansas will also purportedly participate in a TV ad for Roberts, as first reported by ABC News.
The 78-year-old Roberts, seeking a fourth term, is involved in one of the toughest and most unusual races of the midterm cycle.
On Thursday, the Kansas Supreme Court ordered Democratic nominee Chad Taylor's name to be removed from the ballot.
The court's decision leaves Democrats without a nominee, potentially making it easier for independent candidate Greg Orman to defeat Roberts.
The GOP is counted on Roberts winning re-election on Nov. 4 as they try to win a net total of six Senate seats to take control of the upper chamber.
Robert, who survived a tough Tea Party-backed challenge in the party primary, continues to defend against criticism he is a Washington insider who is now out of touch with Kansas voters.
Taylor withdrew from the race to avoid a split of anti-Roberts votes. But Republican Secretary of State Kris Kobach, who backs Roberts, declared that Taylor didn't fully comply with a state election law in submitting his letter of withdrawal.
The Supreme Court says Taylor's formal letter was sufficient.
"The battleground for control of the Senate is now Kansas," Dole told ABC News. "I think Roberts is going to win."
Dole, now living in Washington, is the longest-serving Republican leader in Congress and is returning to Kansas next week for the latest of several planned trips to his home state this year.
The trip is part of a homecoming tour to greet longtime friends and supporters throughout the state. Dole spends an hour at each stop, chatting with fans and old acquaintances.
Next week's trip is Dole's eighth of the year and will take him to southwest Kansas. The tour begins the evening of Sept. 22 in Dodge City, with stops in Kinsley, Greensburg, Ashland, Meade and Liberal the following day.
On Sept. 24, Dole will visit Hugoton, Elkhart, Johnson City and Ulysses. He plans to conclude the tour Sept. 25 with stops in Satanta and Cimarron.
The Associated Press contributed to this report.