GM Has Chance to 'Rise Again' Under Restructuring, Obama Says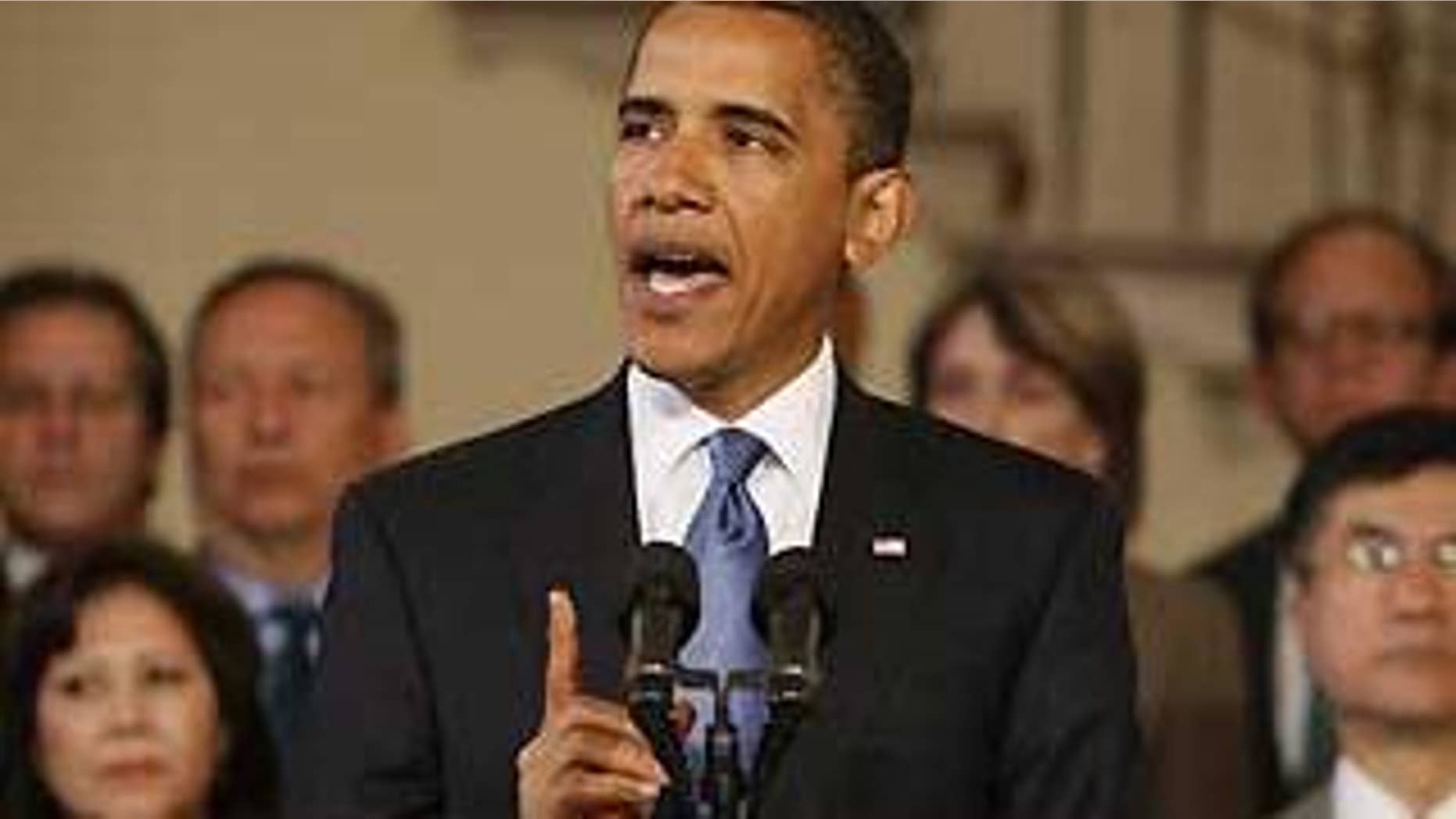 President Obama said Monday that the federal government wants to fix General Motors quickly and then get out of the auto business, as the Detroit legend filed for Chapter 11 bankruptcy protection and the government prepared to pump another $30 billion into the company.
"Our goal is to help GM get back on its feet ... and get out quickly," Obama said.
The president defended the White House-engineered restructuring plan and the additional government investment just hours after the troubled automaker filed for bankruptcy in New York.
Though critics of the plan worried that the administration had no exit plan for its intervention, Obama said the government would act as "reluctant shareholders" and that he has "no interest" in running GM. He said the proceedings, though painful for all stakeholders, would "mark the end of an old GM and the beginning of a new GM."
"What we have then is a credible plan that is full of promise," Obama said.
He called the restructuring a "viable, achievable plan that will give this iconic American company a chance to rise again."
GM's bankruptcy filing is the fourth-largest in U.S. history and the largest for an industrial company. The company said it has $172.81 billion in debt and $82.29 billion in assets.
Under the plan, GM would eventually have 50 percent fewer liabilities and far fewer product lines. The $30 billion government infusion is on top of about $20 billion in taxpayer money GM already has received in the form of low-interest loans.
Obama assured consumers looking to purchase GM vehicles that their warranties would be safe and government-backed. He defended the government intervention as essential, linking the health of the auto giant to the health of the U.S. economy. And he defended the government's decision to take such a large ownership stake in the company -- estimated at 60 percent.
"Instead of taking so much stock in GM, we could have simply offered the company more loans. But for years, GM has been buried under an unsustainable mountain of debt. And piling an irresponsibly large debt on top of the new GM would mean simply repeating the mistakes of the past," he said.
GM CEO Fritz Henderson said a "new GM" would emerge from the proceedings with far less debt, competitive labor costs and a "sustained and positive bottom line."
Senior administration officials, who declined to speak for attribution, said the U.S. government will be a "passive" investor but will oversee operations at the new GM because "the taxpayer will want us to."
Not one of Obama's senior economic advisers could or would venture a guess as to when taxpayers would see a return on the massive, White House-engineered investment.
"We're not here to predict," a senior official said when asked about any timeline for taxpayer payback.
Advisers were more certain about GM's future access to the taxpayer till -- it's over.
"One never says never, but this is it in terms of support for GM," a senior official said.
GM will follow a similar course taken by Chrysler LLC, which filed for Chapter 11 protection in April and hopes to emerge this week from its government-sponsored bankruptcy as Chrysler Group LLC.
The plan is for the federal government to take a 60 percent ownership stake in the new GM. The Canadian government would take a 12.5 percent stake, with the United Auto Workers getting a 17.5 percent stake and unsecured bondholders receiving 10 percent. Existing GM shareholders are expected to be wiped out.
The downsized GM brands will be limited to Chevrolet, Cadillac, GMC and Buick. Its Pontiac, Saturn, Hummer and Saab operations will be either sold or closed. GM said it was finalizing a deal to sell Hummer, and plans for Saturn are expected to be announced within weeks.
The reduction in product lines means the closure of 11 factories and the idling of three other facilities.
Trading of GM shares was halted early Monday after they plunged Friday as low as 74 cents. GM will be kicked out of the Dow Jones Industrial Average because rules of the index prohibit it from including companies that have filed for bankruptcy.
The outlines of the restructured GM are as follows:
-- -- Cut GM's production break-even point from 16 million annual unit sales to 10 million.
-- UAW concessions include allowing GM to shed its $20 billion obligation to its pensions and health care fund, otherwise known as the VEBA. The White House said the UAW concessions were more substantial than those sought by the Bush administration when it was considering throwing the company a taxpayer lifeline.
-- Bondholders representing at least 54 percent of the company's unsecured bonds have agreed to trade their portion of GM's $27.1 billion in unsecured debt for a pro-rated share of 10 percent of the equity in the so-called new GM. In addition, the bondholders will receive warrants for an additional 15 percent of the company. The bankruptcy process, which the White House said should take between 60 and 90 days, will enforce this distribution as well as adjudicate proceeds for bondholders who do not participate in the White House deal.
-- The reorganized GM will buy most of the old GM assets needed to carry out its business plan. The purchase will happen in the Chapter 11 process. In exchange, the U.S. government will relinquish a majority of its loans to GM.
-- The new GM will create an independent trust (VEBA) that will finance health care benefits for GM's retirees. The VEBA will be funded by a note of $2.5 billion payable in three installments that end in 2017. There will be an additional $6.5 billion purchase that will create 9 percent perpetual preferred stock. The VEBA will also receive 17.5 percent of the equity of New GM and warrants to purchase an additional 2.5 percent of the company. The VEBA will be able to chose one independent director for the new board. It will have no right to vote its shares or other exercise other governance rights.
-- The GM-qualified pensions for current hourly and salaried employees will be transferred to the new GM.
-- Treasury will provide $30.1 billion of debtor-in-possession financing to support GM through an accelerated Chapter 11 process. Officials anticipate no additional funding for GM. "There is no plan of any kind for future support beyond this point," an official said.
The government will receive $8.8 billion in debt and preferred stock and 60 percent of the company's equity. Treasury will appoint all new board of directors members not appointed by the VEBA and the Canadian government.
-- Governments in Canada and Ontario will lend $9.5 billion to GM and the new GM. The Canadian and Ontario governments will receive approximately $1.7 billion in debt and preferred stock, and approximately 12 percent of the equity of the new GM. The Canadian government will select one director to the new GM board.
-- The new GM will, as part of the government-supervised restructuring, build a new small car in an idled UAW factory. The goal is to increase the share of U.S. production for U.S. sale from 66 percent currently to 70 percent.
These are the White House "principles" for managing the ownership stake:
-- The government will sell equity stakes as "soon as practicable." The goal is a profitable company without government involvement.
-- The government will reserve the right to set up-front conditions to protect taxpayers, promote financial stability and encourage growth.
-- The government will manage its ownership stake in a hands-off, commercial manner. It will not interfere with day-to-day company operations. No government employees will serve on the boards or be employed by these companies.
-- The government will only vote on core governance issues, including the selection of a company's board of directors and major corporate events or transactions.
Under the White House policy on new GM warranties, GM will honor consumer warranties. Last week, the Treasury Department provided $361 million in financing to the Warranty Support Program as a backstop so GM can pay warranties on vehicles sold during the restructuring.
Also, employees will continue to receive ordinary salary, wages and benefits. The pension plan and VEBA will be transferred to the new GM. GM will seek authority at its "first day" bankruptcy hearing to continue to pay suppliers. In addition, the U.S. Treasury's Supplier Support Program will continue to operate, and GM suppliers benefiting from the program will continue to receive that support.
GM will also seek authority at its "first day" bankruptcy hearing to honor dealer warranties and maintain sales incentives for dealers the new GM intends to retain. Terminated dealerships will be given an 18-month wind-down window to close their operations.
FOX News' Major Garrett and The Associated Press contributed to this report.