Gingrich mothballs campaign, but leaves behind multi-million dollar debt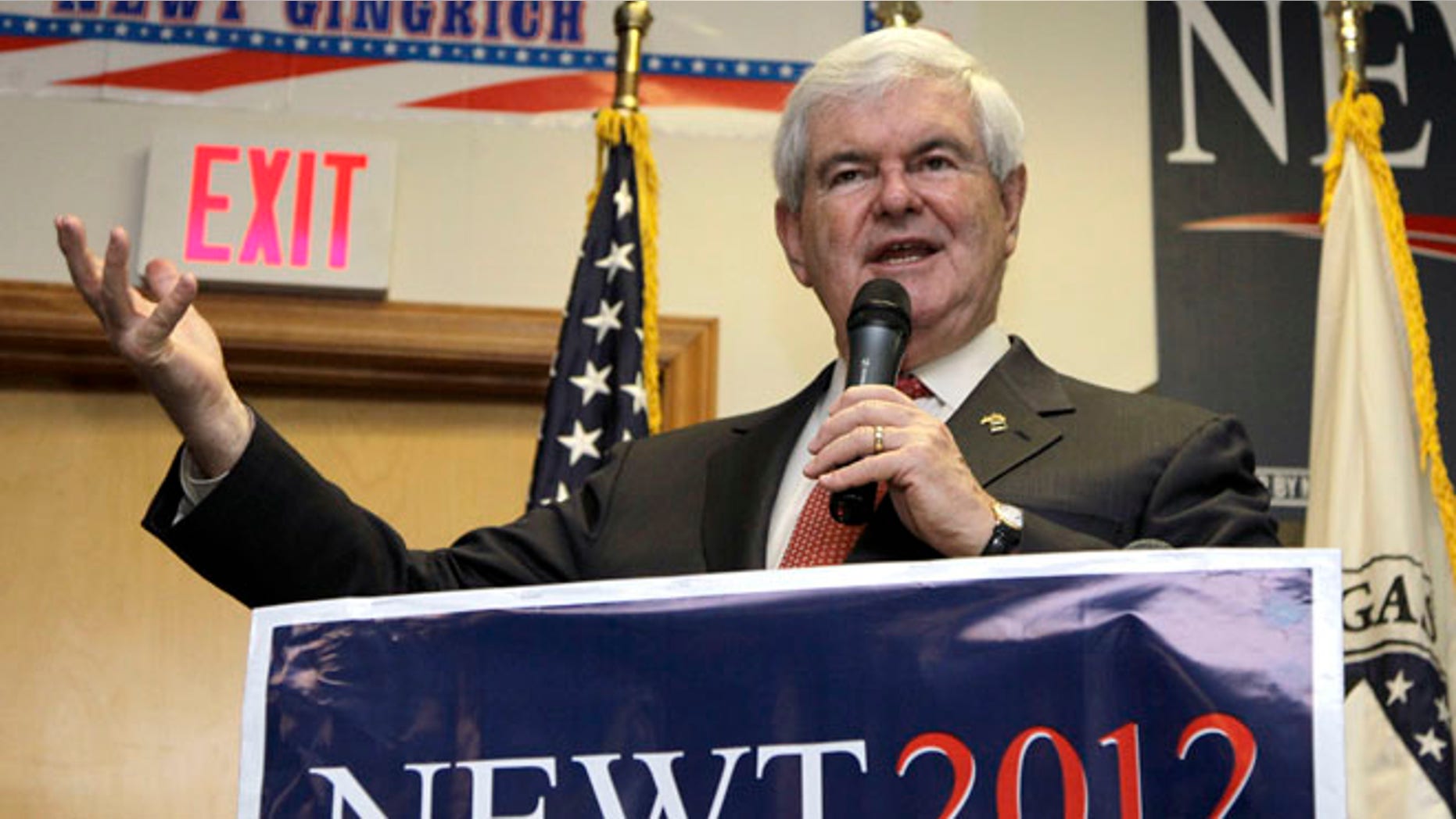 Newt Gingrich quit his Republican presidential run Wednesday, but not without leaving behind a multi-million dollar debt to consultants and other companies across the country.
With the candidate making his exit official Wednesday afternoon, a close look at his finance records reveals a free-spending machine that ran up a million-dollar debt in private jet flights alone, along with other services and benefits that left the unpaid bill at a whopping $4.3 million at the end of March, according to the latest filing with the Federal Election Commission (FEC). The campaign says it has paid off $500,000 of that total, which still leaves a $3.8 million tab.
And while huge amounts of money are still owed to a variety of vendors -- some of whom might wonder when and if they'll see their money -- the campaign seems to have paid off all its bills to businesses run by Gingrich family members, as well as "reimbursed" the candidate himself with nearly half a million dollars.
Gingrich spokesman R.C. Hammond said the fat spending level was necessary to compete with Mitt Romney's glut of pricey media buys.
"In hindsight you always would want additional funds. There wasn't a state (where) we were not outspent in television advertising," Hammond said in an email response to Fox News queries.
Hammond also confirmed that Romney's campaign has offered to connect Gingrich with their network of donors to help retire some of his debt. Hammond said the Gingrich team will be holding "separate events to raise money to pay off debts" while campaigning this year in support of GOP candidates.
But before going this deep into debt, the campaign spent liberally on Gingrich family businesses. Gingrich Productions, the multimedia company run by Gingrich's wife Callista, was paid a total of $67,000 in late 2011. Gingrich also reportedly disclosed in early 2012 that he had made $291,250 off that same company, though it's unclear when exactly that money came in.
The campaign also paid more than $100,000 to Cushman Enterprises, run by his daughter Jackie, mostly for travel and consulting expenses.
Hammond said Cushman was paid for a "variety of services, including fundraising." The Gingrich Productions money, he said, was for "web URL, server and hosting costs."
Then there are the funds reportedly spent by and owed to Gingrich himself. He was reimbursed over the course of the yearlong campaign with just over $514,400 -- with another $272,000 still owed to the candidate, according to the financial reports.
Hammond, who said that Gingrich did not take a salary from the campaign, noted "all of it is for reimbursing for money spent on travel, lodging, rental cars and air travel." He explained that costs were so high because, unlike Romney, Gingrich did not have staff pre-positioned in states across the country. He had to move around with his staff and front travel costs.
The campaign's list of debts suggests the operation sustained its spending in its bid to extend the winning streak after Gingrich's South Carolina primary victory, even as it became apparent Rick Santorum had surpassed Gingrich as the most viable GOP alternative to Romney.
The debt piled up fast. Gingrich's end-of-February report showed the campaign $1.55 million in debt. By the end of March, the figure had nearly tripled, to the $4.3 million figure.
As for the pile of bills left behind, by far the biggest debt -- more than $1 million -- is owed to the campaign's favorite charter jet firm, Moby Dick Airways. That's above and beyond the hundreds of thousands of dollars in travel cost reimbursements filed by dozens of individuals.
Outstanding are payments are also due an army of consultants, with one public relations firm, Gordon C. James Public Relations, billing Gingrich for $144,000. Gordon James, the firm's owner, told FoxNews.com in a statement the company is "working closely" with the Gingrich camp to "resolve" the outstanding invoices. "We remain supportive of the Gingrich family and are confident that we will receive our final payment," he said.
Another firm -- JC Watts Enterprises, the company of former congressman J.C. Watts, who served with Gingrich in the House and also endorsed his presidential bid -- is owed $35,000.
A representative for Watts told FoxNews.com the firm helped build support in the "faith community," and assisted with "strategic communications." But she said Watts "has not been paid, and has not talked to the campaign about it."
The end-of-March report showed Gingrich owing at least $450,000 to consultant firms -- with everything from "grassroots consulting" to "strategic consulting" to "fundraising consulting" to a "Hispanic outreach consultant."
That total does not include debts listed in FEC records for a combination of consulting and travel. And it's on top of the hundreds of thousands of dollars Gingrich already spent on consultants -- those to whom he no longer owes money.
The campaign also spent liberally on private security, though Gingrich himself eventually received Secret Service protection. The private security contract went to a company called Patriot Group, which helped provide security for Callista among other duties. The latest FEC filing showed that firm was owed nearly $450,000. That's in addition to the more than $290,000 Patriot Group's already been paid by team Gingrich.
"Safety is always a priority," Hammond said, when asked about the security fees.
But some political observers were puzzled by the expenses.
Larry Sabato, director of the University of Virginia Center for Politics, wondered in particular about the security costs.
"That's odd," he said, when asked about the number: "I think everyone was surprised that he ended up in such debt so quickly."
Sabato also said big campaigns traditionally have many consultants on board, but questioned whether it was warranted in Gingrich's case.
"It seems very unusual to me. There may be a logical explanation for it, but it seems unusual," he said.
Steep campaign debt has the potential to linger. Rudy Giuliani discovered this after his failed bid in 2008. He exited the race with a $3.1 million debt, and as of April 2011 still owed $2.6 million.
Gingrich campaign officials acknowledged there's still a long way to go before the debts are paid off. Even with the $500,000 paid last month, only 40 percent of vendors who were owed money have been paid in full. A finance team of five staffers is working to set up payment plans with those still owed, according to Hammond.
Fox News' Joy Lin contributed to this report.