Gary Johnson's campaign hires prominent GOP strategist to co-chair Hispanic outreach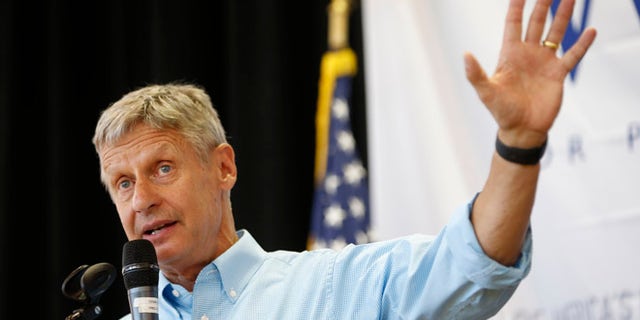 NEWYou can now listen to Fox News articles!
Libertarian presidential candidate Gary Johnson has added another prominent Latino Republican to his campaign in his effort to win over the Hispanic voter come November.
Johnson's campaign announced Monday that it hired a veteran corporate advertising executive and political ad maker Lionel Sosa to co-chair the Libertarian candidate's Hispanic outreach.
The hiring is seen as a major coup for the Johnson campaign as the former New Mexico governor hopes that he and running mate Bill Weld can become a major challenge to Democrat Hillary Clinton and Republican Donald Trump's chances of winning the White House.
According to an exclusive Fox News Latino poll released earlier this month, 16 percent of Latinos would vote for Johnson and Weld if the election were held today — only 1 percent less than the ticket of Trump and Indiana Gov. Mike Pence. Johnson jumped seven points since May, while Trump lost four points.
Clinton still holds a commanding lead over both Johnson and Trump, pulling in 59 percent of the Latino vote, according to the FNL poll. But that is lower than it would be if it was a two-candidate race. The poll shows that if Latinos had to choose between Clinton and Trump, the former secretary of state would pull in 66 percent of Latino voters and Trump would get 20 percent.
"The appeal of Johnson is that there is part of the Latino electorate who don't trust either Clinton or Trump," Ariel Armony, a political scientist at the University of Pittsburgh and an expert in Latino politics, told Fox News Latino.
READ FULL RESULTS OF FOX NEWS LATINO POLL
The hiring of Sosa is another blow to the Trump campaign, as the strategist has handled Hispanic outreach for a half-dozen Republican presidential campaigns during his career, including for former President Ronald Reagan. Earlier this year, Sosa wrote an op-ed in the San Antonio Express News saying that he was leaving the GOP because of Trump.
"If my party winds up electing Donald Trump, I'll have to bid farewell, hoping that one day soon, it comes to its senses," he wrote.
Sosa will join Juan Hernández in running Johnson's Hispanic outreach.
Hernández has previously worked as an advisor for presidential candidates in the U.S., Mexico and Guatemala, including Arizona Sen. John McCain's failed bid in 2008 and former Mexican Presidents Vicente Fox and Felipe Calderón.