Fox News poll: Slim majority continues to oppose ObamaCare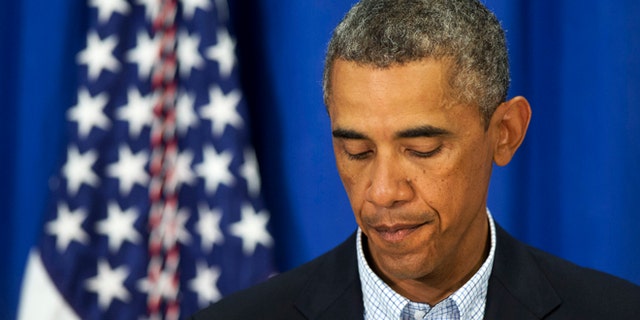 Opposition to the 2010 health care law has been above 50 percent for over a year. And that continues to be true, as the latest Fox News national poll finds voters oppose the law by a 52-41 percent margin.
Support for Obamacare has been as high as 43 percent (May 2014) and gone as low as 36 percent (January 2014).
CLICK HERE TO READ THE POLL RESULTS
The number opposing the law has ranged from 49 percent (June 2012) to a record-high 59 percent (January 2014).
As in the past, the new poll shows that most Democrats favor Obamacare (74 percent), while most Republicans (84 percent) and independents (61 percent) are against it.
Voters in every age group are more likely to oppose the law than favor it, with one exception: those ages 65 and over. And that group only favors it by two percentage points.
President Obama receives higher job approval ratings on health care than on almost any other issue: 42 percent of voters approve, while 53 percent disapprove. That's up from a record-low 36 percent approval in March. His highest approval on health care came two years ago, when 48 percent approved and 47 percent disapproved (September 2012).
And where is Obama doing best now? It's the economy, although even here his ratings are under water: 43 percent approve vs. 51 percent disapprove.
Approval of Obama's performance is below 40 percent on all other issues tested in the poll, and goes as low as 30 percent approval on the Israeli-Palestinian conflict.
The Fox News poll is based on landline and cell phone interviews with 1,001 randomly chosen registered voters nationwide and was conducted under the joint direction of Anderson Robbins Research (D) and Shaw & Company Research (R) from August 10-12, 2014. The full poll has a margin of sampling error of plus or minus three percentage points.