Fox News Poll: Majority says Russian hacking made no difference in 2016 election
A majority of American voters think there was no real effect on the presidential race from Russian cyber-attacks, according to a new Fox News Poll.
CIA officials reportedly believe Russian hackers meddled in the election to help Donald Trump beat Hillary Clinton. Yet 59 percent of voters believe the hacking didn't make a difference.
The poll finds 32 percent think Russia did help Trump in the election, while just one percent says the cyber-attacks aided Clinton.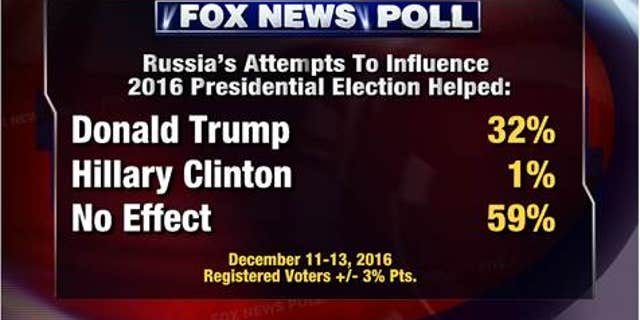 President-elect Trump called the CIA's assessment that Russia attempted to influence the election "ridiculous."
CLICK HERE TO READ THE FULL POLL RESULTS
Voters largely do not share Trump's mistrust of the CIA. Two-thirds, 67 percent, have confidence in the agency: 18 percent have "a great deal" of confidence and another 49 percent have "some" confidence. Views on the CIA have held remarkably steady, as 64 percent had confidence in 2014, and 66 percent in 2002. Those are the only other times the question has been asked by Fox.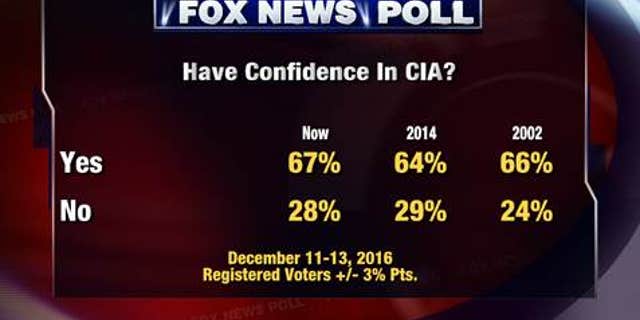 Meanwhile, many see Trump as too cozy with Russia. By a wide 50-15 percent margin, voters say he's "too accommodating" vs. "too confrontational."
It's the opposite on his dealings with China, as 43 percent feel he's being "too confrontational" vs. 17 percent "too accommodating."
More than 7 voters in 10 are familiar with reports Russia tried to interfere with the election (73 percent). By a 41-1 percent margin, that group thinks the hacking helped Trump rather than Clinton, while 54 percent say it didn't matter.
Eighty-five percent of Republicans, 64 percent of independents, and 36 percent of Democrats think the Russians didn't affect the outcome.
Sixty-two percent of Clinton voters believe Russian hacking helped Trump.
Majorities of Democrats (75 percent), Republicans (63 percent), and independents (63 percent) have a great deal or some confidence in the CIA.
The Fox News poll is based on landline and cellphone interviews with 1,034 randomly chosen registered voters nationwide and was conducted under the joint direction of Anderson Robbins Research (D) and Shaw & Company Research (R) from December 11-13, 2016. The poll has a margin of sampling error of plus or minus three percentage points for all registered voters.