Fox News Poll: Jones leads Moore by 8 points in Alabama Senate race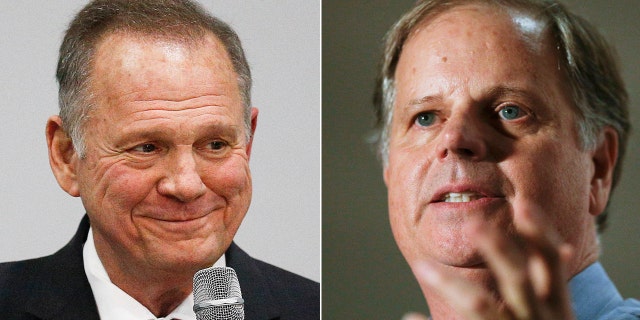 Alabama voters want a candidate who will represent their state with honor -- and they think Doug Jones has strong moral character and Roy Moore doesn't. That gives the Democrat the lead in the U.S. Senate race.
Jones is up by eight points over Moore among Alabama likely voters, 50 percent vs. 42 percent, in a Fox News Poll conducted Monday through Wednesday evenings. His lead is outside the poll's margin of sampling error (±3.5 percentage points). Nine percent are undecided or plan to vote for someone else.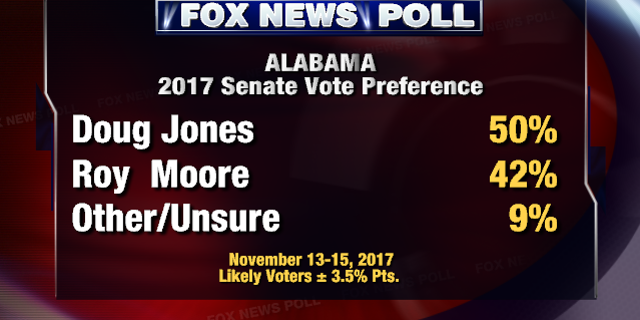 Alabama voters decide who will fill the U.S. Senate seat vacated by U.S. Attorney General Jeff Sessions in a December 12 special election. Allegations of sexual misconduct against Moore broke November 9. He denies the accusations.
Support from women is the key to the Democrat's advantage in this red state, as Jones is their choice by 26 points (58-32 percent). The gap grows to 49 points among women under age 45 (69-20 percent), and he's up by 11 among women ages 45 and over (51-40 percent). Jones even receives 19 percent support from Republican women (to Moore's 68 percent).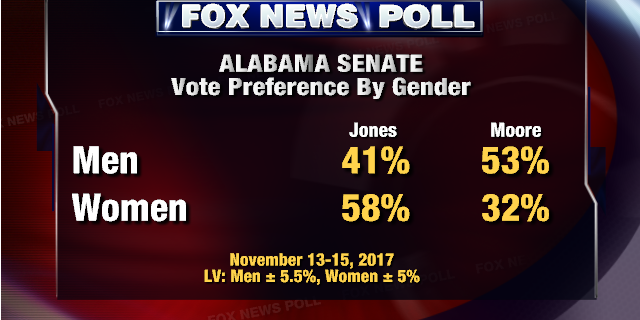 Moore is preferred among white evangelical Christians by 53 points (73-20 percent), whites by 19 points (56-37 percent), and men by 12 (53-41 percent).
There's more party loyalty among Democrats, as 91 percent back Jones compared to Moore's 78 percent among Republicans.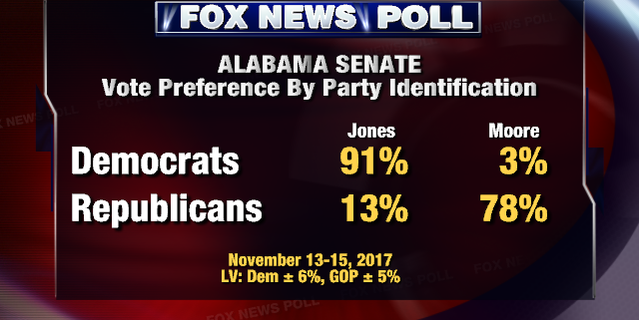 Some 30 percent of Moore's backers say they have some reservations about their candidate, while 19 percent of Jones's supporters say the same.
The poll, released Thursday, finds a 15-point gap between the number of Alabama voters who think Jones has strong moral character (56 percent) and those who feel that way about Moore (41 percent). Plus, 85 percent among Democrats think Jones has strong moral character, while just 65 percent of Republicans say the same of Moore.
When asked which candidate qualities are important to their vote decision, 33 percent say they want someone who will represent Alabama with honor, 26 percent are looking for someone who shares their values, 26 percent want a candidate who will bring needed change, and 8 percent prioritize their party's candidate.
"Alabama voters want a senator who represents them with honor -- and many, especially women, have decided Moore is not that person," says Democratic pollster Chris Anderson, who conducts the Fox News Poll with Republican Daron Shaw.
Jones is preferred among those who want a candidate who will represent the state with honor by 22 points and by 35 points among voters focused on change. Moore is the choice, by 22 points, among those prioritizing someone who shares their values.
Senate Majority Leader Mitch McConnell said Monday he believes the women who have accused Moore of misconduct are telling the truth.
But do Alabama voters believe the allegations? Thirty-eight percent think they are true, while 37 percent don't. One in four is unsure (25 percent).
Most of those saying the allegations are true back Jones (85 percent).
Roughly the same number of men (36 percent) and women (39 percent) believe them, and parents (38 percent) and non-parents (38 percent) are equally likely to believe the accusations, which allege Moore engaged in sexual contact with teenage girls while in his thirties.
Overall, by a 54-38 percent margin, voters think Moore should stay in the race.
"It takes some unique circumstances for a Democrat to defeat a Republican in Alabama," says Shaw. "But a sizable minority of Republican women has turned away from Moore, and he has to worry about additional defections on Election Day."
Among Republicans, 13 percent believe the allegations against Moore are true and 19 percent think he should drop out.
Voters rate Jones positively by 20 points (53 percent favorable vs. 33 percent unfavorable), while they give Moore a net negative rating by 7 (43-50 percent). For comparison, Jeff Sessions is in positive territory (51-40 percent), while incumbent Sen. Luther Strange is viewed negatively (37-54 percent).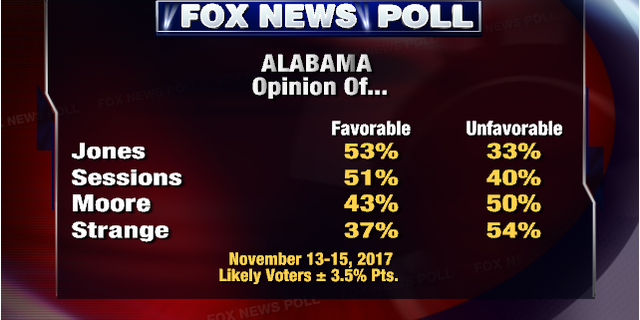 Donald Trump won Alabama by 28 points in 2016. Now voters there split over the president's job performance: 52 percent approve vs. 47 percent disapprove. Ratings for McConnell are far more negative, as just 27 percent approve, while 57 percent disapprove. Moreover, Republicans are three times as likely to approve of Trump (91 percent) as McConnell (29 percent).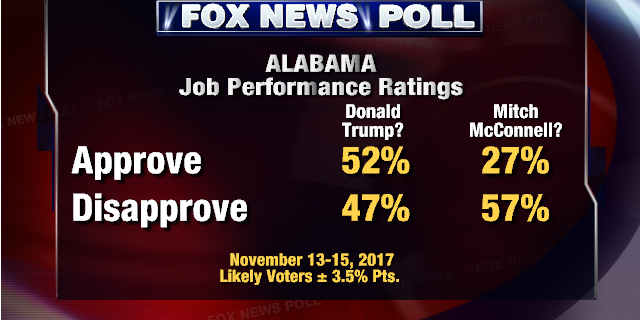 By a 50-29 percent margin, voters say how they feel about GOP control of the U.S. Senate will be more important to their vote decision than how they feel about President Trump. Still, the race is more about these individual candidates than national politics, as the vote splits among those who are deciding based on Trump (Jones +4 points) as well as those who prioritize GOP control of the Senate (Moore +1).
The Strange factor
Sen. Strange, who lost to Moore by nine points in a September primary runoff, says it is doubtful he will run as a write-in candidate.
If he did, the poll finds that he would fare about the same as Moore -- or worse. About the same number of voters thinks Strange (40 percent) has strong moral character as say the same of Moore (41 percent), while fewer have a favorable opinion of Strange (37 percent) than Moore (43 percent).
In a hypothetical matchup, Strange trails Jones by 10 points.
Meanwhile, only 39 percent of Republicans say it is likely they would cast a write-in vote for Strange if he runs, while 59 percent say unlikely.
The Fox News Poll is conducted under the joint direction of Anderson Robbins Research (D) and Shaw & Company Research (R). The poll was conducted November 13-15, 2017, by telephone (landline and cellphone) with live interviewers among a sample of 649 voters selected from a statewide voter file in Alabama. It has a margin of sampling error of plus or minus 3.5 percentage points for the full sample of likely voters.