Fox News Latino poll: Clinton holds 46-point lead over Trump among Hispanics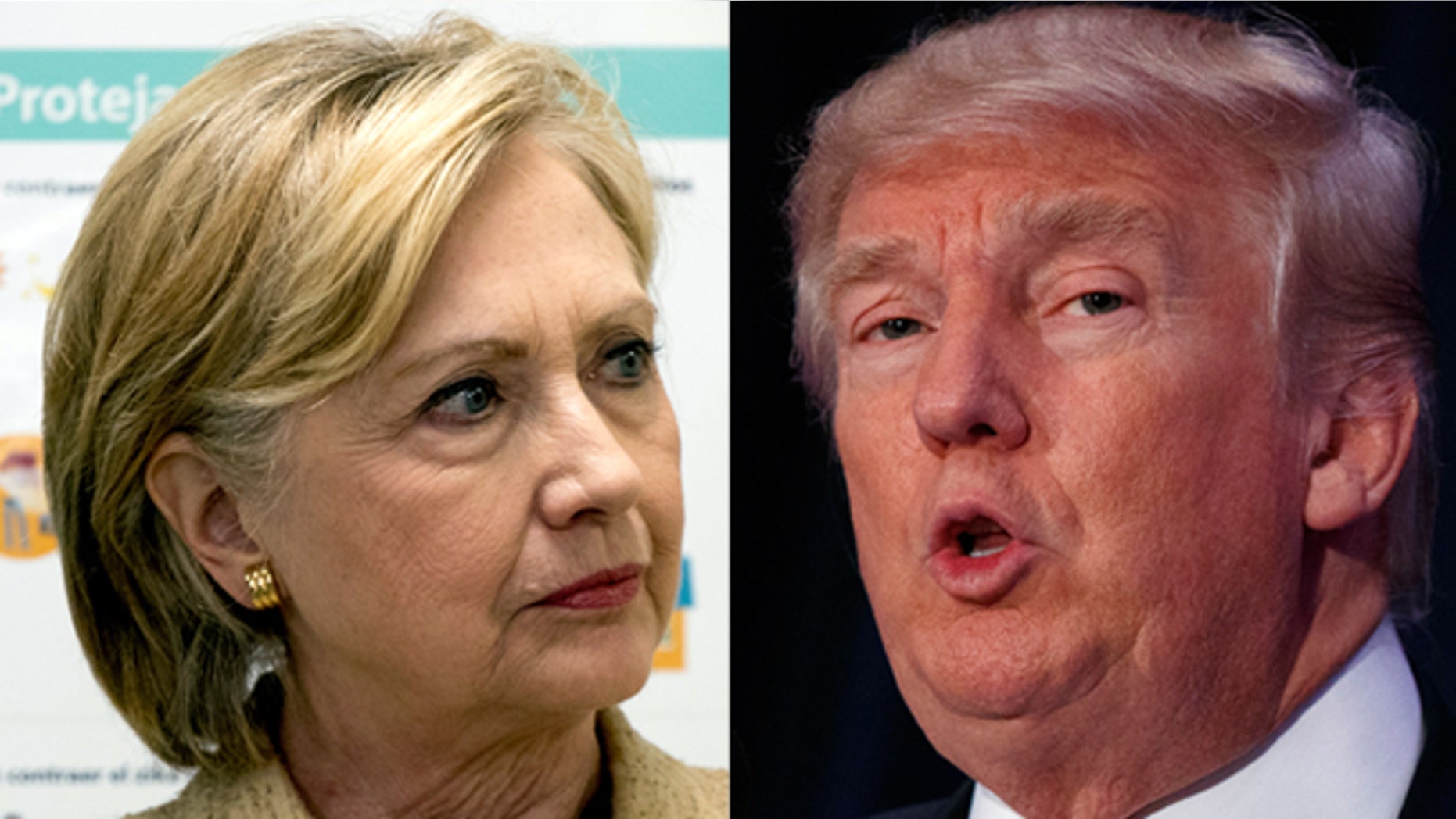 With less than four months to go before Election Day, Democratic presidential nominee Hillary Clinton holds a commanding 46-point lead over her Republican rival Donald Trump among Hispanic voters, according to an exclusive poll released Thursday by Fox News Latino.
The poll found that 66 percent of registered Latinos would head to the ballot box to vote for Clinton and her running mate, Virginia Sen. Tim Kaine, compared to only 20 percent who would pick the ticket of Trump and Indiana Gov. Mike Pence.
The gap between the two candidates widened 7 percent since May, when Clinton held a 39-point edge among Hispanics.
"The results are not that surprising given the reaction of Latinos to some of Trump's proposals," Alfonso Aguilar, the executive director of the Latino Partnership for Conservative Principles, told Fox News Latino.
READ FULL RESULTS OF FOX NEWS LATINO POLL
The poll, which was conducted over the phone from August 7-10, surveyed 803 Latino registered voters and has a sampling error margin of plus or minus 3.5 percentage points. The poll was conducted under the direction of Anderson Robbins Research (D) and Shaw & Company Research (R).
When Libertarian candidate Gary Johnson and his running mate Bill Weld were added to the mix, 16 percent of Latinos said they would vote for the third party ticket — just 1 percent less than those who would vote for Trump and Pence. Clinton still easily secured 59 percent of the Hispanic vote when Johnson was factored in.
"I don't think Johnson will make much of a difference in these elections," Joe Trippi, a political strategist and frequent Fox News Channel contributor, told FNL. "He could syphon off Hispanics that don't want to vote for either Clinton or Trump, but not enough to make a difference either way."
The poll also found that Clinton outperformed Trump in a number of issues that are relevant to Latino voters. Hispanics are an important source of support for the Democrat, given that Latinos are among the fastest growing electorate in the country, and the expectation is that their numbers will grow only bigger in future decades.
A record 27.3 million Latinos will be eligible to vote in the 2016 presidential elections, according to Pew Hispanic Research. They stand to make a difference, if turnout is robust, in various states across the country, including those where not long ago their numbers were too small to sway the results.
Hispanics overwhelmingly believe that the former secretary of state represents their views better than Trump (72 percent to 14 percent). They also trust her more than Trump when it comes to making decisions on education (73 to 19 percent), foreign policy (70 to 21 percent), health care (69 to 22 percent) and the economy (61 to 31 percent), among other issues.
On immigration, which has been one of the main points of contention between Trump and the Latino community, Hispanic voters believe that Clinton is better suited to take on the task of improving the country's immigration system by a whopping 52-point spread (71 to 19 percent).
Conservatives such as Aguilar, however, contend that Trump has recently toned down his rhetoric on immigration. The real estate mogul told Bloomberg News in June that he wouldn't issue mass deportations if elected, but would "get rid of a lot of bad dudes."
Aguilar said Trump still has a chance to win over a portion of Hispanic voters. But that might not even be necessary, he said, if he can rally enough people from other groups, like working-class whites.
"Trump may not get the 40 percent of the Latino vote that the typical Republican candidate needs to win the White House," Aguilar said. "He's drawing in people who would not be particularly interested in voting if he were not the candidate."
But the Latino vote will be critical in one battleground state that Trump is focusing on – Florida, where Puerto Ricans are growing in numbers and political influence.
The poll found that Puerto Ricans seem to have a higher favorability for Hillary Clinton than any other Hispanic group, including Mexican-Americans — who are most affected by Trump's immigration rhetoric.
About 65 percent of Puerto Ricans, a group expected to play a key role in Florida, viewed Clinton favorably, while only 12 percent had the same view of Trump. The margin of error for Puerto Ricans, however, was plus or minus 8.5 percent.
Much was made after the 2012 election about Mitt Romney's dismal performance among Latino voters (27 percent). That number was lower than George W. Bush's 44 percent in 2004 and John McCain's 31 percent four years later.
Trump's current 20 percent, according to the FNL poll, paired with the 82 percent unfavorable rating, has the real estate mogul facing a monumental task if he wants to win over Latinos.
"I don't see how he is going to bring that margin up by November," Trippi said. "He might get near Romney's number but it's clear he's not getting close to breaking the barrier that [George W. Bush] set."
Trippi added that Clinton's 46 point lead over Trump among Hispanics is a mix of Hispanic loyalty to Democrats and anger over Trump's divisive rhetoric on immigration.
Analysts on both sides of the political divide, however, warned that it is important to focus on the Hispanic vote beyond just the national level. With Latinos making up a high percentage in certain key battleground states – Colorado, Florida, Nevada and even Arizona, to name a few – the group could play an even more decisive role in determining who will be the next president.
"We have to see at a state level what these numbers look like, especially in key battleground states," Aguilar said. "Those numbers might be more telling."