Former Rep. Tom Tancredo Unveils Slogan 'Viva Tancredo' For Gubernatorial Campaign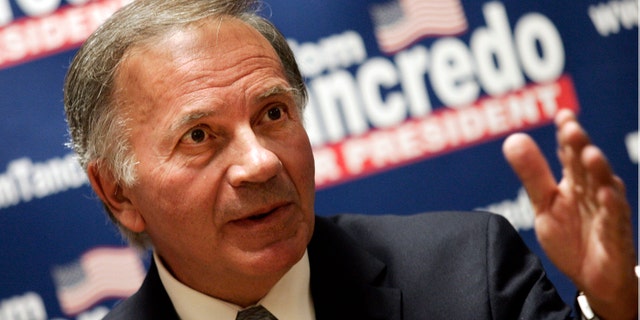 Former Colorado Rep. Tom Tancredo often warned of a country so overrun by immigrants that the English language would be in peril.
But now, the Republican who became known as one of the most hard-line lawmakers on immigration and Official English policies has picked as his gubernatorial campaign slogan: "Viva Tancredo: Live your own life."
The irony isn't lost on Tancredo, who, as The Los Angeles Times noted in a story about him, delights in getting a rise out of people and disarming his detractors.
Tancredo is looking to unseat incumbent Democratic Gov. John Hickenlooper in 2014, and a recent poll by Public Policy Polling showed the two men in a dead heat in Pueblo County, Colo., which has a large Latino population.
A story in the Huffington Post cited a quote in which Tancredo, referring to the poll, said that being in a dead heat with the governor in Pueblo "is like being tied with Obama in Chicago."
Hickenlooper defeated Tancredo in 2010 when the former congressman ran under the American Constitution Party banner.
Tancredo, who is 67, does not shrink from his lightning rod image.
"I understand exactly how people feel," he said, according to the Denver Post. "I am controversial. I know how people feel about me."
Tancredo told the Denver Post that his slogan has to do with his support for the state's 2012 ballot measure legalizing marijuana.
"It will be our task to get the message out to them that I'm not your father's Republican," he said.
Tancredo, who served in Congress from 1999 to 2009, is against a pathway to legalization for undocumented immigrants and against continuing to grant automatic citizenship to the U.S.-born babies of undocumented immigrants.
He wants to see stricter enforcement of immigration laws.
In 2011, Tancredo formed a political action committee focused on immigration.
The PAC, called the American Legacy Alliance, was set up to "raise unlimited funds around the cause of illegal immigration," according to Tancredo's website at the time.
The PAC was to support candidates and groups that share Tancredo's views on taking a hard line on illegal immigration. The website Tancredo set up for the PAC featured pictures of children and described a country in which "English will give way to the hodgepodge of languages spoken by those that chose to ignore what few immigration laws remain."
Follow us on twitter.com/foxnewslatino
Like us at facebook.com/foxnewslatino