Former Chilean Leftist Guerrilla Fights Deportation, Insists He'll be Persecuted if Returned to His Country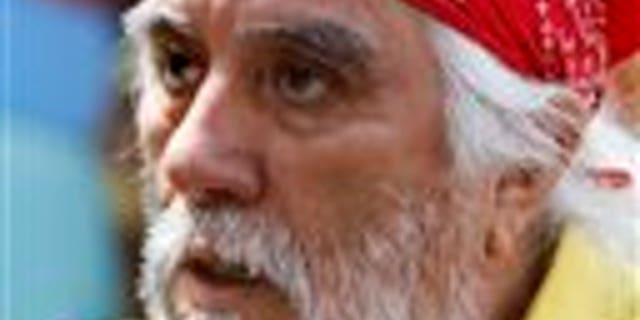 Victor Toro has lived in the United States under the radar -- yet in plain view -- for almost 30 years.
The Chilean native, with his white beard, ponytail and red bandana, is well-known in the South Bronx, where he has been a community activist and do-gooder.
But U.S. immigration officials view Toro, founder of La Pena community center, from a different perspective.
A deportation order hangs over the former leftist guerrilla, who co-founded Chile's Revolutionary Leftist Movement in the 1960s and was later tortured and exiled by agents of Gen. Augusto Pinochet's dictatorship.
After stops in Europe, Cuba and Nicaragua, Toro entered the United States illegally in 1984 from Mexico, where he feared that Pinochet's spies were closing in on him. But despite being married to a native Chilean who has U.S. citizenship, having a daughter and granddaughter who also live legally in the United States, Toro never tried to get legal residency.
Toro was finally arrested in 2007 in Rochester, N.Y. When immigration agents asked for his papers, he showed them all he had -- an expired Chilean passport.
Since then, Toro and his lawyer, Carlos Moreno, have pursued a political asylum claim, saying Toro's life would be threatened in Chile. But immigration Judge Sarah Burr denied it and ordered his deportation.
A dedicated group of friends is backing Toro, many of whom were helped by his years of social work. The entourage has filled courtrooms, organized news conferences and planned demonstrations. But his legal appeal is a long shot at best: Asylum claims generally must be made within a year of escaping the place of danger, and Toro has been gone from Chile for a quarter-century.
Now 68, this hero of Bronx immigrants is being forced to confront the possibility that he'll soon have to leave everything he's built in New York and return to Chile -- a country where he fears he'll encounter his torturers and relive his nightmares.
"I feel like a Palestinian -- a Palestinian who has no place to live," Toro confessed, his eyes sad but his expression firm, during one of several interviews with The Associated Press.
U.S. courts have had to decide, meanwhile, how much Chile has changed since Toro's revolutionary youth.
Pinochet's 1973-1990 dictatorship remains a powerful reference point in the country, but two decades of multi-party democracy since then have established a society where human rights are highly valued, if not always respected. President Sebastian Pinera returned a center-right coalition to power, but it was a democratic majority that put it there.
As for MIR, the armed leftist movement Toro helped found, only a tiny group of radicals remain. And while many Chilean leftists complain of heavy-handed police responses to political protests, few people seriously believe -- or fear -- that armed revolution is a possibility.
Pinochet's forces killed 3,065 political opponents, according to Chile's official reckoning; a third of them simply disappeared. Chile's dictatorship-era constitution, including a draconian anti-terror law, remains in force.
"The government that exists now is the essence of what Pinochet established in Chile," Toro insists. "Pinera is a product of the military dictatorship. He's governing with the laws of Pinochet. He follows the same constitution, which is Pinochetism. It is a model of oppression. If I go to Chile I'm going to fight against this."
But Pinochet's repressive police forces were disbanded long ago, and the independent judiciary has put 800 people on trial for human rights violations. Of these, 71 were imprisoned as of late last year. Others who have yet to be charged or convicted are generally quite old and trying to avoid being included in one of hundreds of open investigations into crimes against humanity.
In his nightmares, Toro still feels trapped, fearing he'll be attacked by Pinochetistas who have escaped justice and remain in powerful positions even today.
But even some of Toro's old MIR colleagues say that Chile has matured under decades of democracy.
"Many of us have returned to Chile, and nothing has happened," observed Dr. Edgardo Condeza Vaccaro, who co-founded the guerrilla organization in 1965.
Today's Chile, they say, is not the country Toro left in 1977, when agents of terror acted with impunity, thousands of Chileans participated in atrocities and many thousands of others were intimidated into silence.
Toro faces no charges in Chile, even though MIR members killed two police officers as they robbed banks in the 1960s in hopes of funding a war against the state. He says he did nothing more than organize street protests and rural land seizures, but insists that violence was legitimate at the time.
After Pinochet seized power in 1973, MIR was quickly wiped out -- nearly all involved were arrested, killed or escaped. Toro was chased down in a military ambush in 1974 and beaten unconscious, waking up inside an Air Force base. He then spent months in concentration camps.
"I was bound by my hands for a year, and during that year I was blindfolded," Toro testified in Spanish through an interpreter in his immigration case, according to a thick court file provided to the AP.
"My condition was that of a disappeared politician. I received many electric shocks to my genital organs and my ears and my mouth. I suffered moments where they acted as they were going to assassinate me, shoot me, and I remained for about three months against a wall without water, without any food, until you actually pass out many times, faint."
Toro said he was taken at one point to the notorious Villa Grimaldi camp in Santiago, where he said he was personally tortured by spy chief Manuel Contreras and other top dictatorship figures.
"It was an iron bed, a military iron bed, and they tie you down on that bed by your legs and your arms, and you are wide open," Toro recalled. Then electricity is run through the bed, and they are placing this current on your body, on different parts of your body. They would call this torture the barbecue."
Toro was finally released and expelled from Chile in 1977 as Pinochet faced international pressure to close the torture camps, but still suffers symptoms of post-traumatic stress common to torture survivors, testified Dr. Clyde Landford Smith, who treated Toro at the Montefiore Medical Center in the Bronx.
Toro's wife, Nieves Ayress, testified that his nightmares have become worse since Pinera's election.
"The fact that Chile now has a right-wing government, that tends to be like that of Pinochet ... this affects him a great deal," she testified.
Toro was granted asylum before -- by Cuba, until he fell out with MIR's leadership and felt he couldn't do social work there. So he moved on with his wife and daughter to Mexico, but soon felt vulnerable to Pinochet agents, and sought refuge by crossing the U.S. border.
Toro's days in the States now appear to be numbered. But whatever his fate, he says he won't change his ways.
"Of course what I do here I would do in Chile, which is to fight for the people's rights," he shrugged. "I'm the son of miners, workers. What I do here I will do until the last days of my life, wherever my destiny lies."
This is based on a story by The Associated Press.
Follow us on twitter.com/foxnewslatino
Like us at facebook.com/foxnewslatino