Ex-Va. Gov. Bob McDonnell can't remain free during appeal, court rules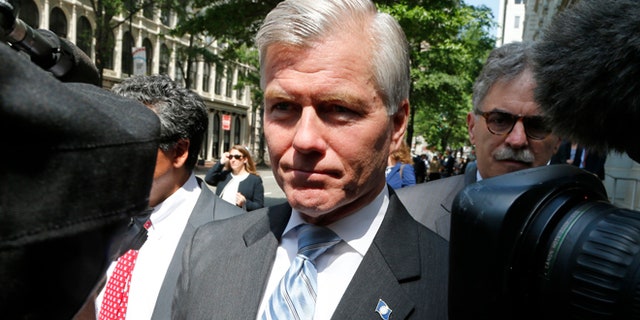 RICHMOND, Va. – A federal appeals court on Thursday refused to allow former Virginia Gov. Bob McDonnell to remain free while he appeals his public corruption convictions to the U.S. Supreme Court.
The decision means McDonnell will probably have to report to prison within the next several weeks. Meanwhile, he has 90 days to ask the Supreme Court to review his case.
McDonnell said in a statement that he was "saddened by the court's decision today to deny me freedom while I pursue vindication."
"I am innocent of these charges and will petition the U.S. Supreme Court for a grant of bond," McDonnell said.
McDonnell and his wife, Maureen, were convicted of doing favors for a wealthy businessman in exchange for more than $165,000 in gifts and loans. Bob McDonnell was sentenced to two years in prison; his wife to one year and one day. They have remained free on bond while they pursued separate appeals in the 4th U.S. Circuit Court of Appeals.
The appeals court last week refused to reconsider a three-judge panel's unanimous ruling upholding Bob McDonnell's convictions but said nothing about his bond status. McDonnell asked the court to state in writing that he can remain free while he seeks Supreme Court review. Prosecutors opposed the request, arguing that McDonnell should begin serving his term now that the appeals court has finished with the case.
Carl Tobias, a University of Richmond law professor who closely follows the Richmond-based appeals court, said he doubts the Supreme Court will allow McDonnell to remain free.
"I think there's a chance, but it's probably a longshot," Tobias said Thursday.
Legal experts say that once the appeals court completes its review and a conviction is final, the federal probation office compiles information about the defendant's case and background and forwards it to the U.S. Bureau of Prisons. The agency analyzes the information and determines what type of programs the defendant might need — substance abuse counseling or high school equivalency courses, for example — and determines the appropriate security level and designates a prison. The agency then sends a certified letter to the defendant telling him where and when to report to prison.
The process can take a few weeks.
When the former governor was sentenced in January, his lawyers asked U.S. District Judge James Spencer to recommend that McDonnell be sent to the low-security federal prison camp in Petersburg, Virginia. The Bureau of Prisons considers judges' recommendations along with other factors, such as available space.
McDonnell's lawyers weren't immediately available for comment Thursday afternoon.
McDonnell was convicted on 11 public corruption charges. The case derailed the career of a rising Republican star who had been viewed as a possible running mate to presidential candidate Mitt Romney in 2012.
The appeals court will hear arguments in Maureen McDonnell's case in late October. Late Wednesday, she filed a brief saying the recent appeals court decision in her husband's case shouldn't mean her own appeal suffers the same fate.