EPA, Pruitt announce rollback of Obama-era fuel standards, setting up another battle with California
Environmental Protection Agency Administrator Scott Pruitt laid out plans on Tuesday to roll back Obama-era fuel standards in a move seen as a win for automakers, but one that is likely to ignite a major political and legal battle with the nation's most populous state.
"These standards that were set were inappropriate and need to be revised," Pruitt said during a speech at the EPA in Washington D.C., adding that the rules are too expensive and hurt car buyers by making vehicles costlier.
"The focus should be on making cars that people actually buy and that are efficient," he said.
Pruitt's decision to rewrite the nation's first carbon limits on automobiles, which requires cars and light trucks sold in the United States to average more than 50 miles per gallon by 2025, reflects both the power of the country's automakers and the Trump administration's determination to jump start the car industry.
"This was the right decision, and we support the Administration for pursuing a data-driven effort and a single national program as it works to finalize future standards," the Alliance of Automobile Manufacturers, which includes General Motors, Ford and Fiat Chrysler, said in a statement. "We appreciate that the Administration is working to find a way to both increase fuel economy standards and keep new vehicles affordable to more Americans."
The move, however, once again pits the Trump administration against the state of California.
Under the 1970 Clean Air Act, California can set its own greenhouse gas emissions standards and has threatened to sue the federal government if its waiver is withdrawn and the state is blocked from imposing the more austere limits. A showdown between California and the Trump administration would have wide-ranging implications as currently 12 other states – making up more than a third of the U.S. auto market – follow the Golden State's emissions standards.
"The Trump Administration's assault on clean car standards risks our ability to protect our children's health, tackle climate change, and save hardworking Americans money," California Attorney General Xavier Becerra said in a statement on Monday. "We're ready to file suit if needed to protect these critical standards and to fight the Administration's war on our environment. California didn't become the sixth-largest economy in the world by spectating."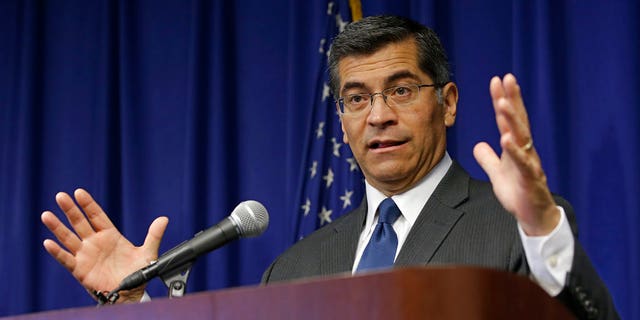 A coalition of at least 14 state attorneys general joined Becerra on Monday in calling the rollback "irrational and irresponsible" and vowing to "vigorously and aggressively challenge President Trump's dangerous anti-environmental agenda in court."
While Pruitt did not specifically address California during Tuesday's announcement, the administrator noted in a statement released Monday that the EPA would be reexamining California's waiver and that "[c]ooperative federalism doesn't mean that one state can dictate standards for the rest of the country."
"EPA will set a national standard for greenhouse gas emissions that allows auto manufacturers to make cars that people both want and can afford — while still expanding environmental and safety benefits of newer cars," he added. "It is in America's best interest to have a national standard, and we look forward to partnering with all states, including California, as we work to finalize that standard."
The move by the EPA is the latest in a series of battles between the federal government and California, which has emerged as the staunchest opponent to the Trump administration's policies. The EPA's announcement of the rollback occurred on the same day the Justice Department sued California to block a new state law limiting the transfers of federal lands.
"Yet again, Donald Trump and his administration are attacking our state and our very way of life," Lt. Gov. Gavin Newsom, a member of the State Lands Commission and a Democrat running for governor, said in a statement.
The Trump administration also wants to make it easier to drill for oil and gas off California's coast and last year's tax overhaul law is seen as particularly harmful to the state as it limits mortgage interest and state and local taxes.
Then there is the immigration debate, with the Justice Department suing California to overturn a state law that limits the power of federal immigration authorities and Trump recently calling the state "out of control" during a visit to view border wall prototypes.
Pruitt's announcement was originally scheduled for Monday at a Chevrolet car dealership in Chantilly, Virginia, but was cancelled. Guy Eberhart, the general manager of Pohanka Chevrolet, told Fox News that he had no knowledge of Pruitt planning to visit the dealership.