ORLANDO, Fla. – It was another day out on the campaign trail with Hillary Clinton, and another event held in a small room, in front of a small crowd.
Supporters and media alike crowded Wednesday into a community center gym in Orange County, Fla., a critical battleground in what is arguably a must-have state for any presidential nominee, to hear the Democratic nominee speak. Campaign officials estimated "about 500" people in attendance, and "another 500" in an overflow room – though Fox News counted only about 300 in the gym, and the pool report pegged the overflow crowd at "about a hundred."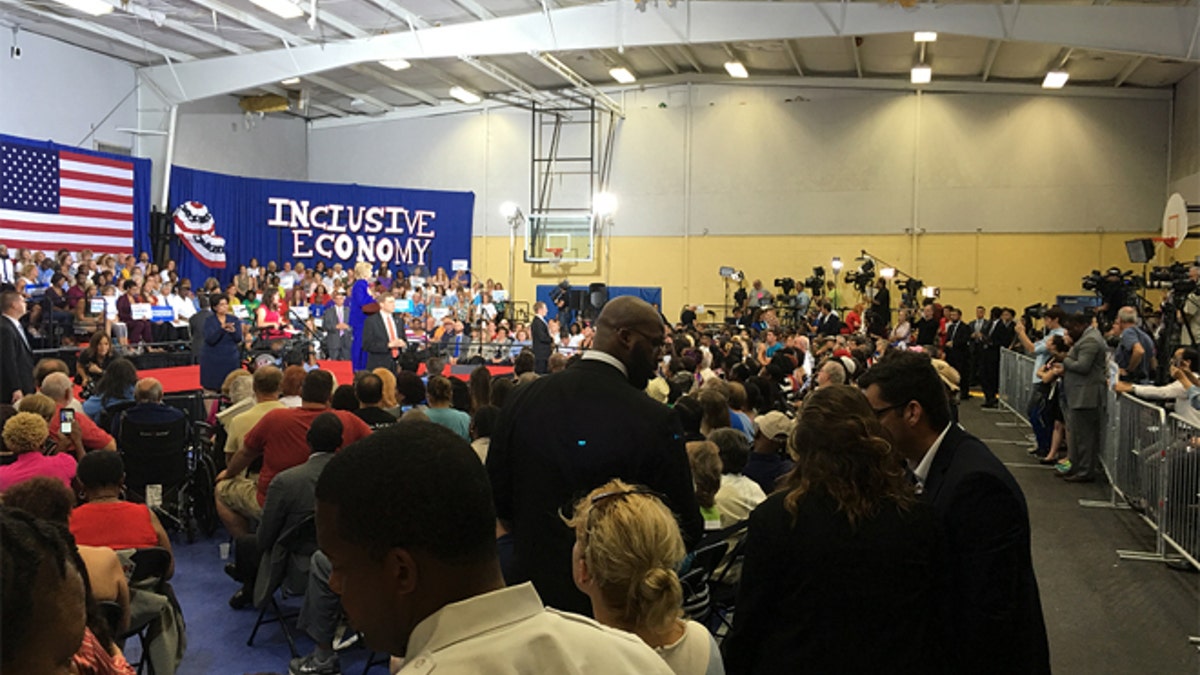 That same day, Republican opponent Donald Trump was packing a theater in Toledo, Ohio, with an estimated 2,700 people.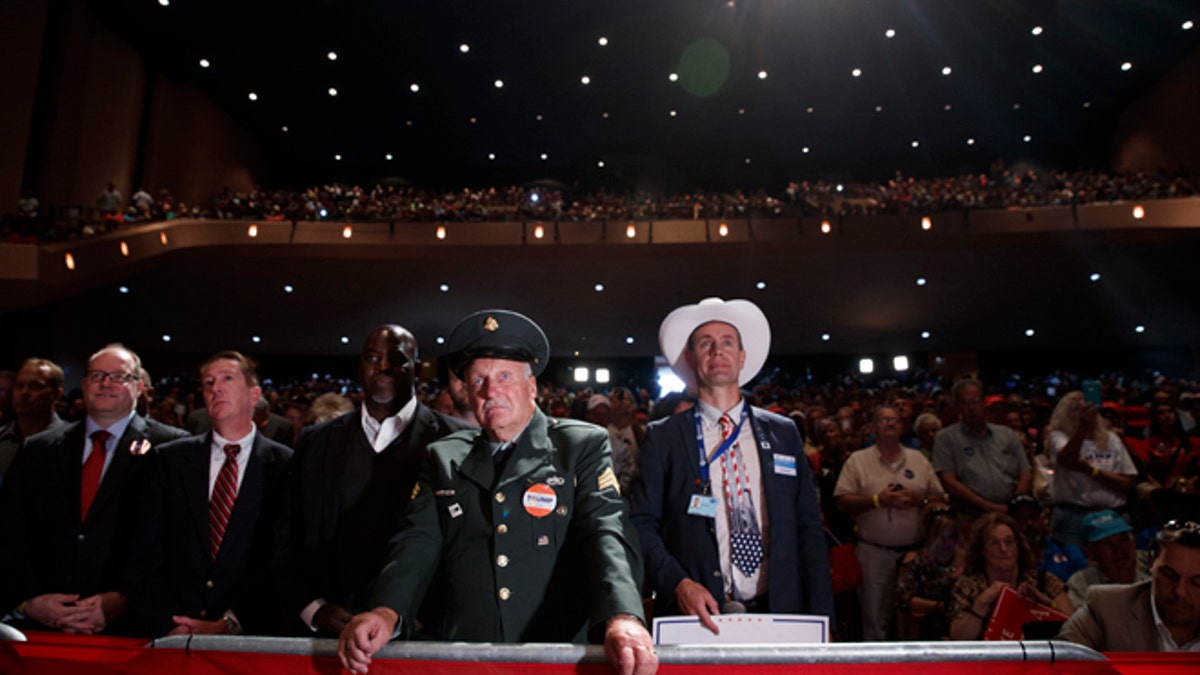 The stark contrast – one candidate in an intimate setting, the other rallying thousands – was hardly unusual as the 2016 race enters its final stages.
Clinton campaign officials have told Fox News for months that the candidate's small rooms and small crowds are by design, to make the events more "personal."
But the difference in the optics underscores what some see as an enthusiasm gap between the campaigns, as the candidates head into their first debate Monday.
"Crowd size speaks to the energy of your base," said Joe Trippi, a seasoned Democratic campaign strategist who ran Howard Dean's presidential campaign in 2004. "And right now, Trump's base has more energy than Hillary's."
"Energy" does not necessarily translate to victory, a lesson Dean learned in 2004. Bernie Sanders' massive and passionate crowds were not enough for the Vermont senator to catch Clinton in this year's Democratic primaries, either.
Clinton campaign officials called the Orlando event a "policy speech," and not a rally designed to draw thousands of people. The stop was billed as an event where Clinton would "discuss her vision for an America that is stronger together and an economy that works for everyone, not just those at the top."
But the Trump campaign, just as it tagged Jeb Bush with the 'low energy' label during the primaries, lately has seized on the narrative of a low-voltage Clinton campaign.
Hoping to capitalize on this tableau, the campaign sent out an email to supporters and reporters regarding Wednesday's events titled "A TALE OF TWO RALLIES." The blast shows a picture from Clinton's event in Orlando with a caption of "About 300" and a picture of the Trump rally in Toledo with a caption of "Over 2,000."
Trump held two events this week where he drew "huge" crowds. On Monday, the billionaire businessman spoke in front of more than 7,000 at an event in Estero, Fla., before swinging into Toledo.
The Republican nominee also has been using footage and images from such events to bolster claims that he's not just leading a campaign – but a "movement."
Clinton has been grappling with enthusiasm issues since before the start of the primary season. And this late in the season, it is unusual to see a major presidential nominee – particularly one whose election would make U.S. history, and who already made history as the first female presidential nominee of a major party – playing to small rooms day after day.
Last Monday, Clinton gave a speech at Temple University in Philadelphia, in a small room in front of around 300 people.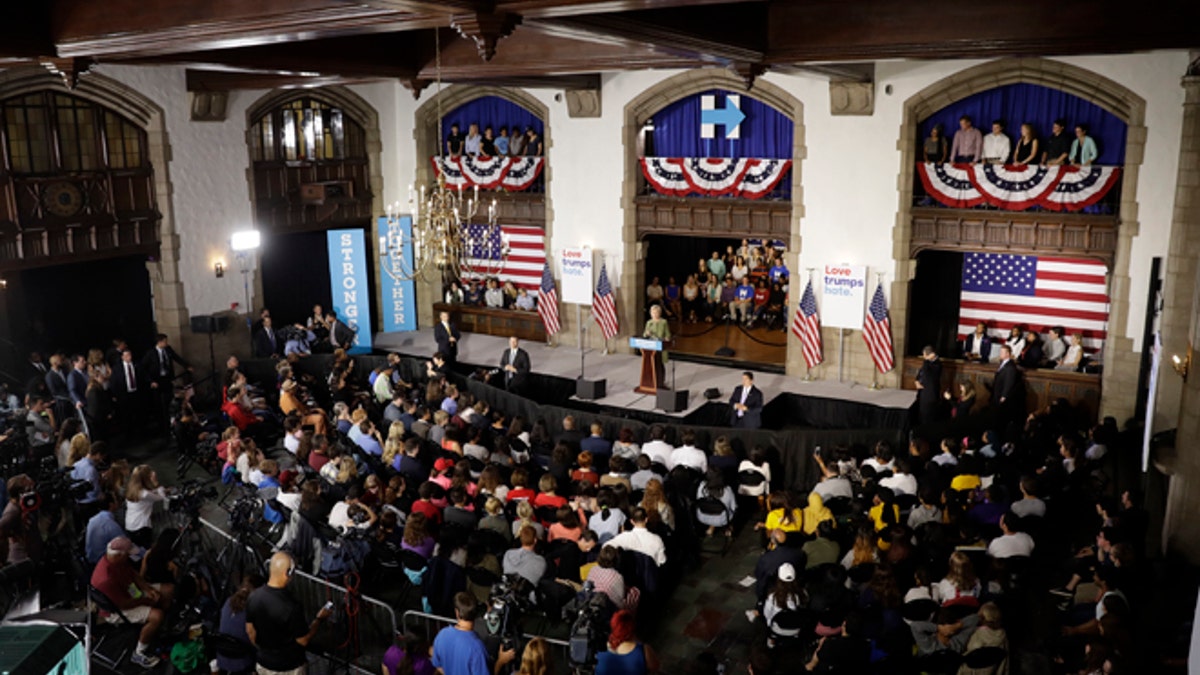 The next day, Trump's running mate Indiana Gov. Mike Pence spoke in front of about twice as many in Williamsburg, Va. – in a downpour. Pence's speech went on for about 20 minutes, and the crowd stuck around for the whole speech in the driving rain.
Still, veteran campaign professionals will note that the business of counting crowds is not the most accurate gauge.
"The main goal is to get on the front page of the local paper or the lead segment of the local news," said Lis Smith, a Democratic strategist who worked on President Obama's campaign in 2012 and ran the press operation for Maryland Gov. Martin O'Malley's 2016 failed presidential bid. "It really doesn't matter if I get 300 people there or 3,000. I just need the eyes and ears from newspaper and TV coverage. ... That number dwarfs any rally crowd."
The biggest question going forward is whether the "energy" of each candidate's supporters translates to motivation to get out and vote on Election Day.
"Look, they are running two different strategies," Trippi said. "The Clinton campaign has decided to focus on early voting and a robust get-out-the-vote effort on Election Day. If they can only get 'Aunt Edna' out of her house one time, you better make sure it's to the ballot booth."