Early voting sees record 1st-day turnouts in various states, including Texas, Florida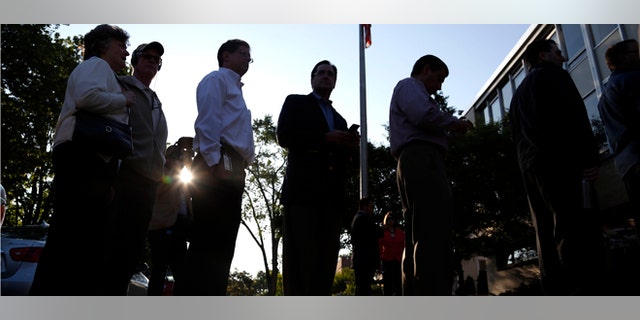 NEWYou can now listen to Fox News articles!
Several states, including Texas and Florida, reported record turnouts on the first day of early voting.
In Texas, the secretary of state reported heavy turnout for major metropolitan areas, particularly the Houston area, according to the Dallas Morning news.
Some counties reported double the turnout that occurred on the first day of early voting in 2012 and sharp increases from 2008, according to the Texas Tribune.
"We're extremely pleased that the voters are coming out not only to our standard locations but also our additional locations," said Toni Pippins-Poole, Dallas County elections administrator, to the News. "I'm pleased to see that our voters are not having to wait two hours."
In Florida, more than 1.6 million people have already voted in this year's crucial election.
New numbers released Tuesday by the state's Division of Elections show nearly 300,000 voters went to early voting sites on the first day they were open in 50 counties. Another 1.3 million voters sent in their ballots by mail.
Florida is a battleground state and the start of early voting has prompted Republican Donald Trump and Democrat Hillary Clinton to sweep through the state.
Trump and Clinton bold campaigned in Florida on Tuesday.
So far Republicans have a slight edge in turnout in the Sunshine State.
Numbers show more than 665,000 Republicans have cast ballots compared to more than 658,000 Democrats. Nearly 251,000 voters with no party affiliation have voted.
Among Florida's Latino early voters, there was a marked uptick from the same period in 2012. Clinton campaign officials said that about 133,000 early voters were Latinos who cast their ballots through mail-in and absentee ballots. According to BuzzFeed News, that is a 99 percent rise from Latino voting in the same period in 2012.
ABC News political analyst Matthew Dowd theorized that the high turnout could be, at least in part, a result of the growing trend of taking part in early voting in general elections.
"As a percent of voting age population it will be low, probably lower than the past four or five presidential elections," Dowd said. "Net total will set a record, though."
The Associated Press contributed to this report.
Like us on Facebook
Follow us on Twitter & Instagram