Despite Debt-Crisis Resolution, Wall Street Plummets Amid Economic Fears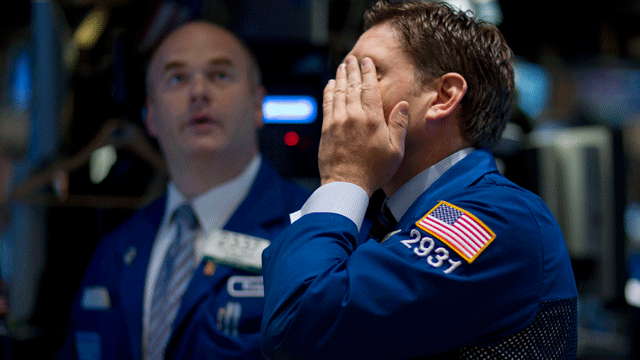 NEWYou can now listen to Fox News articles!
Just when Washington thought the U.S. economy was back on track after dodging a bullet from the now-resolved debt crisis, Wall Street sent a clear signal Thursday that all is not well.
The Dow Jones industrial average fell off a cliff, dropping more than 500 points Thursday, erasing its gains for the year as investors gave President Obama a present on his 50th birthday that he'd rather return.
Stocks plunged amid worries over new data showing economic weakness in the U.S. and Europe. Investors were spooked by reports showing the number of Americans applying for first-time jobless benefits fell to 400,000 from a revised 401,000 in the prior week.
Jobless claims have remained stuck at that level for 17 weeks, leading economists to doubt the strength of the economic recovery. In Europe, investors are concerned that Italy and Spain may need a bailout from the European Union.
But the White House, which is bracing for a monthly jobs report Friday that is expected to bring more bad news, showed no signs of panic after the steep dive.
"Markets go up and down," White House Press Secretary Jay Carney said. "We obviously are monitoring the situation in Europe closely. And there's no question that this economy has faced headwinds this year, a variety of them, including the earthquake and tsunami in Japan, the increase in oil prices – energy prices that resulted from the unrest in the Arab world, and the situation in Europe also."
"So our focus has to be on the things that we can control, which is to take the necessary measures, working with Congress, to ensure that our economy grows, that we create jobs," he said.
Carney said Washington took "an important step toward creating economic certainty here in this country by resolving the debt ceiling crisis earlier this week."
Despite the deal that will cut up to $2.4 trillion in federal spending over the next decade, a series of reports show the economy is still struggling to gain its footing after a deep recession ended two years ago.
Consumer spending is down. Service businesses are slumping. Manufacturing is weak and the economy isn't growing fast enough to absorb a growing labor force. The only thing growing is corporate profits.
Carney tried to quell fears that the economy is sliding back into recession.
"We do not believe that there is a threat of a double-dip recession," he said. "We believe the economy will continue to grow."