Dems Push Ahead With DREAM Act, as ICE Offers New Guidelines for Illegal Immigrant Cases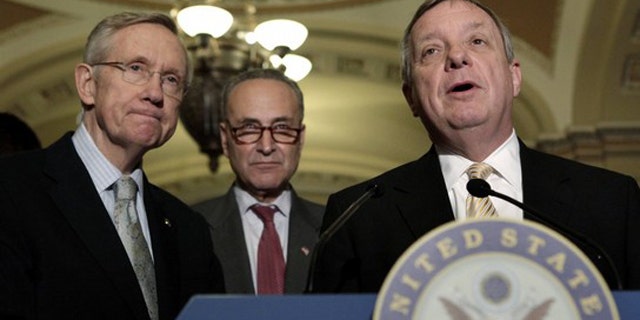 Sen. Dick Durbin plans to make a full-court press Tuesday to revive the debate over a controversial proposal to give illegal immigrants who came to the U.S. as children a path to legal status, as the Obama administration moves on a separate track to grant what some describe as "amnesty" to the same group.
Durbin, D-Ill., in announcing the first-ever Senate hearing on the so-called DREAM Act, said his proposal would "make our country stronger." Under the plan, which passed the House last year but died in the Senate, illegal immigrants who came here as children and complete two years of college or military service could earn legal status.
Several top administration officials, including Homeland Security Secretary Janet Napolitano and Education Secretary Arne Duncan, plan to testify before Durbin's subcommittee. The hearing and a recent memo from the Immigration and Customs Enforcement suggest officials are moving on two fronts to give illegal immigrant students a chance at staying.
The memo issued June 17 from ICE Director John Morton instructs staff to consider 19 factors when exercising "prosecutorial discretion" -- or the discretion an ICE attorney has in deciding whether and how to pursue or dismiss an immigration case.
The factors include how long an illegal immigrant has been in the United States as well as their criminal history. But the list also includes factors similar to those in the DREAM Act -- like whether the suspect arrived in the U.S. as a "young child," whether the suspect is pursuing an education, and whether the suspect has served in the military.
The memo made clear that certain factors -- like whether a suspect came to the U.S. as a child -- should weigh in their favor, while other factors -- like a criminal history -- should weigh against them.
The Federation for American Immigration Reform, or FAIR, decried the new set of instructions, describing it as a gift to DREAM Act proponents. Though Durbin is pushing anew to pass the legislation, the now GOP-controlled House is unlikely to approve any such bill, even if it clears the Senate.
"By administrative fiat, they are achieving a grand-scale amnesty for large classes of illegal aliens that they have been unable to accomplish with the stalled DREAM Act legislation," FAIR said in a statement last week.
But the ICE memo falls in line with an effort by the Obama administration to prioritize immigration cases, so that illegal immigrant criminals are typically deported while those not accused of serious crimes are evaluated on a case-by-case basis. ICE statistics show that during the Obama administration, the number of removals for non-criminal illegal immigrants has gone down while the number of removals for illegal immigrant criminals has gone up.
ICE spokesman Brian Hale said the agency is trying to make the most of "limited resources" by going after the most dangerous illegal immigrants.
"The directive clearly states that the exercise of discretion is inappropriate in cases involving threats to public safety, national security and other agency priorities," he said.
Another ICE official said the agency has to set "sensible priorities" given that it receives a set amount of money from Congress with which to remove "a limited number of individuals."
The official said the administration is "doing more to keep criminal aliens who are threats to public safety -- including murderers, rapists and child molesters -- off our streets than ever before," as well as targeting employers who break immigration law.
ICE last week touted a series of raids in May that resulted in the arrest of 2,400 illegal immigrant criminals nationwide.
Hector Sanchez, director of the Labor Council for Latin American Advancement, cheered the administration for trying to make violent illegal immigrants the priority for deportation. He also said Latino voters are "very aware" that both parties have fallen short on addressing immigration reform.
As a backdrop, a recent Latino Decisions poll listed immigration as the top concern facing Hispanics. Census figures also show Hispanics changing the electoral map -- by 2012, they'll compose one-fifth of the vote in Texas and one-quarter in California.
The latest ICE memo comes as the Houston Chronicle reported Monday on a string of internal memos from an ICE official in Houston last August that ordered attorneys to dismiss immigration cases that did not meet the "top priorities" of the agency. Though the Houston guidance was later rescinded and the agency said they "exceeded" ICE's official guidance, the Chronicle reported that Houston's office was praised internally by ICE supervisors in Washington at the time until the dismissals became public.
Fox News' Wendell Goler contributed to this report.