Demographic Shift In The Big Apple: First Mexican-American Elected Official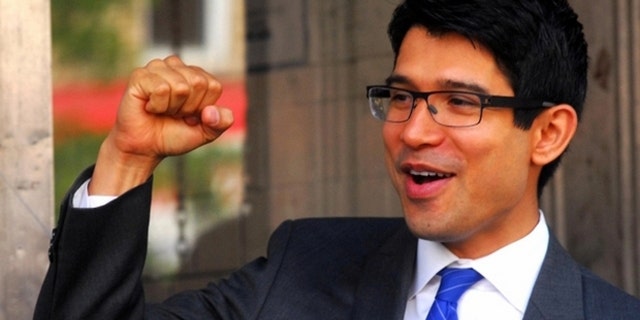 Just a generation ago, Mexicans were a rarity in the Big Apple.
But now they are New York City's fastest-growing Hispanic group, numbering well over 300,000 and comprising more than 12 percent of the city's Latino population. It's part of a demographic shift that, on the other end, has witnessed the city's "Old Guard" – Puerto Ricans and Dominicans – seeing their numbers decline over the years.
The change is making itself felt not only in places like Spanish Harlem, where the Mexican flag and businesses now are ubiquitous, but in politics, as well.
On Tuesday, the Mexican community just saw its first member elected into office when Carlos Menchaca defeated three-term incumbent Sara Gonzalez for a Brooklyn City Council seat. Like many of the city's Latino officials of past and present, Gonzalez is Puerto Rican.
"The people united will never be defeated," said Menchaca, 33, during his victory celebration Tuesday night.
"I am so excited to be in front of these amazing returns because you need to be proud of the work we did together," he said.
Some community leaders took part in an aggressive grassroots effort to get out the vote for Menchaca, who is also the first openly gay public official in Brooklyn.
One community activist held a voter registration drive that succeeded in getting more than 500 new Mexican-Americans on the rolls, something that popular blog Voice of New York noted "could have accounted for half of the winning votes."
Mexicans remain mainly concentrated in California, with more than half, or 61 percent (11 million) living in there. New York is home to the largest chunk – 41 percent, or about 1 million – of Puerto Ricans living on the mainland. Dominicans also are highly concentrated in New York, with 48 percent, or 675,000, living in the Empire State, according to Census data.
But that is likely to change, demographic experts say.
A 2008 report, "The Latino Population of New York City" by the City University of New York, said that Dominicans are expected to surpass Puerto Ricans to become the city's largest Latino group by 2020.
Mexicans, the report said, are expected to surpass Puerto Ricans by 2022 to become the second-largest group behind Dominicans. But by 2024, the report says, Mexicans could become New York City's largest Hispanic group.
Menchaca proudly acknowledged his trailblazing.
"I'm so excited to be making history tonight," said the El Paso, Texas native, according to The New York Daily News. "I will bring the voice of the immigrant community to City Hall. I will work not only for Mexican immigrants, but for all immigrants."
Veteran Daily News columnist Albor Ruiz noted: "This primary victory marked much more than the arrival of Carlos Menchaca; it also signified the beginning of the long journey on which Mexican Americans have embarked — to gain a foothold on the city's political landscape."
Follow us on twitter.com/foxnewslatino
Like us at facebook.com/foxnewslatino