Democrats Struggle to Field Latino Candidates in Florida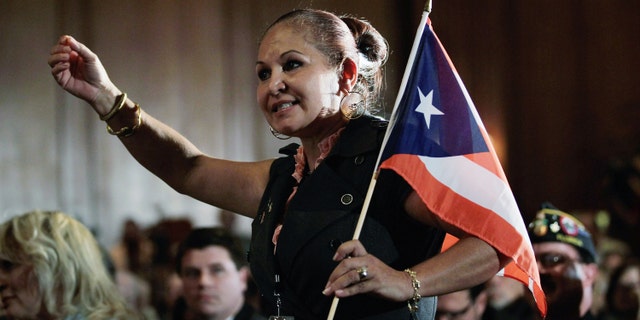 Miami – Democrats are having a hard time fielding candidates in the key swing state of Florida.
This election year would seem a dream come true for Florida Democrats in their efforts to woo the state's growing Hispanic population. In the last four years, the number of registered Democrats in the state now outnumbers Republicans by more than 400,000, in large part because of the surge in Latino voters.
But despite these gains, the state Democratic Party is still struggling to attract Hispanic candidates and even voters. And with more than 2 million independent voters in one of the key battleground states, that distance could hurt President Barack Obama's chances of repeating his 2008 win here.
Entering Tuesday's primary, there are about eight Hispanic candidates running as Democrats for Congress or the state Legislature out of 188 races.
"At the national level, the party increasingly understands the importance of Hispanic participation beyond just getting folks out to vote every four years," said Joe Garcia, a Cuban-American Democrat running for Congress in a South Florida district. "(In Florida), the problem is we are not having a conversation with the fastest-growing constituency. We're talking at them. And that has a price. The Republicans are selling. We are preaching."
But state Democratic leaders say elections are about who is best qualified to lead on the key issues, not ethnic litmus tests.
"Obviously right now we don't have a great deal of elected Hispanic Democrats, but I think that's about to change," State Party Chairman Rod Smith told The Associated Press.
Even those outside the party wonder why Democrats have such a tough time attracting Latino candidates in a state where nearly a quarter of residents are Hispanic.
Tony Suarez was elected in 1999 to the Florida State House as a Democrat but later became a Republican. The Puerto Rican attorney and talk show host offered a blunt assessment of the state's Democrats.
"The state Democratic Party in Florida is still stuck in the Black-White of the civil rights era. They're still fighting desegregation," said Suarez, referring to the party's outreach to the African-American community and its failure to recruit and groom Latino leaders.
In South Florida, GOP Congressman David Rivera faces a federal probe into allegations of tax evasion and is struggling to race campaign donations. His heavily Cuban-American seat has been redrawn with more independent and Democrat Hispanic voters -- setting the stage for a competitive race.
But Democrats had trouble even recruiting a candidate. First they backed Luis Garcia, a 67-year-old former fire chief-turned-state-representative, to challenge Rivera. But Garcia withdrew from the race in April, threatened to leave the party and is now running for Miami-Dade County commissioner. The Democrats' second choice refused to run.
Eventually, they turned to an unknown Latina businesswoman, Gloria Romero Roses from neighboring Broward County. The Colombian-American is now in a tight primary race against Joe Garcia, a former Obama administration official who once headed the Cuban-American National Foundation. He lost to Rivera in 2010.
Nationwide, it is often the Republican Party that has had trouble attracting Hispanic voters, although it has recently begun to attract more candidates. More than 65 percent of registered Hispanic voters nationally say they support Obama, according to a recent NBC/Wall street Journal/Telemundo poll.
But in Florida, Republicans have long received support from many Cuban-American voters, who back the party's hard line against Cuba's communist government. Newer immigrants and the fast-growing Puerto Rican community are more likely to register Democratic but less likely to vote or get involved in campaigns, let alone run for office.
Romero, the Broward congressional candidate, said it's simply a question of time before more Democratic Hispanic candidates run. She said people like herself who have come through the nonprofit and business sectors are frustrated enough with the lack of action in Washington and Tallahassee to finally run.
Victor Torres, who is running unopposed for a new heavily Hispanic state House district in Osceola County, agrees. The U.S. Marine Corps veteran and former New York City police detective, with long ties to labor unions, said candidates need time to develop experience and leadership.
"But the party has to get more involved with minorities and cultivate them," he added.
Osceola got a new U.S. congressional district this year thanks to the growth of central Florida's Hispanic community. About 41 percent of its voters are Hispanic, mostly Puerto Rican. Republicans have fielded two Puerto Rican candidates. Democrats, meanwhile, have backed liberal, white firebrand Alan Grayson, who lost his seat in 2010.
Democratic activist and Florida Puerto Rican Zoraida Rios-Andino said she has nothing against Grayson but that Puerto Ricans need to see leaders who represent their political views and also understand and reflect their culture.
"There's many qualified Hispanics to run. Why doesn't Grayson run in someone else's district?" she said.
The disconnect between Florida Democratic officials and potential Latino leaders is palpable at times. At a May Puerto Rican Summit in Orlando, some audience members squirmed as U.S. Sen. Bill Nelson spoke about Spanish explorer and Puerto Rican Gov. Juan Ponce de Leon's arrival in Florida nearly 500 years ago but offered little about recent Puerto Rican history and politics in Florida.
At the annual Democrats' recent Jefferson-Jackson dinner in Broward County, the only Latino speaker was Antonio Villaraigosa, the Mexican-American mayor of Los Angeles. No Cuban-Americans or Puerto Ricans spoke.
Smith defended the choice.
"The featured speaker for the evening is a recognized national Hispanic leader. That message is not lost and it's not lost on the Hispanic community," he said. He called it a sign to the "state of Florida of how important the Hispanic vote is."
One of the few elected Democratic Latino officials in the audience that night was State Rep. Darren Soto. He said he has received strong support from the party.
"When they recognize that you can win and you're strong, then they will back you with big money," he said. "They have limited resources. We can't just float out candidates and go, `Oh well, throw a million in that race and hope it sticks.' We have to be more strategic."
Soto said many new Hispanic candidates earned a spot on the ballot this year but conceded they might have a tough time making it through the Democratic primary.
"We're in our first generation here in central Florida," he said. "I think you'll see over the next 10 to 20 years it become more and more prominent because the numbers are just going that way, and something's got to break."
Based on reporting by the Associated Press.
Follow us on twitter.com/foxnewslatino
Like us at facebook.com/foxnewslatino