Democrats Face Electoral Backlash After Health Care Vote, Top Republican Warns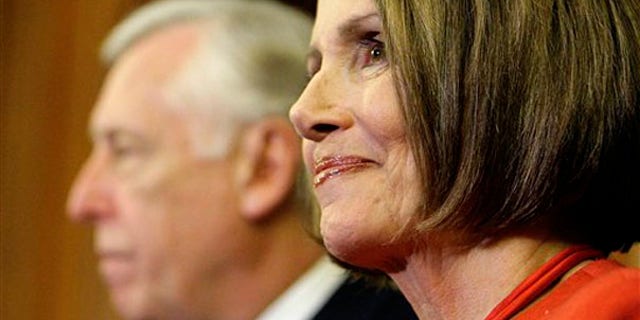 NEWYou can now listen to Fox News articles!
Democrats will pay at the polls for their vote in favor of a sweeping health care reform package Saturday night, a top House Republican warned, while Democrats cheered the bill's narrow approval as a historic achievement.
Rep. Mike Pence, R-Ind., chairman of the House Republican Conference, told "Fox News Sunday" that the vote proved Democrats have not listened to American concerns about over-spending, bailouts and government takeovers.
"The message from last night is that the Democrats didn't get the message in August or last Tuesday," Pence said, referring to the town hall meetings over the summer where members of the public protested the plan and last Tuesday's election where Democrats lost two big governor's races.
"I think the American people are deeply frustrated with a liberal establishment in Washington, D.C. that is ignoring their will," Pence said. "If Democrats keep ignoring the American people, their party's going to be history in about a year."
Pence said Republicans were booted out of Congress in 2006 and 2008 after being hammered for over-spending, and predicted the same could happen to Democrats in the 2010 congressional elections.
Other prominent Republicans on Sunday joined Pence in arguing that Saturday's vote proves Democrats are out of touch. Republican Party Chairman Michael Steele said the House bill allows the government to take over health care even though Americans don't want the government in charge.
"The Democratic Party had better pay attention to what the people out here are saying," Steele said. "You can no longer dismiss people by sitting on your cell phone when they're talking to you or calling them un-American or making them feel like you don't give a heck about what they're concerns are. That's what the voters laid on the table this year."
Many Democrats were clearly uncomfortable with the health care reform vote and mindful of the possible backlash it carried -- 39 House Democrats, most from moderate or conservative states and districts, voted against the bill. Sen. Lindsey Graham, R-S.C., referenced this in an interview Sunday on CBS' "Face the Nation."
"They come from red states, moderate Democrats from swing districts. They bailed out on this bill," Graham said.
But Democrats insisted they were giving Americans what they want with the health care vote and dismissed Republican talk of an electoral revolt.
"They've been trying to block this all year," said Virginia Gov. Tim Kaine, the chairman of the Democratic Party. "They've said that they want to beat health care reform as a way to break the president."
The Democrat in charge of defending his party's majority in the House next year said Democrats took their cue Saturday from voters' "message" in the 2008 election, which sent President Obama to the White House and strengthened Democratic majorities in Congress. Rep. Chris Van Hollen, D-Md., head of the Democratic Congressional Campaign Committee, said voters were upset that Republicans "did nothing" about issues like health care while they were in power and wanted Washington to step up to the plate.
"That's what we did last night," Van Hollen told "Fox News Sunday."
Van Hollen noted that Saturday's vote was just one step, albeit "a very big step," on the road to health care reform.
The Senate, where the Democratic majority is smaller, still has to approve its version of the bill.
"I know the Senate's committed to moving ahead," Van Hollen said.
But Senate Majority Leader Harry Reid is still trying to round up enough votes.
Independent Democratic Sen. Joe Lieberman told "Fox News Sunday" that Democrats can certainly count him in the "no" column if they keep in a government-backed insurance plan.
"If the public option is in there as a matter of conscience, I will not allow this bill to come to a final vote," the Connecticut senator said, signaling that he would back a Republican filibuster -- which Democrats need 60 votes to break.
The House bill passed by a 220-215 vote late Saturday night.
A triumphant Speaker Nancy Pelosi likened the legislation to the passage of Social Security in 1935 and Medicare 30 years later -- and Obama issued a statement saying, "I look forward to signing it into law by the end of the year."
"It provides coverage for 96 percent of Americans. It offers everyone, regardless of health or income, the peace of mind that comes from knowing they will have access to affordable health care when they need it," said Rep. John Dingell, the 83-year-old Michigan lawmaker who has introduced national health insurance in every Congress since succeeding his father in 1955.
In the run-up to a final vote, conservatives from the two political parties joined forces to impose tough new restrictions on abortion coverage in insurance policies to be sold to many individuals and small groups. They prevailed on a roll call of 240-194.
Ironically, that only solidified support for the legislation, clearing the way for conservative Democrats to vote for it.
The legislation would require most Americans to carry insurance and provide federal subsidies to those who otherwise could not afford it. Large companies would have to offer coverage to their employees. Both consumers and companies would be slapped with penalties if they defied the government's mandates.
Insurance industry practices such as denying coverage on the basis of pre-existing medical conditions would be banned, and insurers would no longer be able to charge higher premiums on the basis of gender or medical history. In a further slap, the industry would lose its exemption from federal antitrust restrictions on price fixing and market allocation.
At its core, the measure would create a federally regulated marketplace where consumers could shop for coverage. In the bill's most controversial provision, the government would sell insurance, although the Congressional Budget Office forecasts that premiums for it would be more expensive than for policies sold by private firms.
Steele and Kaine spoke on ABC's "This Week."
The Associated Press contributed to this report.