Democrats Blast GOP Bill that Cracks Down on Delayed Deportations for Non-Criminals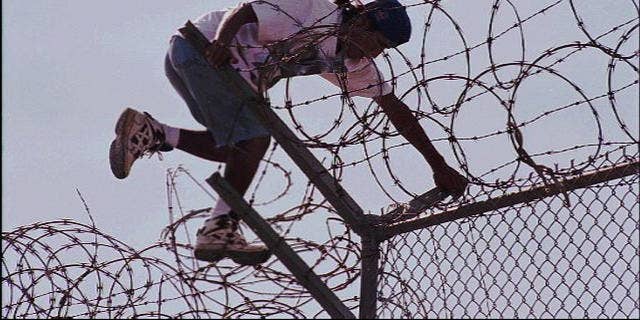 A legislative proposal in Congress backed by Republicans would dramatically limit the circumstances for delaying deportation.
The measure, known as the HALT Act and introduced by Rep. Lamar Smith and Sen. David Vitter, seeks to suspend until January of 2013 the discretion of the president to prioritize the deportation of some people, or classes of people, over others.
Smith, a Texas Republican who is chairman of the House Judiciary Committee, said the impetus for the bill was a series of directives by Obama Administration officials urging "prosecutorial discretion" in enforcing immigration laws, particularly those involving detention and deportation.
Administration officials said that immigration enforcement should prioritize criminals over people who have civil violations, which includes entering or living in the United States illegally.
"If the President gets his way, millions of illegal immigrants will be allowed to legally live and work in the U.S. without a vote of Congress," Smith said in a statement, which called the administration's shift in focus "a massive administrative amnesty to illegal immigrants."
Smith has said he's firmly opposed to moves to give breaks to undocumented immigrants.
"The Obama administration should not pick and choose which laws it will enforce," Smith said. "Congress must put a halt to this administrative amnesty."
Vitter, a Republican from Louisiana, is chairman of the U.S. Senate Border Security and Enforcement First Immigration Caucus.
Many immigration advocacy groups, and Latino leaders, have grown increasingly frustrated with Obama, who campaigned for president with a vow to reform immigration in his first year in office. While courting Latino voters, Obama said he would push an overhaul of the system that both would tighten enforcement, border security and provide undocumented immigrants who meet a strict set of criteria a chance to legalize their status.
But deportations have reached record levels under Obama, and roughly half of those deported have no known criminal records. Former President George W. Bush also had announced a change in focus on immigration enforcement, saying that it would prioritize arresting and deporting people who had criminal records or who posed a threat to national security. But some programs set up to pursue dangerous people ended up detaining and deporting mainly people who had immigration violations.
Many of Obama's fellow Democrats, Latino leaders and immigration advocates say his vow of immigration reform seems to have been hollow campaign talk.
On Thursday, several Democrats in Congress assailed the HALT Act, saying in a statement that it would force the administration not to distinguish between "criminals, terrorists, and other threats -- for deportation -- over non-criminal immigrants with deep roots in U.S. society."
Rep. Luis Gutierrez, an Illinois Democrat who has been vocal on the issue of immigration, said at a press conference that the HALT Act bill "is petty partisan politics at its worst and trivializes the immigration issue -- an issue where families and lives are literally in the balance -- and it turns the immigration issue into a game of political 'gotcha.'"
Gutierrez and other members of Congress who have tried unsuccessfully to pass comprehensive immigration reform bills have instead, since Republicans won control of the House of Representatives in November, concentrated more on pressing the administration to make changes in immigration policy using discretionary powers.
They have pushed, for example, for the administration to implement a moratorium on deportations for some categories of immigrants – particularly undocumented youth who, they say, had no say about coming to this country illegally – while any overhaul of the system seems unlikely amid bipartisan bickering.
But many Republicans, as well as others who favor a strict approach to immigration enforcement, object to what they see as the president sidestepping the will of Congress and the American public.
The Federation for American Immigration Reform, or FAIR, which favors strict immigration laws, said in a statement: "While all law enforcement agencies are afforded reasonable discretion in how to enforce laws, the Obama administration – particularly the Departments of Homeland Security and Justice – are brazenly ignoring the laws they are sworn to uphold."
"The Obama administration has made it clear," said FAIR's president, Dan Stein, "that it will simply disregard congressional authority over immigration policy and decide for itself which laws it will or will not enforce."
The HALT Act would, among other things, limit parole and delaying deportation for undocumented immigrants, extensions of Temporary Protected Status, or TPS, for immigrants who cannot immediately return to their homelands because of a natural disaster or other extreme condition, and the granting of work permits to people who are here unlawfully.
Some 12 million people are believed to be living illegally in the United States.
Follow Elizabeth Llorente on Twitter: @LlorenteLatino
Elizabeth.Llorente@FoxNewsLatino.com
Follow us on twitter.com/foxnewslatino
Like us at facebook.com/foxnewslatino