Defiant Roger Stone vows to never testify against Trump: 'Where is the crime? I engaged in politics'
Longtime Republican operative Roger Stone, whose possible ties to WikiLeaks while he communicated with President Trump's campaign have come under scrutiny in Special Counsel Robert Mueller's Russia probe, on Sunday vowed to never testify against the president.
His comments come days after ex-Trump lawyer Michael Cohen confessed in a surprise guilty plea that he lied to Congress about a Moscow real estate deal he pursued on Trump's behalf during the heat of the 2016 campaign for the Republican presidential nomination.
Stone insisted it was "absolutely correct" that he had never spoken with WikiLeaks founder Julian Assange, contacted WikiLeaks in any way, or communicated about WikiLeaks-related matters with Trump.
"There's no circumstance under which I would testify against the president, because I'd have to bear false witness against him," Stone told ABC "This Week" host George Stephanopoulos. "I'd have to make things up, and I'm not going to do that."
He added: "I've never done anything in politics that was outside the norms of my colleagues. ... And I've always made it clear that so-called dirty tricks come up to, but do not cross, the line into illegality."
"Again, where is the crime? I engaged in politics."
Stone has said he believes Mueller is investigating whether he had advance knowledge of WikiLeaks releasing hacked emails of Democrats during the 2016 campaign.
MANAFORT, WIKILEAKS SUGGEST LEGAL ACTION AGAINST THE GUARDIAN AFTER UNVERIFIED REPORT OF SECRET CONSULATE MEETING
On July 25, 2016, just three days after WikiLeaks released thousands of stolen emails from the Democratic National Commitee, Stone says he received an email alerting him that WikiLeaks would release a similar email dump concerning Hillary Clinton and the Clinton Foundation.
In remarks August 8, Stone publicly told an audience in Florida that "I actually have communicated with Assange. I believe the next tranche of his documents pertain to the Clinton Foundation, but there's no telling what the October surprise may be." He later claimed to be embellishing.
On Sunday, Stone clarified to Stephanopoulos: "I had no contact with Assange. Assange himself had said 'while Roger Stone is a brilliant spin master, we've had no communication with him.'"
On Aug. 21, Stone tweeted, "Trust me, it will soon [be] the Podesta's time in the barrel," apparently referring to John Podesta, then Clinton's campaign chairman and a longtime Clinton associate.
Stone told Stephanopoulos he has not been contacted by Mueller's team about the remarks or any other topic -- which Stephanopoulos said suggests Stone might be a target of the investigation, because federal investigators often talk to witnesses before targets.
But Stone was adamant that he has done nothing wrong.
"It suggests nothing at all. Again, where is the crime? I engaged in politics. ... My purpose was to take a tip which I thought to be solid, and then after that to follow the WikiLeaks Twitter feed and set a Google News alert for Julian Assange, and use Twitter to hype" the organization's disclosures when they were released.
TUCKER CARLSON: FOR THE CRIME OF FOREGETTING MINOR DETAILS, LONGTIME TRUMP ASSOCIATE IS FACING BANKRUPTCY AND JAIL TIME
In the plea on Thursday, Cohen said he lied to be consistent with Trump's "political messaging." The agreement made clear that prosecutors believe Trump's former lawyer was continuing to pursue the Trump Tower Moscow project weeks after his boss had clinched the Republican nomination for president and well after the point that Cohen has publicly acknowledged.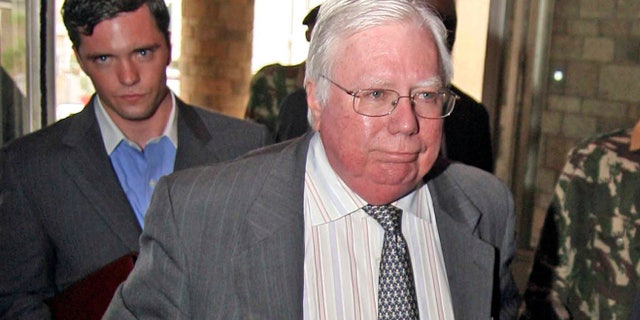 Meanwhile, conservative author and Stone associate Jerome Corsi revealed last week he plans to reject a potential deal with Mueller to plead guilty to perjury. Corsi, who wrote the anti-President Obama book "The Obama Nation," recently announced that he expected to be indicted in Mueller's probe.
"They can put me in prison the rest of my life," Corsi told CNN. "I am not going to sign a lie."
Stone told Fox News' "Hannity" last week that he believes it is "despicable" for Mueller to effectively pit Corsi and Stone against each other, charging that the effort is politically motivated.
And in another turn in the WikiLeaks saga, The Guardian published a report last week claiming that former Trump campaign chairman Paul Manafort had secretly met with Assange in the Ecuadorian Embassy during the campaign.
Both WikiLeaks and Manafort have suggested they may sue the Guardian for the report, and the paper has since edited the language in the article to clearly attribute the claim to sources and to suggest that the meeting may not have occurred.
In a tweet highlighting the edits made by the Guardian, WikiLeaks suggested the paper's editor should resign.
Rep. Adam Schiff, D-Calif., who is poised to become the chairman of the House Intelligence Committee in January, said on "This Week" he did not find Stone's interview to be "at all" credible minutes after it aired.
"It also looks like Mr. Stone was attempting to enlist Mr. Corsi's help in covering for false testimony," Schiff said. "So I think the testimony alone is reason for great exposure for Mr. Stone."