Debate: Trump counterpunches well, but Carly gets in his, well, face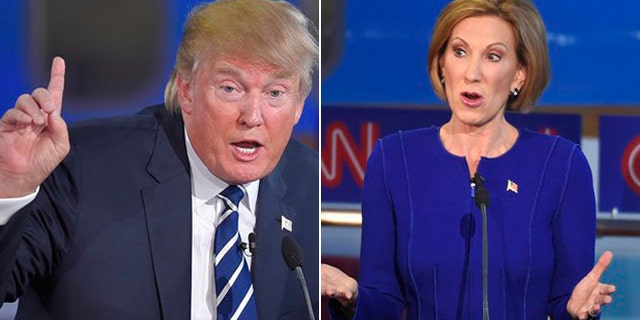 Donald Trump was under attack from the very first minute of the CNN debate, punching back against Jeb Bush, Rand Paul, Scott Walker and others by pointing to his business success.
But Carly Fiorina repeatedly challenged Trump and at one point had him on the defensive, pretty much for the first time in his unorthodox and high-decibel campaign.
Fiorina had a very strong night, staring down The Donald over his jab about her face, prompting him to call her a "beautiful woman"—a clear if unspoken acknowledgment of a mistake. She also had the debate's two most passionate moments, denouncing the undercover Planned Parenthood videos on fetal body parts and painfully recalling burying a child lost to drug abuse.
In fact, she did what Jeb Bush had hoped to do to Trump, but many of his attack lines missed the mark or fell flat.
Ben Carson got strikingly few questions as the second-place candidate, staying on the high road despite repeated invitations from moderator Jake Tapper to criticize Trump.
The takeaway from Wednesday night is that Trump committed no gaffes, but the footage of Fiorina suggesting that he insulted women with his "look at that face" crack in Rolling Stone—and Trump backing off by proclaiming her beauty--will be replayed again and again.
Trump similarly said he heard that Bush's Mexican-born wife Columba is a "lovely woman" when Bush, in response to a question, urged him to apologize for dragging her into the immigration debate.
The debate got out of control at times as some of the 11 candidates, such as Mike Huckabee and John Kasich, busted in and were allowed to keep on talking.
Many of those on stage challenged and mocked Trump in the first hour, enabling the front-runner to swing back and cementing the impression that they are anxious to take him down.
Paul accused Trump of a "sophomoric" style, focusing on people's looks, that is reminiscent of junior high school—this after Trump said the Kentucky senator was so low in the polls that he shouldn't be on the stage. Walker jabbed at Trump by saying "we don't need an apprentice in the White House," but the line came off as scripted.
One notable development is that Trump toned down the bluster and was more serious about the issues. He effectively answered a question about the president not enforcing his own "red line" in Syria by saying Barack Obama lacks courage.
Bush did accuse Trump of giving him money as governor of Florida in an unsuccessful attempt to win casino gambling in the state. Trump dismissed that as "totally false," but the moment would have been worse for him had CNN done a quick fact check: Trump held a fundraiser for Bush in his 1998 campaign and donated $50,000 to the Florida Republican Party but was not able to get his casino project approved.
Jeb was certainly more energized than at the Fox debate—Trump even joked that he wasn't as low-energy—but he seemed uncomfortable in some of their toe-to-toe exchanges.
But if Trump was the unquestioned star on stage, Fiorina repeatedly stole the spotlight. She generally used a scalpel rather than a sledgehammer, but didn't hold back when Trump ripped her record as the fired CEO of Hewlett-Packard. She said he had gone heavily into debt with casino companies that went bankrupt. It was a draw, but that kind of argument can only help the trailing candidate.
Chris Christie finally jumped in and said it's great that both are rich, but their arguing wasn't doing anything for the average working American.
The other notable exchange involved Jeb's brother, and he didn't handle it well. Asked by Hugh Hewitt about the burden of his last name, Bush said he was his own man and pivoted to other talking points—allowing Trump to blame George W. for the Iraq war and declaring he gave the country Barack Obama.
Jeb pushed back by saying his brother kept us safe, but strangely invoking 9/11 as his example—allowing Trump to say he didn't feel any safer.
My scorecard for the Reagan Library faceoff: Carly Fiorina helped herself the most with a strong and sometimes emotional performance and by effectively challenging Trump. Jeb Bush tried to take on Trump but mostly swung and missed. Ben Carson's soft-spoken idealism will appeal to his fans but was left out for long stretches of the debate.
And while Donald Trump might have gotten his hair mussed a bit, it's hard to see how his high-flying campaign lost much altitude during the CNN debate.