Cruz looks to reset race with Wisconsin win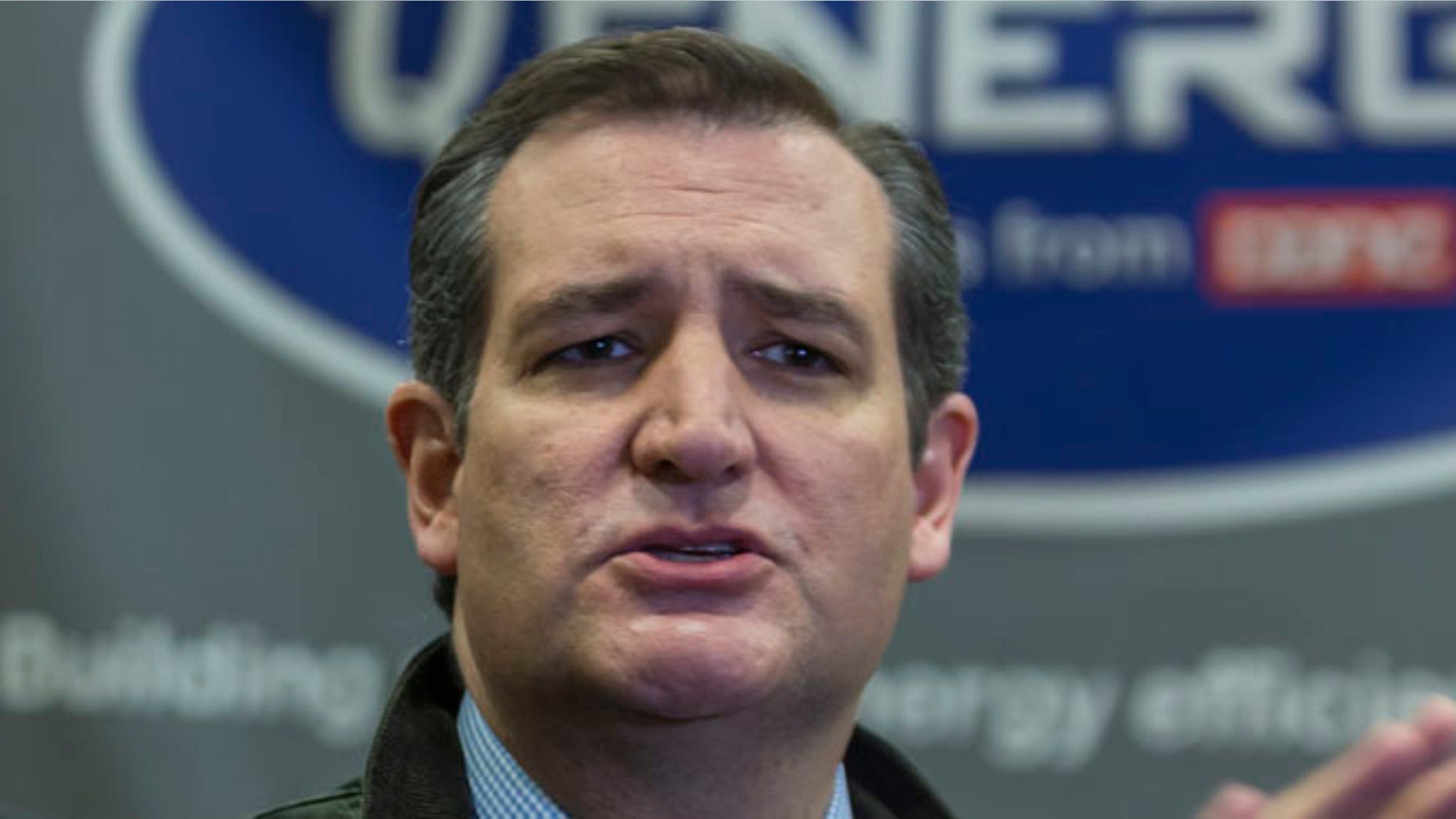 Want FOX News First in your inbox every day? Sign up here.
Buzz Cut:
• Cruz looks to reset race with Wisconsin win
• Power Play: Done deal?
• Face off: Trump knocked off topic by tweet
• Lost Clinton emails unearthed from 2009
• The Judge's Ruling: Easter people
CRUZ LOOKS TO RESET RACE WITH WISCONSIN WIN
Second-place GOP presidential candidate Sen. Ted Cruz, R-Texas, is out today with a trio of new ads in Wisconsin ahead pf the Badger State's April 5 primary.
The spots, which you can see here, here and here, are backed by $350,000 according to his campaign and are all positive in tone and are obviously aimed at softening Cruz's image in a state where moderate Republicans hold lots of clout.
There has not been much polling on the winner-take-all contest, but a survey out this week from Emerson College put Cruz in a statistical tie with frontrunner Donald Trump.
But the kinder tone of the Cruz's closing argument likely has something to do with Ohio Gov. John Kasich, who has campaigned in the state but lags far behind the other two. But even a distant third-place finish for Kasich might be enough to deliver the delegates and the momentum to Trump.
And as it turns out, the Wisconsin contest is shaping up to be one of the most important of the cycle.
The Republican primary calendar is on something of an Easter break. After 37 contests in seven weeks, the calendar is bare next week. And with about a third of the delegates still to be claimed, the math is stubborn for the two candidates still in the running for a clear win.
To go to the convention with the nomination sewn up, Trump would need to win about 57 percent of what's left, despite having won only 31 percent of the delegates so far. Cruz has an even more improbable-sounding target: He would need to win 88 percent of what's left despite having taken only 19 percent of the delegates awarded so far.
For both men, the goal is to put together a string of victories in the home stretch of the race so that even if they come to Cleveland short of the goal of 1,237 delegates, momentum is on their side. If the outcome is on doubt, a strong close for either candidate would be worth a great deal in convincing unpledged delegates to help put them over the top.
And as it turns out, Wisconsin looks to be the hinge point.
Cruz already looks good to win the closed GOP caucuses in North Dakota that day, and if he can win convincingly in a state with an open primary and lots of blue-collar white voters it would strongly argue that the race is not done.
Conversely, if Trump can beat back the challenge, especially in the home state of onetime rival Gov. Scott Walker, Trump's status as presumptive nominee would be greatly strengthened.
Walker: open convention 'likely' to nominate someone not in the race - (Madison, Wis.) Capital Times: "If the Republican Party finds itself with an open convention in July, Wisconsin Gov. Scott Walker believes the nominee may not be Donald Trump, Ted Cruz or John Kasich. 'I think if it's an open convention, it's very likely it would be someone who's not currently running,' Walker told reporters Thursday.
[Watch Fox: Sitting in for Mr. Sunday this week, Shannon Bream hosts Sen Ted Cruz. Watch "Fox News Sunday with Chris Wallace" at 2 p.m. and 6 p.m. ET on the Fox News Channel. Check local listings for broadcast times in your area.]
Power Play: Done deal? - GOP frontrunner Donald Trump put more distance between himself and his closest rival this week. So is it all over but the shouting? Republican Matt Schlapp and Democrat Corey Ealons share their take with Chris Stirewalt. WATCH
WITH YOUR SECOND CUP OF COFFEE…
The classic images of robots have tended to be of cold metallic machines or super strong cyborgs. But as the Atlantic observed, the future of robots will in many cases involve a softer touch. "'I just do not see a way to have a Terminator-style robot take care of people,' said Christopher Atkeson, a roboticist at Carnegie Mellon… The nascent field of soft robotics has emerged from this principle: Human-robot interaction is often better for humans if the robots are a little squishy, like us. Not because fluffy robots are more approachable or nonthreatening, but because form follows function. 'It's a mechanical issue,' Atkeson said. 'You're not going to brush your teeth with a bulldozer. That would be a mechanical mismatch. And if you can never touch your buddy, it's a problem. We're touchers, all of us.'"
Got a TIP from the RIGHT or the LEFT? Email FoxNewsFirst@FOXNEWS.COM
POLL CHECK
Real Clear Politics Averages
National GOP nomination: Trump 43 percent; Cruz 30.3 percent; Kasich 19.1 percent
National Dem nomination: Clinton 51.5 percent; Sanders 42.5 percent
General Election: Clinton vs. Trump: Clinton +11.2 points
Generic Congressional Vote: Democrats +1
FACE OFF: TRUMP KNOCKED OFF TOPIC BY TWEET
Amid a slew of new polls showing presumptive Republican nominee Donald Trump falling behind in a general election contest driven by his struggles with female voters, his latest media maelstrom over his remaining rival's wife is a doozy.
Trump has previously pushed Sen. Ted Cruz on the fact that his wife was an executive with Wall Street giant Goldman Sachs, which was part of Trump's longstanding effort to claim that the firebrand Texan most famous for shutting down the government over ObamaCare is really part of the GOP elite.
So in that way, Trump was probably getting the best of the back and forth when he was threatening to "spill the beans" on Heidi Cruz after an anti-Trump super PAC ran a web ad featuring an image from a nude 2000 photo spread of Trump's future wife, Melania.
Though Trump's claim that Cruz had produced the ad was untrue, it emphasized Cruz's family ties to Wall Street and the fact that the Texan is supported by outside groups – facts that feed into Trump's populist revolt movement.
But crossing over into repeating a supporter's insult about Heidi Cruz's appearance has backfired. While it helps Trump stay in the headlines, it is not for the usual kind of audacity that has fueled his success so far. For example, it was helpful for Trump when the media was agog over his call to ban Muslims from entering the United States, a position with broad, bipartisan support. The media scolding worked to his advantage.
But when the furor is over the disparagement of a woman's looks – something that has gotten Trump into hot water before – it's something different, and the timing is not good. Republican voters right now are pondering whether to push Trump over the top for a clear primary victory and be done with the nastiest primary campaign in modern political history or to take the chance on a contested convention.
In this moment, the argument that Trump's problems with female voters would be prohibitive, especially against the first female major party nominee, could be a powerful one. The fact that 67 percent of female voters expressed an unfavorable view of Trump in the latest Fox News poll – 13 points worse than Cruz – will be something for voters to chew on.
[GOP delegate count: Trump 739; Cruz 465; Kasich 143 (1,237 needed to win)]
Cruz plays long game in Louisiana - DailyCaller: "Texas Sen. Ted Cruz may turn out to be the real winner of the Louisiana Republican primary. Despite losing the primary in early March by fewer than four percentage points and winning an equal number of pledged delegates, Cruz supporters scooped up five of Louisiana's six positions on key committees intended to write the Republican National Convention's rules and platform, The Wall Street Journal reports."
Maryland Gov dumps on Trump - WaPo: "'I'm not endorsing Trump. I'm not really engaged in the process,' [Gov. Larry Hogan, R-Md.,] who was elected in heavily Democratic Maryland in 2014, told The Washington Post. In a subsequent sit-down with The Associated Press, he said he has no plans to attend the Republican National Convention this summer and has 'no idea who I'm going to vote for.' 'I'm not a Trump fan,' Hogan told AP. 'I don't think he should be the nominee.'"
#mediabuzz - Special guest Charles Krauthammer joins host Howard Kurtz to discuss the twists and turns of what continues to be a crazy campaign cycle, and a panel of Ashley Parker, Gayle Trotter and Julie Roginsky analyze the locker-room dustup between Donald Trump and Ted Cruz and the impact of the Brussels bombing on the 2016 race. Watch Sunday at 11 a.m. ET, with a second airing at 5 p.m.
LOST CLINTON EMAILS UNEARTHED FROM 2009
WashEx: "Judicial Watch on Thursday announced that it had unearthed emails from Hillary Clinton's personal email account dated February 2009. Until now, the former secretary of state had maintained she was not using the account at that time. The findings include a Feb. 13, 2009, exchange between Clinton and her chief of staff, Cheryl Mills, in which Mills conveys to Clinton that the National Security Agency is not pleased with her request for a more secure, personalized BlackBerry. Clinton sought the device to circumvent normal security protocols for accessing classified information."
Power Play: Scrambled stage for Hillary - The American Conservative Union's Matt Schlapp and Corey Ealons of Vox Global discuss the asymmetric threat Donald Trump presents for Hillary Clinton in the general election – particularly on foreign policy. WATCH
[Dem delegate count: Clinton 1690; Sanders 946 (2,383 needed to win)]
THE JUDGE'S RULING: EASTER PEOPLE
For about three quarters of Americans, today is Good Friday. Christians set aside this day to commemorate the suffering and death of their lord, a Nazarene named Jesus. The idea of a God who would willingly experience humiliation and pain to ransom humankind out of sin and death changed the world for believers and nonbelievers alike. These events have rightly been called a fulcrum point in human history. Nothing has been the same since.
In a special Easter message, Senior Judicial Analyst Judge Andrew Napolitano mediates on the connection between personal freedom today and what he and other Christ followers believe to be the gift of Easter: Freedom from death.
"Easter has a meaning that is both incomprehensible and simple. It is incomprehensible that a human being had the freedom to rise from the dead. It is simple because that human being was and is God…Easter means that there's hope for the dead. If there's hope for the dead, there's hope for the living. But like the colonists who fought the oppression of the king, we the living can only achieve our hopes if we have freedom. And that requires a government that protects freedom, not one that assaults it."
Please read it all here, whatever your belief. And, for those of you who, like The Judge, are celebrating your holiest of holidays this weekend, we offer the ancient salutation of your faith: "Christ is risen!"
Chris Stirewalt is digital politics editor for Fox News. Want FOX News First in your inbox every day? Sign up here.