Controversial Oil Pipeline Plan to Be Rerouted After Threat of Delayed U.S. Approval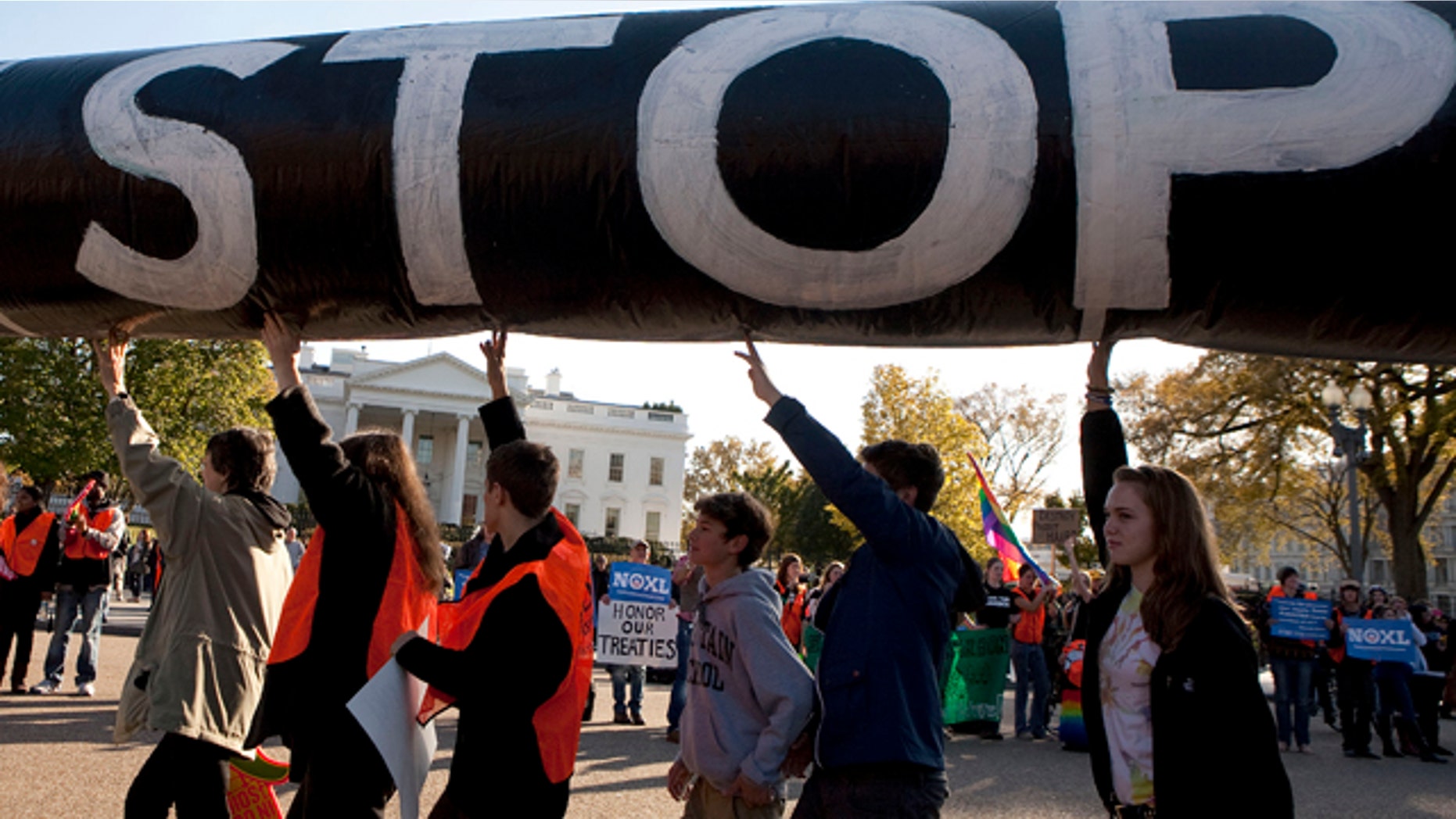 Days after the Obama administration threatened to delay approval of a planned oil pipeline from Canada to the Gulf of Mexico -- angering unions while appeasing environmentalists -- the company seeking to build the pipeline says it's willing to reroute the project to get it back on track.
Speaking at a news conference at the Nebraska Capitol, company officials said TransCanada would move the planned pipeline out of the environmentally sensitive Sandhills area of Nebraska, a change the company previously claimed wasn't possible, as part of an effort to push through the proposed $7 billion project.
The 1,700-mile pipeline would extend from Canada to the Gulf of Mexico. It would carry 700,000 barrels per day from the province of Alberta to refineries in Texas. To do so would require it crossing six states.
It is hated by environmentalists but loved by labor groups, who have banked on the estimated 20,000 jobs tied to the pipeline.
The project has become a focus of political debate in Washington because it pits two groups allied with President Obama against each other heading into an election year.
Last week, the State Department announced it would delay a decision on a federal permit for the project until it studies new potential routes that avoid the Sandhills areas of Nebraska and the Ogallala aquifer, a vast underground water supply. That likely would push off any decision until 2013, after next year's elections, though officials denied that politics was involved in the decision.
Obama, in a written statement last week, described the decision as the State Department's call, and expressed support for it.
TransCanada's Monday announcement could significantly change the equation.
"This is a real path forward," Rep. Lee Terry, a Republican from Nebraska, told Fox News.
The change also won praise from another Nebraska Republican, Rep. Adrian Smith, who represents the district where the pipeline now prospectively would run.
"After three years of examination, Nebraskans deserve a final and responsible decision," Smith said. "It is my hope today's events signal a responsible path forward which protects our state's vital natural resources and the property rights of all Nebraskans while advancing American energy independence."
Environmental groups welcomed Monday's development but remained cautious.
"We are proud of citizens for pushing state leaders to do the right thing: requiring the pipeline be moved out of the Sandhills and establishing a state-based regulatory system," said Jane Kleeb from a group called BOLD Nebraska. "However, we do not trust TransCanada. They have bullied and mislead landowners and citizens. Because of that we will be watching them like a hawk to ensure our land and water are protected."
Alex Pourbaix, TransCanada's president for energy and oil pipelines, said rerouting the Keystone XL line would likely require 30 to 40 additional miles of pipe and an additional pumping station. The exact route has not yet been determined, but Pourbaix said Nebraska will play a key role in deciding it.
But the State Department cautioned that "nothing has changed" in its review process.
"Any new proposed routes will be subject to the thorough, rigorous and transparent review process we have undertaken throughout," spokesman Mark Toner said. "The process requires a supplemental Environmental Impact Statement for the new proposed route."
He said he was unable to say when the process would conclude but estimated it could be as early as the first months of 2013.
The Associated Press contributed to this report.