Connecticut agencies battle over whether man who refused to show gun permit should have one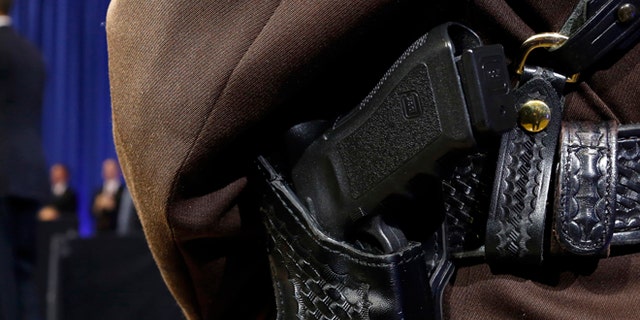 The arrest of a Connecticut man for refusing to show his gun permit -- dismissed by a prosecutor as a "nothing case" -- now has two state agencies battling in court, with the individual's right to carry hanging in the balance.
The peculiar case started when Scott Lazurek, a security guard, was arrested in June 2013 for failing to show police his gun permit. He was stopped for walking in public with a hip-holstered pistol -- when he refused to show his documentation, which he actually had on him, that permit was revoked.
The following month, though, a judge dismissed the charge of interfering with a police officer. The prosecutor, Assistant State's Attorney John Barney, said Lazurek was basically arrested for being "stubborn" and giving police a "hard time" -- not for a permit violation.
"It was kind of a nothing case," Barney said, according to The New Haven (Conn.) Register. "He had no record. He's a security guard." (Nevertheless, he said, people openly carrying a loaded pistol in public should show their permit when asked by an officer.)
Thirteen months later, the State Board of Firearms Permit Examiners reinstated Lazurek's gun permit, saying it found him to be a "suitable person."
However, the state Department of Emergency Services and Public Protection has intervened, filing an appeal over the permit being returned.
The Connecticut Citizens Defense League, a pro-gun rights group which Lazurek belongs to, now says it is trying to raise money to help him fight the "unprecedented" move. The group claims no direct involvement in the case but argues its importance "should be obvious" to gun owners across the state.
"This is a very bad precedent," group President Scott Wilson told FoxNews.com.
The group argues the case also has practical, real-life implications beyond the Second Amendment debate, given Lazurek works in a profession that requires him to carry a firearm.
The appeal contends the state board failed to follow its own precedent and existing law. It takes issue with deeming Lazurek a "suitable person" -- arguing his refusal to comply with the police officers' request was unlawful, even though he was carrying the permit all along.
The suit also states that Lazurek testified when his charge was dismissed that he would "respond in the same fashion" if asked again for his permit under the same circumstances. The Superior Court case is being presented by the Office of Attorney General George Jepsen and names Lazurek as a co-defendant.
Michael Lawlor, a legal adviser to Democratic Gov. Dannel Malloy, said the central issue in the case is the definition of "suitable."
"The statute that governs this notion of suitability really doesn't define what suitability means," he told The Register. "It leaves it up to the board."
Assistant Attorney General Steve Barry, who signed the court documents, did not return a call Monday from FoxNews.com.