Conn. gov blasted for Robin Hood approach to state school districts
NEWYou can now listen to Fox News articles!
Connecticut Gov. Dannel Malloy is considering using his executive authority to shift funding from wealthy school districts to poorer ones in a move critics say will create class warfare.
Malloy, a Democrat in his second term, wants to send school aid to the state's 30 lowest-performing "Alliance" districts and "recalibrate aid" based on "shifting local demographics, economies and need," according to a letter he sent to the Connecticut Secretary of Policy and Management last week.
"He's saying if you have a town that has made prudent decisions and established fiscal responsibility, this governor wants to penalize them."
"Connecticut needs a fair education funding formula that does not short change a student because of his or her zip code," Malloy said in a press conference last week. "We'll reevaluate how we'll distribute aid to communities in the coming weeks to make sure that we honor our constitutional requirement for education in the state of Connecticut."
Malloy went on to blame the state legislature for a lack of a balanced biennial budget. The state runs on a two-year fiscal plan, but failed to meet the deadline of June 30 to pass one.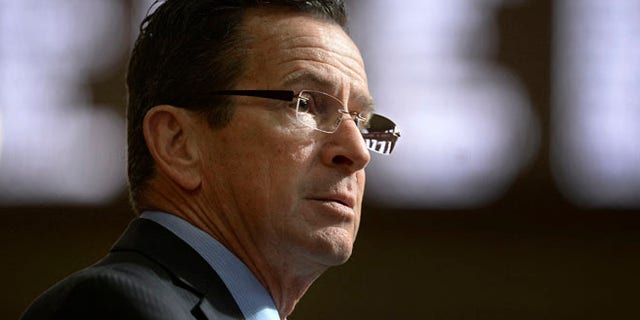 "I was forced to implement a budget via executive order. My only option was to cut expenses and services –services that are vital to many Connecticut residents," Malloy said. "I am hopeful with respect to the Alliance Districts that there will be a recognition that these are the districts that we clearly need to fund, and in my opinion, need to send additional dollars to, not fewer dollars."
Executive Director of Connecticut Association of Public School Superintendents Fran Rabinowitz, who previously served as superintendent in two "Alliance" districts, told Fox News she "applauds" more dollars going to urban districts, but does not want cuts for suburban districts.
"I think it would be incredibly detrimental to them, and the fact that we do not have a state budget, I consider it an educational crisis," Rabinowitz said.
Rabinowitz warned reductions in suburban school budgets could mean layoffs and curriculum cuts.
Lawmakers on both sides of the aisle are slamming the governor's proposal.
State Sen. Toni Boucher, a Republican, blasted Malloy's approach and said it was "creating a class warfare issue."
"This is going to further erode education in so many of our towns," Boucher told the Hartford Courant. "We all understand there are big barriers to success and we all want those [Alliance] school districts to succeed, but there's a tipping point and I think that has been reached now."
Democratic Speaker of the House Joe Aresimowicz said there is "bipartisan consensus" against the measure.
HIGH-TAX CONNECTICUT FACING NEW BUDGET MESS
Connecticut Senate Republican President Len Fasano criticized Malloy for penalizing municipalities which have demonstrated fiscal responsibility.
"He's saying if you have a town that has made prudent decisions and established fiscal responsibility, this governor wants to penalize them," Fasano told Fox News. "He wants to give money to towns with fiscal problems –that's counterintuitive, against logical public policy –he wants to reward bad behavior to the detriment of those who have done more with less."
Connecticut's deficit has reached more than $5 billion. According to an analysis by the Pew Charitable Trusts, the state has just $240 million in its 'rainy day fund'—only five states have a smaller cushion. According to S&P Global Ratings, Moody's and Fitch, Connecticut's credit rating is on the verge of hitting "junk" status. The state has the distinction of the third-worst rating in the country—behind Illinois and New Jersey.