Congress Returns for Legislative Game of Give and Take With Obama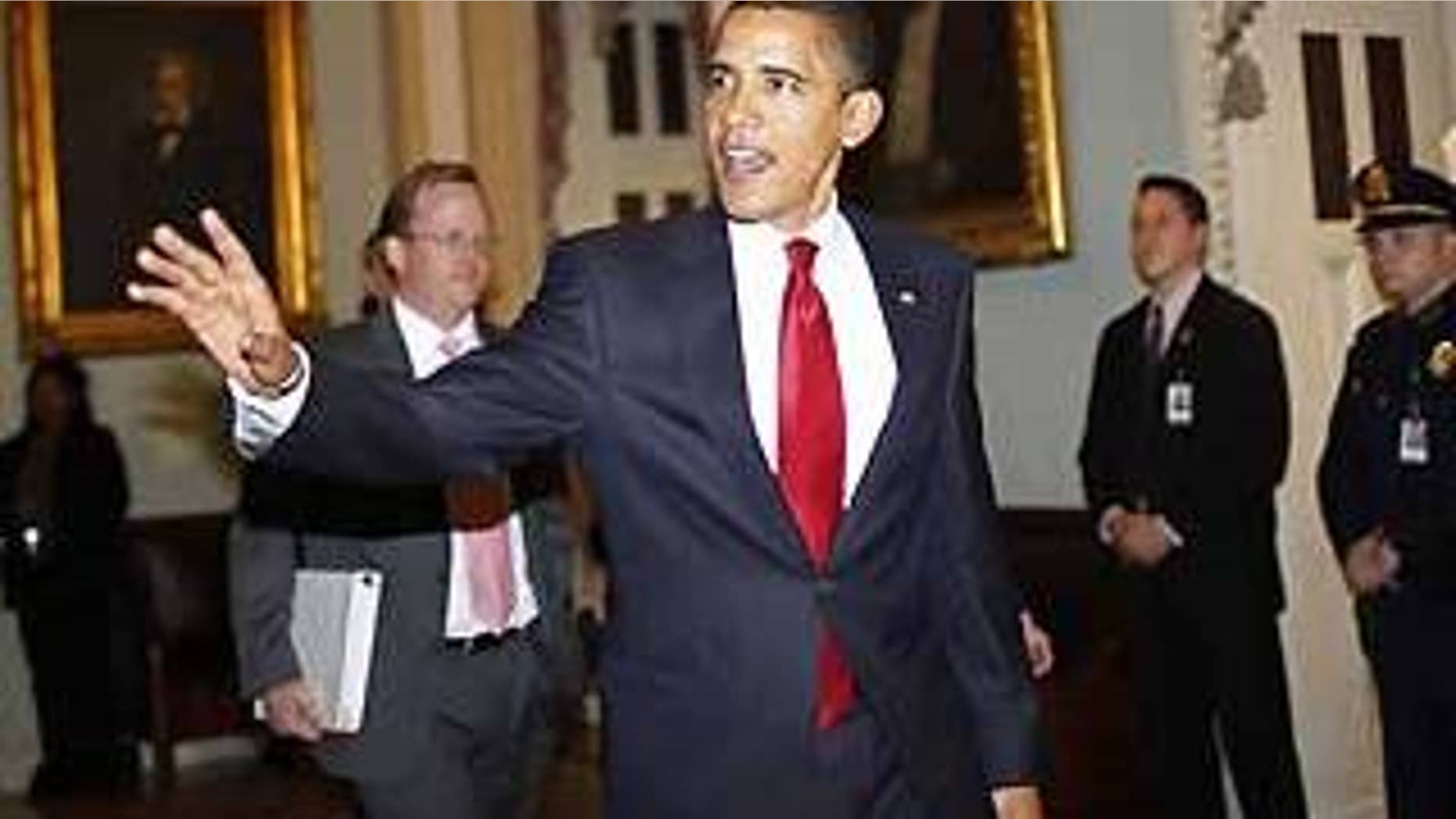 Grab the popcorn and soda -- the greatest show on Capitol Hill is about to reconvene.
And one of the big questions as Congress returns from a two-week spring break is who's running the show: President Obama or congressional Democrats? Political analysts will be watching as lawmakers are poised to earn their keep over the next month.
Much of the action will unfold in committee rooms, where lawmakers will attempt to craft legislation that will change how banks are regulated, health care is delivered and the nation consumes energy.
Over the first months of this session, the first in 14 years with Democrats controlling the White House and both chambers of Congress, Democrats gave President Obama a $787 billion economic stimulus package and a $410 billion spending bill for this budget year. The House and Senate approved slightly different versions of a $3.6 trillion spending outline for the next budget year, which begins Oct. 1.
But there are limits to the new president's power, and he has fallen short of securing approval for measures to limit subsidies to wealthy farmers, restrain tax deductions for the wealthiest Americans and keep the estate tax at its current level. Obama also seemed this week to back way from a campaign pledge to push for a renewal of the ban on assault weapons, which faced an uphill political battle.
But lawmakers still may take action on a number of Obama's priorities.
The Senate Finance Committee on Tuesday holds the first of several public discussions on the seminal issue of this congressional session, overhauling the health care system. The House Energy Committee is expected to vote soon on climate change legislation that could include a cap-and-trade system for carbon emissions.
The House Financial Services Committee could vote in early May on far-reaching new rules aimed at averting a repeat of the financial meltdown, according to the chairman, Rep. Barney Frank, D-Mass.
"We're laying the groundwork for the expected battles to come on energy, education and health care," said Jim Manley, spokesman for Senate Majority Leader Harry Reid, D-Nev.
In the weeks ahead, lawmakers must reach a compromise on that budget plan and take up a separate big-money item: a White House request for $83 billion to finance military and diplomatic operations in Iraq and Afghanistan through the fall. Congress probably will give Obama the money, but with grumbling from anti-war Democrats seeking a quicker reduction of the U.S. military presence in Iraq.
Military spending will come into the spotlight as summer nears and Congress turns to the Pentagon budget, which includes Defense Secretary Robert Gates' proposals to scale back or eliminate some high-cost weapons programs affecting jobs in hundreds of congressional districts.
The recession will be front and center when the Senate tackles legislation Monday that would strengthen the ability of the Justice Department and FBI to fight those who are taking advantage of the mortgage crisis to defraud homeowners.
The Senate could act soon on a bill backed by Obama that would let cash-strapped homeowners seek mortgage relief through bankruptcy. The Senate must first resolve differences with the House, which voted to let bankruptcy judges lower a homeowner's interest rate and principal. The banking industry opposes this idea.
In another gesture to vulnerable consumers, the House and Senate could take up a credit card bill of rights bill. The aim is to limit the ability of credit card companies to raise interest rates on existing balances and to require greater disclosure.
The Senate's legislative calendar, never predictable because of the minority's powers to delay bills, could be slowed by GOP opposition to several Obama administration nominees.
A showdown could come this week over Christopher Hill, Obama's choice to be ambassador to Iraq. Sen. Sam Brownback, R-Kan., was critical of Hill's performance when the diplomat was the Bush administration's top negotiator with North Korea, and has pledged to slow down the process leading up to a vote on the nomination. A first procedural vote is set for Monday.
Obama's nominee to be health secretary, Democratic Gov. Kathleen Sebelius of Kansas, could face a rocky road to confirmation because of her abortion rights views. The Senate Finance Committee scheduled a Tuesday vote on whether to send her nomination to the full Senate. Republicans are also expected to mount resistance to Indiana University law professor Dawn Johnsen, nominated to be assistance attorney general for the office of legal counsel, over her work for a national abortion rights group and her sharp criticisms of the Bush administration.
Senate Democrats could get a little help if Minnesota finally declares Democrat Al Franken, currently ahead by about 300 votes, the winner in his long disputed race with incumbent Republican Norm Coleman. That would give Democrats 59 votes, just one short of the 60 needed to break filibusters.
Also on the Senate's plate are House-passed bills to restrict bonuses at companies receiving federal bailout money and give the Food and Drug Administration authority to regulate tobacco products. The Senate is scheduled to take up a railroad antitrust bill aimed at removing freight rail practices that drive up shipping costs.
Pending in the House is a Senate-passed bill giving the District of Columbia a voting representative in the House. The House is still trying to figure out how to deal with a Senate provision that effectively eliminates gun control regulations in the nation's capital.
The Associated Press contributed to this report.