Condoleezza Rice's High-Profile Role at Notorious Golf Club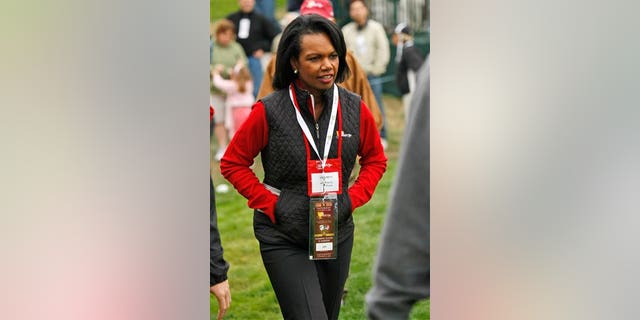 NEWYou can now listen to Fox News articles!
Former Secretary of State Condoleezza Rice, the first African-American woman to hold that title, has agreed to make a high-profile appearance at an Alabama country club whose discriminatory policy towards blacks provoked a national furor two decades ago.
Tuesday's announcement that Rice will serve as an honorary chair for a senior's event at the Shoal Creek Country Club in her home town of Birmingham next May is notable because of the controversy linked to the course when it hosted the 1990 P.G.A. Championship.
Prior to that tournament, club founder Hall Thompson had openly boasted to a local newspaper reporter about Shoal Creek's admission policies. "We don't discriminate in every other area except blacks," Thompson said, triggering a uproar that clouded the event.
The public outcry over the club's exclusionary policy led to pledges by golf's governing bodies to hold major tournaments only at non-discriminatory venues. Many clubs that were excluding blacks, women or Jews as members would soon open their doors for integrated admission, although some prominent venues did not. Notable among them is Augusta National Golf Club, in Augusta, Georgia, which still bars women from membership and is the site of the annual Masters Tournament.
Within weeks after Thompson's comments were reported, Shoal Creek changed its policy and admitted an African-American member. But it wasn't enough to clean the air surrounding the 1990 P.G.A. Championship or the club itself. Boycotts of Shoal Creek - and adverse media attention - persisted. Thompson swiftly apologized, however, and continued his leadership of the club until his death last year.
Rice grew up in Birmingham during the bloody civil rights struggles of the early 1960s, and once took her British counterpart, then-Foreign Secretary Jack Straw, on a tour of the city. Rice served as provost at her alma mater, Stanford University, and held high-level national security roles in the presidential administrations of George H.W. Bush and George W. Bush.
She was secretary of state from 2005-2009.
"It is a privilege to serve as the honorary chairperson for the Regions Tradition," Rice said in a statement. "This major championship is creating enormous interest in the community, and stands to make a significant charitable and economic impact in Birmingham and the state of Alabama."
An accomplished concert pianist, Rice is also a 20-handicap golfer. She joined Shoal Creek in 2009, and will tee off the opening round of this year's tournament, which begins May 5.