Clintons seek to show new vigor amid age worries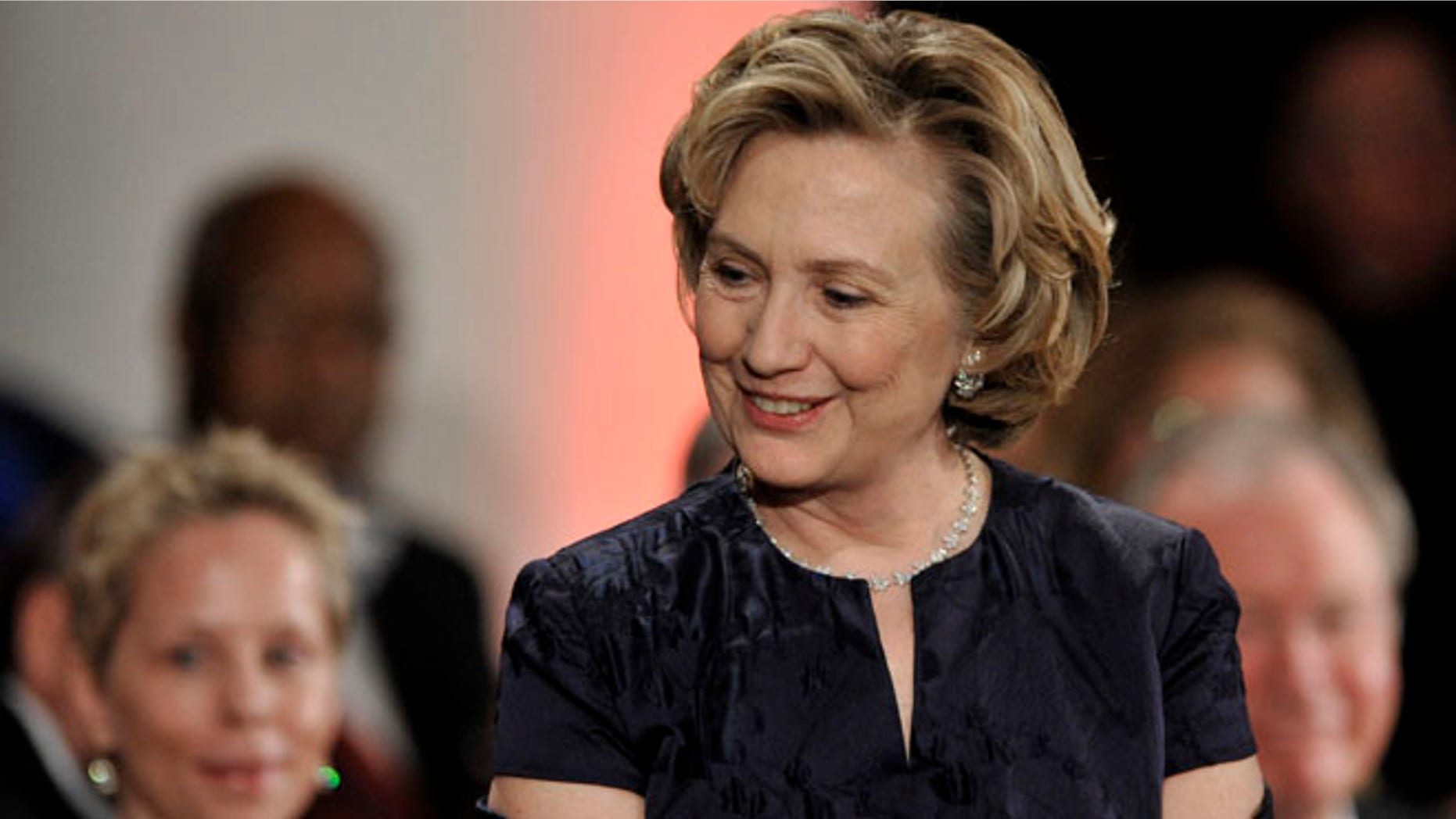 **Want FOX News First in your inbox every day? Sign up here.**
Buzz Cut:
• Clintons seek to show new vigor amid age worries
• ObamaCare jobs about nothing
• Key tea party leader embraces immigration overhaul
• Sasse looks to fill Coburn's shoes
• Own the bar where it's never ladies' night…
CLINTONS SEEK TO SHOW NEW VIGOR AMID AGE WORRIES
It's a big day in the campaign of 2016 Democratic frontrunner Hillary Clinton. Her loyal defenders spent most of Tuesday pouring out their fury on Karl Rove for remarks Rove made about her health and fitness for office. If she wins, Clinton would be 69 when she took the oath of office, older than every president other than Ronald Reagan. A Republican strategist and Fox News Contributor pointing out that Clinton's 2013 bout of ill health, subsequent cranial blood clot and odd therapeutic eye ware at the height of the Benghazi scandal shouldn't cause such consternation. But Democrats have long had a Rove bugaboo, ascribing many dark arts to the architect of George W. Bush's two presidential victories. But its more than just hating Rove. It's that he spoke to the fear pulsating in every Democratic nerve ending: What if she can't run? Without a seemingly viable alternative, it would be lights out for the blue team.
[Howard Kurtz: Behind the furor: Why Karl Rove's comments about Hillary's health exploded]
On the hustle - Hillary is set to talk about Iran's nuclear program when she gives the closing address at the American Jewish Committee's Global Forum today in Washington. This is a key constituency for Clinton's candidacy, who can be expected to further distance herself from President Obama on the subject, as she did in March speech before another Jewish organization. Clinton will also continue to crusade for women rights at a World Bank discussion this evening of a report focusing on barriers to shared prosperity for women and girls the organization will release later today. The message here isn't just taking care of her base with Jewish Voters and Wall Street. Because of what Rove said, it's also about showing that she can endure the brutal schedule of a modern presidential candidate.
Bubba triangulates - Former President Bill Clinton starts his day in DC with an address at the 2014 Fiscal Summit hosted by the much maligned by liberals Peter G. Peterson foundation. Gov. Chris Christie, R-N.J., follows Clinton on a list of speakers addressing the nation's deficit and fiscal health. After flying with the fiscal deficit hawks in the morning Bubba will hoot with the left-wingers over at Center for American Progress, the liberal group founded by his former chief of staff John Podesta. That bastion of corporate-funded liberalism constitutes Hillary's rear-guard against another challenge from the left like the one that toppled her in 2008.
[The Hill: "Sen. Marco Rubio (R-Fla.) on Tuesday proposed significant reforms to Social Security and Medicare that he said would protect the lifespan of the two popular entitlement programs."]
But Bubba's press secretary doesn't see a Hillary run - Taking a contrarian view, Bill Clinton's former press secretary Mike McCurry does not see 2016 Democratic frontrunner Hillary Clinton making another White House bid. In a recent interview with Real Clear Politics the Clinton confidant said, "The work she is doing through the Clinton Foundation with her husband and her daughter she finds terrifically rewarding . . . we all know what running for president is like. It's kind of hanging around in Manchester, N.H., and Otumwa, Iowa, at the local Denny's shaking hands with a lot of sometimes less-than-interesting local political people." McCurry furthered, "So she is going to do that for the next 2½ years at the age of 65 when she could be doing all this great stuff on a global stage? I don't know. I think that's why she hasn't said 'I'm doing it."
["You get close to the presidency, you have to release health records to show that you are, you know, in good enough condition to hold the office. She [Hillary Clinton] is approaching the age…that Ronald Reagan had reached when he ran for president in 1980. Something we'll be dealing with at some point. John McCain had to deal with it. Others as well."—Fox News Senior Political Analyst Brit Hume discussing Karl Rove's suggestion that Clinton may have brain damage. Watch here. ]
BIDEN'S SON DOESN'T LET UKRAINE CRISIS GO TO WASTE
Washington Examiner: "Vice President Joe Biden's son, Hunter Biden, has accepted a position with Ukraine's largest private gas producer, but that in no way means the White House signed off on or endorses his hiring, presidential spokesman Jay Carney said Tuesday." The company was a key part of the oligarchy that supported the country's previous pro-Russian regime.
[WSJ: "a close friend of Secretary of State John Kerry's stepson" joined the board too.]
Cruz heading to Kiev - AP: "U.S. Sen. Ted Cruz of Texas will visit Ukraine this month and meet with leaders of the protest movement that forced out the country's pro-Russian president…"
CHRISTIE FACES GUN CONTROL TEST
Washington Times: "N.J. [Republican] Gov. Chris Christie will face a difficult decision in the coming days over an ammunition restriction bill that's nearly found its way to his desk — and the pressure from the Second Amendment activists and the gun-control crackdown crowd could very well hang the fate of his White House aspirations. The legislation seeks to reduce the allowable capacity for ammunition magazines to 10 rounds, down from 15. It's passed through the Senate and heads to the lower house for a second vote, where support is strong. Mr. Christie could see it within days, NJ.com reported. And pressure is mounting for him to take a side."
OBAMACARE JOBS ABOUT NOTHING 
Fox News: "Employees at an ObamaCare processing center in Missouri with a contract worth $1.2 billion are reportedly getting paid to do nothing but sit at their computers. 'Their goals are set to process two applications per month and some people are not even able to do that,' a whistleblower told KMOV-TV, referring to employees hired to process paper applications for ObamaCare enrollees.  The facility in Wentzville is operated by Serco, a company owned by a British firm that was awarded $1.2 billion in part to hire 1,500 workers to handle paper applications for coverage under the law, according to The Washington Post.  The whistleblower employee told the station that weeks can pass without data entry workers receiving even a single application to process. Employees reportedly spend their days staring at their computers, according to a KMOX-TV report. 'They're told to sit at their computers and hit the refresh button every 10 minutes, no more than every 10 minutes' the employee said. 'They're monitored, to hopefully look for an application.'''
New face, old problems - While President Obama's nominee to become the new public face of ObamaCare moves through her confirmation process, Democrats say that it's the start of a new era for the troubled health law.  As the four year old law moves into its next phase, how are voters and consumers responding? New polling data as well as findings from market research firms suggests that the toughest times may still be ahead. This afternoon the Senate Finance will hold a confirmation hearing of Sylvia Burwell to replace retiring Health and Human Services Secretary Kathleen Sebelius. Senate Republicans have already announced their intent to vote for Burwell, and in this post-nuclear option world, cloture on nominees needs only 51 votes to pass. Nonetheless, concerns over the implementation and transparency of ObamaCare are expected to come up during the hearing.
[Watch Fox: Chief Congressional Correspondent Mike Emanuel has the latest on Burwell's confirmation and how the future of ObamaCare is playing out for Democrats seeking to hold on to control of the Senate.]
[A bridge to donors – After making remarks on the need to shore up the country's roads and bridges at the Hudson River's Tappan Zee Bridge today, the President Obama will spend the evening filling Democratic coffers at two fundraising events in New York.]
WITH YOUR SECOND CUP OF COFFEE...
Will "The Circle" be unbroken? Jason Abbruzzese and Lorenzo Franceschi-Bicchierai look at the implications of a recent European Court ruling that gives individuals the "right to be forgotten" online: "Do people have the right to have outdated, inaccurate, perhaps embarrassing information about them removed from the web?... Addressing that question, the European Court of Justice (ECJ) ruled on Thursday that citizens do have a certain 'right to be forgotten' online…That might all sound reasonable, as we all have parts of our past we'd like the Internet to forget, but there's a problem here: Who decides what information can be deleted and what information should be preserved? Where's the limit?"
Got a TIP from the RIGHT or LEFT? Email FoxNewsFirst@FOXNEWS.COM
POLL CHECK
Real Clear Politics Averages
Obama Job Approval: Approve –  44.6 percent//Disapprove – 51.6 percent
Direction of Country: Right Direction – 27.9 percent//Wrong Track – 63 percent
Generic Congressional Ballot:  Democrats – 43.3 percent// Republicans 43.8 percent
[Poll Watch: The latest Fox News polls on President Obama's approval and handling of healthcare, foreign policy, the economy as well as public opinion on Benghazi will be released during "Special Report with Bret Baier" in the 6 p.m. ET hour. ]
KEY TEA PARTY LEADER EMBRACES IMMIGRATION OVERHAUL
Roll Call: "The co-founder of and chief strategist for one of the biggest tea party organizations is coming out in support of overhauling the nation's immigration laws, a bold statement that could energize advocates and alienate conservatives. Sal Russo of the Tea Party Express broke the news in an op-ed titled 'Conservatives Need to Fix the Broken Immigration System,' published by CQ Roll Call early Wednesday morning. In that piece, the longtime GOP operative and consultant argued that 'conservatives should be at the forefront of reform so the law reflects the just interests of the United States, not misty-eyed ideals of some of the liberal do-gooder reformers'… 'We have to get them right by the law in exchange for legal status, but not unbridled amnesty," Russo wrote. "This should include penalties, background checks to root out criminals, and the requirement that they learn English, understand the Constitution and be committed to our basic freedoms'…Russo's support for a comprehensive immigration fix that includes a legal status pathway — plus his suggestion that 'conservatives need to seize on immigration reform' in order to 'reaffirm who we are and what makes our country great' — is likely to raise eyebrows on all sides of the immigration debate."
SASSE LOOKS TO FILL COBURN'S SHOES
Republican Ben Sasse is all but certain to go on to win the Senate seat being vacated by retiring Sen. Mike Johanns, R-Neb. But what kind of senator would the very conservative Sasse be? Sasse shares a lot in common with Tea Party Caucus members Sen. Ted Cruz, R-Texas, and Sen. Mike Lee, R-Utah, who both endorsed Sasse when he was still the underdog in the Nebraska race: an impressive educational resume, an iconoclastic streak and significant service in key policy posts. But Sasse also made clear on Tuesday that he doesn't see his principle purpose in the Senate as upsetting the Republican leadership, even if those same leaders tried to keep him out of office. The hint as to what to expect from a prospective Senator Sasse came in his Tuesday victory speech and a background briefing from his strategy team. The names dropped included Rep. Paul Ryan, R-Wis., and former Rep. Jack Kemp, R-N.Y. Both are conservative icons, but of a wonkish, not fiery populist, sort. So is this going to be another guy who gets raves at American Enterprise Institute panels but always gets a suspicious eye from the base? Probably not. The role model for Sasse is Sen. Tom Coburn, R-Okla. Coburn's low-key endorsement early in the race was a pivotal moment for Sasse, and he was eager to highlight their similarities.

[Skin in the game - Pete Ricketts, the son of conservative mega donor and founder of TD AmeriTrade, Joe Ricketts, secured the GOP nomination for governor. Cruz had also endorsed the younger Ricketts. More.]
They still say yes to Dr. No - Coburn, who has often frustrated conservative orthodoxy with votes like the one to bail out Wall Street during the Panic of 2008, will still leave the Senate at the end of this year as a conservative hero. How? Like Sasse, Coburn had to bust the establishment to win his primary but then did not come to town looking for revenge. He had his credibility as an outsider, but didn't nurture the grievance. Coburn was also willing to pay a heavy personal price for the issues that mattered to him, and will walk away from the Senate having effectively killed the practice of earmarking. Dr. No euthanized that patient for sure. And neither is Coburn willing to subordinate his policy goals to his partisan loyalties. And one place where Coburn has adamantly refused to compromise has been on his stalwart pro-life stance, a view shared by Sasse. In short, Coburn is an ornery fellow. And that's why conservatives love and trust him. Sasse is looking to inhabit that space and do so on the issue of ObamaCare. Those are some mighty big shoes he's looking to fill. If Sasse wants to try them on, he'd better be ready for some blisters.
[Watch Fox: National Republican Senatorial Committee Chairman Sen. Jerry Moran, R-Kans., appears in the 2 p.m. ET hour]
AN AMAZING YAWNER IN WEST VIRGINIA
The most remarkable story out of the West Virginia Senate primary on Tuesday was that nothing remarkable happened. Despite lots of threats that moderate Rep. Shelly Moore Capito, R-W.Va., would get waylaid by a tea-party primary challenge, no such thing materialized. Credit this to a good campaign by Capito, who has obviously inherited her father's gift for campaigns and elections. But it also represents a continuing trend of Republican primary voters staying focused on a Senate majority before considering ideological purity. Had a little-known candidate emerged on the GOP side in West Virginia, Secretary of State Natalie Tennant, who also easily took the Democratic nomination, would have been in a good position to replace retiring Sen. Jay Rockefeller, D-W.Va. But as it stands, Capito is chugging toward what looks to be a clear victory in November.
But sometimes the best candidates are the outsiders - The former chairman of the Maryland GOP Alex Mooney claimed victory Tuesday night in a crowded Republican primary for West Virginia's 2nd District to replace Rep. Shelley Moore Capito. Mooney beat longtime Republican official Charlotte Lane in the primary. While Mooney may cause some headaches for Capito by highlighting policy differences, he looks to be a much more viable candidate in the fall against the Democratic nominee, former state party Chairman Nick Casey.
Big Ugly race – Veteran Rep. Nick Joe Rahall, D-W.Va., won his 20th consecutive primary on Tuesday. But the news was not good overall for the embattled incumbent. Rahall lost more than a third of the primary vote to a first-time, unfunded candidate, retired Army Maj. Richard Ojeda. Now Rahall must face Republican state lawmaker Evan Jenkins, a former Democrat who switched parties last year, in the general election in the fall. Looks bad for Rahall, an early endorser of then-Sen. Barack Obama, who is now less popular in the Mountain State than the Pitt Panthers.
LANDRIEU DEPLOYS DAD IN NEW AD
New Orleans Times-Picayune: "The Mary Landrieu campaign is back up Tuesday with another TV ad, this one featuring her well-known father, Moon, describing his daughter as a fighter… Moon Landrieu says in the 30-second ad that 'I know how BP felt when Mary fought to get billions for Louisiana,' and how she 'took on the president' to try and get the Keystone XL Pipeline approved. 'And now you know why Putin won't let her into Russia,' Moon Landrieu says about her daughter's name appearing on a list of eight U.S. officials sanctioned by President Vladimir Putin in response to U.S. sanctions after Russian intervention in Ukraine. Mary Landrieu shakes her head in response."
[WSJ: "If Ms. Landrieu really had Keystone as a top priority, as she claims, she'd have joined Republicans in demanding an immediate amendment to a bill that she knows the White House is reluctant to veto. And she'd have insisted that …[Senate Majority Leader Harry Reid] allow a 50-vote threshold for passage, rather than Mr. Reid's 60-vote supermajority. Ms. Landrieu instead is playing Mr. Reid's double game, demanding a Keystone vote even as she undermines its passage. She is running for election by boasting about her clout as the new Chairman of the Senate Energy Committee, but she is so ineffectual that she can't get her own party to allow a vote on what she claims is one of her top priorities."]
POLL: HANDEL SLIPS PAST KINGSTON IN GEORGIA SENATE
The Hill: "Former Georgia Secretary of State Karen Handel (R) has almost pulled even with businessman David Perdue (R), according to an internal poll for Handel's campaign obtained by The Hill. Perdue leads Handel by 22 percent to 20 percent with 18 percent for Rep. Jack Kingston (R-Ga.), 11 percent for Rep. Paul Broun (R-Ga.) and 7 percent for Rep. Phil Gingrey (R-Ga.), according to an automated poll conducted by Rosetta Stone. The top two vote winners in the May 20 primary will face off in a July 22 runoff, but the new poll shows it's really become a fierce battle between Perdue, Handel and Kingston for those top slots to advance."
ERNST RACKING UP SUPPORT FROM CONSERVATIVES AND MODERATES
The Hill: "The Chamber of Commerce and National Rifle Association have both endorsed Iowa state Sen. Joni Ernst (R) in a GOP primary for an open Iowa Senate seat. The endorsement from the leading business group and the powerful gun lobby give Ernst a boost as she battles businessman Mark Jacobs and two other candidates in the primary…she's still short on money, and the Chamber has spent heavily to back its preferred candidates in other primaries. If they put ads in Iowa behind Ernst, it could help boost her ahead of the June 3 primary. The winner of the primary will face Rep. Bruce Braley (D-Iowa) in the swing state."
BEGICH BACKERS LOOK TO DROWN OUT RIVALS 
National Journal: "Alaska is about to get hit by a wave. Just this week, Democratic outside groups plunked down $7.5 million worth of reservations for fall TV advertising supporting Democratic Sen. Mark Begich, a huge amount of money for a state where media comes relatively cheap. Just by itself, the new reservation more than doubles the total outside spending in Alaska in 2008, when Begich won his Senate seat. Put Alaska First, a super PAC backing Begich and largely financed by another Washington-based group, announced on Monday plans to reserve $4 million in airtime, according to Alaska Dispatch, while the Democratic Senatorial Campaign Committee is also preparing to spend $3.5 million in the same post-Labor Day time period, Politico reported."
PICK SIX: SHOULD THE 35TH STATE BE NUMBER ONE?
Republicans need a net gain of six seats to capture control of the Senate this year. The current consensus among Fox News First readers for the six most vulnerable Democrat-held seats: The current consensus among readers: Arkansas, Montana, Louisiana, South Dakota, North Carolina and West Virginia. Reader Dave Dumeyer of Landisville, Pa., adds he is putting W.Va., near the top of his list because he feels Rep. Shelley Moore Capito R-W.Va., has a strong chance of delivering the seat for the red team.
Share your top six picks. Email them – just your top six, please – to FOXNEWSFIRST@FOXNEWS.COM or tweet @cstirewalt.
POWER PLAY: YINZ GUYS GONNA VOTE IN THE PRIMARY?
In the latest edition of "Power Play with Chris Stirewalt" get up to speed on Tuesday's Pennsylvania primary in just 90 seconds. Can Democrats unite to unseat the most vulnerable Republican governor? Watch and know.
NO CONTEST FOR JOLLY'S FULL TERM RUN
Tampa Bay Times: "Ed Jany, the Marine and former cop, national and state Democratic leaders hailed as an ideal candidate to take on newly elected U.S. Rep. David Jolly, [R-Fla.], in Pinellas County's Congressional District 13, is dropping out of the race. The sudden and surprise announcement comes days after a Tampa Bay Times report about him seemingly padding his educational background and resume… 'Words cannot describe what an epic failure this congressional race has become for the DCCC and Florida Democrats,' crowed National Republican Congressional Committee spokeswoman Katie Prill. 'After a devastating loss and wasting millions in the special election, one thing remains very clear: President Obama's toxic agenda has cost the DCCC another seat that they couldn't afford to lose.'''
Conyers fails to qualify for primary ballot -  AP: "Longtime Congressman John Conyers of Michigan doesn't have enough signatures to appear on the Aug. 5 primary ballot, an elections official announced Tuesday… The 84-year-old Detroit Democrat was at risk because officials believe several people who signed his petitions do not appear to have been registered voters or had registered too late. Conyers has three days to appeal …[the] ruling to the Michigan Secretary of State."
[Ed. note: Yes, but… the odds are very high that Conyers would win as a write-in candidate. He has been in Congress since 1965, has a largely unknown primary rival and represents a district that President Obama won by 70 points in 2012. Filling petitions that appear to have only 600 out of 2,000 valid signatures is certainly an embarrassment and will necessitate the 85-year-old incumbent to actually campaign this time, but the largest consequence here is likely that this bungle will siphon time and resources from Michigan Democrats' struggling senatorial and gubernatorial campaigns. But it's not like Conyers hasn't been embarrassed and still won before. Remember, this is a man who twice won re-election with his wife in prison for taking bribes as a city councilwoman.]
OWN THE BAR WHERE IT'S NEVER LADIES' NIGHT…
For Trekkers willing to part with $35 million, they can own a life-size replica of the set on which the character Capt. James T. Kirk commanded. A Boca Raton, Fla., home is up for sale that pays homage to the "Star Trek" series, using the bridge of the Enterprise as the motif for its in-home theater and bar. The room has stars on the ceiling and sound effects from the series to provide the full experience.  See the home for yourself courtesy of the New York Daily News. Yes, we're looking at you, Jonah Goldberg.
Chris Stirewalt is digital politics editor for Fox News. Want FOX News First in your inbox every day? Sign up here.