Clinton confidant Blumenthal lashes out at Grassley over hearing comments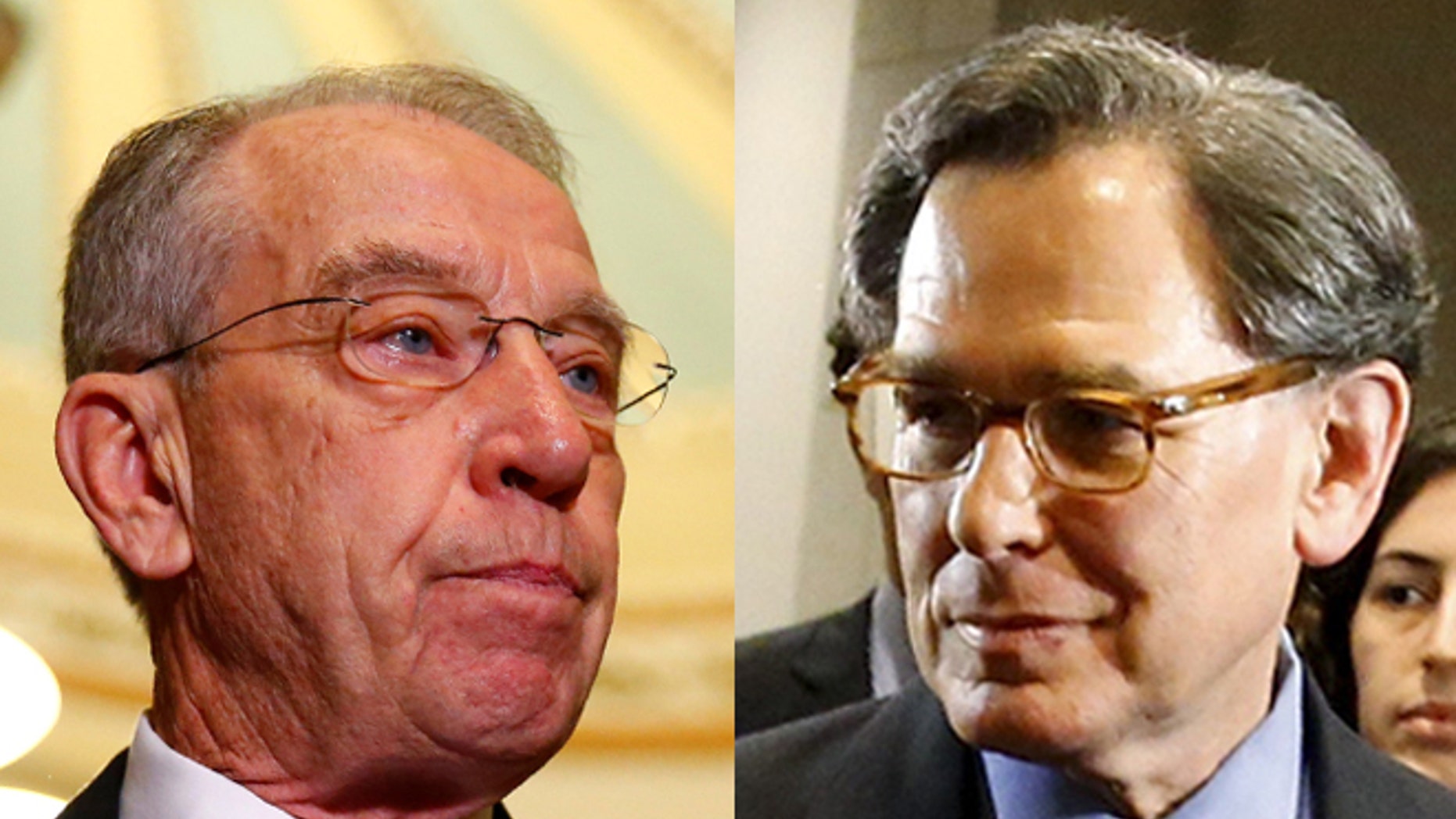 Clinton family confidant Sidney Blumenthal on Friday lashed out at a top Republican senator for invoking his name at a high-profile hearing last week, accusing the senator of "lying" about his supposed ties to a foreign political party.
Sen. Chuck Grassley, R-Iowa, chairman of the Senate Judiciary Committee, had mentioned Blumenthal during a Russia-related hearing last Wednesday. Suggesting a double standard was at play, he questioned why President Trump's associates were taking heat for foreign ties but Blumenthal did not register as a foreign agent while working as an "off-the-books" intelligence resource for then-Secretary of State Hillary Clinton.
Grassley specifically cited "news articles" saying he sent materials to Clinton on behalf of a political party in the country of Georgia.
"You owe me an apology for lying about me," Blumenthal countered, in a letter sent Friday to Grassley. "You made a public statement about me that was completely false in every particular."
Last week's hearing was technically on the Foreign Agent Registration Act (FARA), which Grassley cited in reference to his questions about Blumenthal.
Blumenthal, initially, did not respond to Fox News' request for comment for a report last week.
Blumenthal on Friday, however, sent Fox News a copy of his letter to Grassley. Blumenthal also copied the entire minority staff of the Judiciary Committee.
Blumenthal suggested his name was brought up as a means to "distract" from the Russia-Trump controversy. He challenged Grassley's opening statement in which he cited "news articles" saying Blumenthal "transmitted documentation to Secretary Clinton on behalf of the Georgian Dream, a political party in the country of Georgia."
"There can be no 'news' without facts," Blumenthal wrote. "Whatever you may have read could only have been baseless smears."
Blumenthal wrote in the letter that he "never had any contact with Mr. Bidzina Ivanishvili, or his political party Georgia Dream, and made no agreement with anyone, ever, to represent him or his party." Blumenthal added he has received "no payment or benefit" from the Georgia Dream "or any other foreign entity for representation or rendering of services covered by the Foreign Agent Registration Act."
"In light of current events, it appears to have been instigated as a means to distract and diminish the public attention from Russian intervention in the presidential election of 2016," Blumenthal wrote. "I request that you therefore investigate the sources of the false information to determine whether they have been engaged in an attempt to mislead the Congress and obstruct the ongoing investigations into Russian interference in the 2016 election."
In response to questions of the letter, Grassley's office told Fox News the "news articles" the chairman cited in his opening statement were part of a joint publication by Gawker and ProPublica in March of 2015.
Grassley's office cited an article written by Gawker, which was published on March 30, 2015. The article alleged Blumenthal was "secretly lobbying the secretary of state on behalf of a billionaire in the former Soviet state of Georgia who was seeking closer ties with Putin's Russia."
The article cited a memo he had forwarded from attorney John Kornblum, who was said to be "working with the political party in Georgia opposing Saakashvili." The same article suggested Kornblum was advising Georgian Dream.
In last week's hearing, Grassley pointed to a letter he penned in 2015 to then-Attorney General Eric Holder, questioning Blumenthal's "efforts to influence U.S. policy by leveraging his close relationship with Secretary Clinton."
FARA requires individuals to register with the Justice Department if they act, even through an intermediary, "as an agent, representative, employee or servant" or "in any other capacity" at the behest of a foreign actor to engage with a U.S. official.
"The Justice Department never explained why it failed to require Mr. Blumenthal and his partner, John Kornblum, to register under FARA," Grassley said.
But Blumenthal said Kornblum, who served as U.S. ambassador to Germany from 1997 to 2001, was never his "partner" and denied ever having "any business or financial relationship of any kind" with him. Blumenthal noted in his letter that he met Kornblum when working as a reporter for the Washington Post in 1986.
"I forwarded to Secretary of State Hillary Clinton Ambassador Kornblum's personal observations on the 2012 Georgian election and a letter from Mr. Ivanishvili that Ambassador Kornblum informed me he had already sent to Secretary Clinton," Blumenthal wrote. "I made a point of writing Secretary Clinton that I was sending them to her 'without comment.'"
Blumenthal added that he "neither expected a response" from Clinton, "nor received one."
"There is not a scintilla of evidence for your statement. Nor would it ever be possible to have such evidence because there is none," Blumenthal wrote. "Whoever provided you with this false information was harming you and your reputation as well as intending to harm me."
Grassley's office did not immediately respond to Fox News' request for comment.