Christopher Steele appears for court-ordered deposition in London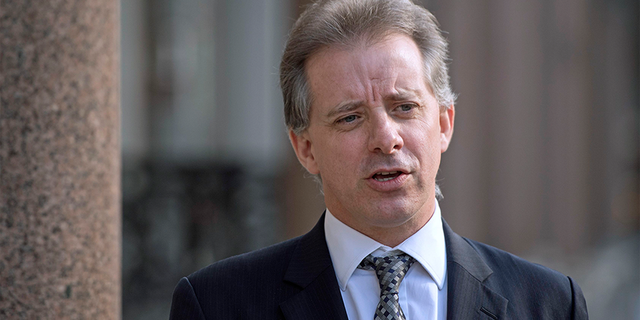 Former British spy Christopher Steele, author of the Trump dossier, concluded a four-hour videotaped deposition in London Monday, Fox News has confirmed.
Steele's long-delayed, court-ordered deposition was for the ongoing multi-million dollar civil lawsuit on both sides of the Atlantic, filed by Russian tech guru Aleksej Gubarev against Buzzfeed and Steele.
Gubarev is suing because he claims his companies, Webzilla and XBT Holdings, were defamed by Steele after the unverified dossier was published by Buzzfeed on January 10th 2017. The dossier alleged that Gubarev's companies "used botnets and porn traffic to transmit viruses, plant bugs, steal data and conduct 'alerting operations' against the Democratic party leadership."
Steele and his company, Orbis Business Intelligence, were hired by Glenn Simpson's U.S. based company, Fusion GPS, to work on the dossier and promote its contents to journalists. Fusion GPS received $1.8 million via the law firm Perkins Coie, which was paid by the Democratic National Committee and the Hillary Clinton campaign.
Val Gurvits, one of the U.S. attorneys representing Gubarev, told Fox News that Steele's deposition was attended by 17 people including "a legal representative from the Crown to make sure no state secrets were disclosed." Gurvits described Steele as congenial and professional."
The location of the deposition was kept secret but described as a "private office building." At least one of Steele's U.S. based attorneys participated via teleconference.
Prior to the Monday morning deposition, Gurvits told Fox News in an email that "We expect Mr. Steele to confirm that he did not lift a finger to verify the false allegations against our clients and that he has absolutely no reason to believe any of these allegations to be true."
After the deposition was concluded, Gurvits told Fox News that " We are satisfied with the results of Mr. Steele's testimony."
Steele's videotaped deposition was designated confidential and is under seal. Similarly, the videotaped testimony of David J. Kramer, a former representative for Senator John McCain, who handed off the dossier to him, is also under seal. As Fox News first reported, Kramer pled the Fifth before the House Intelligence Committee.
Meanwhile, in a notable coincidence, former FBI Director James Comey, who relied on the Steele dossier to obtain a FISA warrant on former Trump campaign aide Carter Page, is also in London this week to promote his book "A Higher Loyalty: Truth, Lies and Leadership."
Attorney Gurvits explained to Fox News that it was a long process to compel Steele to appear for his deposition.
Gurvits wrote to Fox News that "In order to force a witness to appear for a deposition there needs to be a court order. U.S. courts have jurisdiction over U.S. citizens but not over British citizens. That means that a U.S. court cannot order a Brit to appear at a deposition. So we had to use a special international process (a Letters Rogatory) pursuant to which the federal court in Miami issued a letter requesting assistance from the British court in London. The British Court then ordered Mr. Steele to appear at the deposition in London. "
He added, "I cannot however give you any details regarding Mr. Steele's testimony because his entire testimony was designated as confidential by his legal team. I can confirm that the deposition took place today as scheduled, that Mr. Steele appeared, was professional and congenial, and that we are satisfied with the results of the deposition. "
One of Steele's U.S.- based attorneys, Christina Eikhoff, declined to comment to Fox News.
Fox News' Catherine Herridge contributed to this report.