Chicago's Emanuel reaps benefits of opposing Trump -- as city problems fester
NEWYou can now listen to Fox News articles!
Chicago Mayor Rahm Emanuel had a good year at the expense of city residents – and for that he might want to thank President Donald Trump.
Despite presiding over a city with rampant money and crime problems, Democrat Emanuel has bolstered his approval ratings and become the rising star of the left by placing himself front and center in the anti-Trump "resistance movement."
Emanuel declared the Windy City a "Trump-free zone," prevailed in a legal battle against the White House over threats to cut funding from sanctuary cities, and came out in strong support of combatting climate change – an apparent dig at Trump for pulling out of the Paris Agreement.
Most importantly for Emanuel, his profile has risen – with political pundits floating his name as a possible Democratic 2020 presidential candidate, even as he openly says he is not interested.
Anti-Trump stance pays off
The hardline stance against Trump appears to be paying off. According to polls taken during the first half of last year, only a quarter of Chicago residents approved of Emanuel's job performance.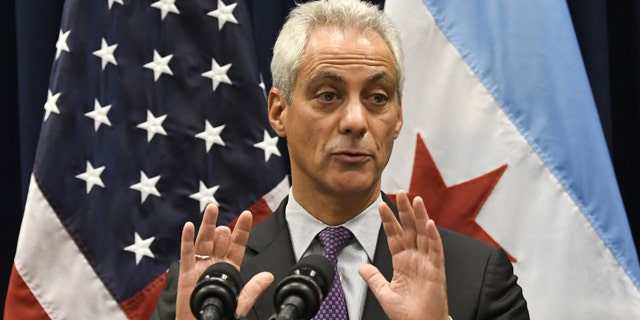 Fast forward to today: His approval rating is hovering above 50 percent – a crucial improvement as the nears next year's Democratic primary for the Chicago mayoral race in 2019.
But local residents, activists and critics of the mayor note that despite Emanuel's newfound image as a liberal hero, he continues his lousy leadership and exacerbates the city's problems.
All while appearing as a defender of undocumented immigrants and working-class, the mayor pushes policies that hurt the very same people. His administration continues to channel funds to wealthy developers that were meant for devastated neighborhoods, while slashing public services and jobs, the Chicago Reader reported.
On immigrants, Emanuel's public statements about Chicago being a sanctuary city do not resemble the reality, say immigration rights activists. According to the Reader, the city's much-praised laws aimed at helping undocumented immigrants actually allow police to cooperate with immigration officials if a person is facing charges or considered to be a gang member.
Crime still rampant
Chicago's crime problem remains rampant under Emanuel as well. The city was among the key drivers of violence across the country in 2016. While violent crime increased across the board, Chicago saw a 60 percent jump in killings compared to 2015.
Even when it comes to the Trump administration, Emanuel's declarations of a "Trump-free zone" quickly vanish when it becomes politically convenient. Following the police shooting of Laquan McDonald in 2014, the Obama Justice Department indicted the Chicago Police Department in January 2016, accusing the police officers being poorly trained, undisciplined, and inadequately supervised.
Emanuel then signed an agreement to negotiate a consent agreement that would lead to the appointment of a federal monitor focused on implementing the police reforms as recommended by the DOJ, the Chicago Sun-Times reported.
But after U.S. Attorney General Jeff Sessions indicated he opposes such agreements, Emanuel covertly worked with the DOJ to come up with another agreement that avoids federal oversight on police reforms.
In an ordinary election, such shortcomings by the two-term mayor would prove to be devastating and career-ending. Yet, Emanuel will try to win a third term in 2019 all while facing no other obvious challenger.
Is being just stanchly against the president enough to win the voters of Chicago?
The Associated Press contributed to this report.