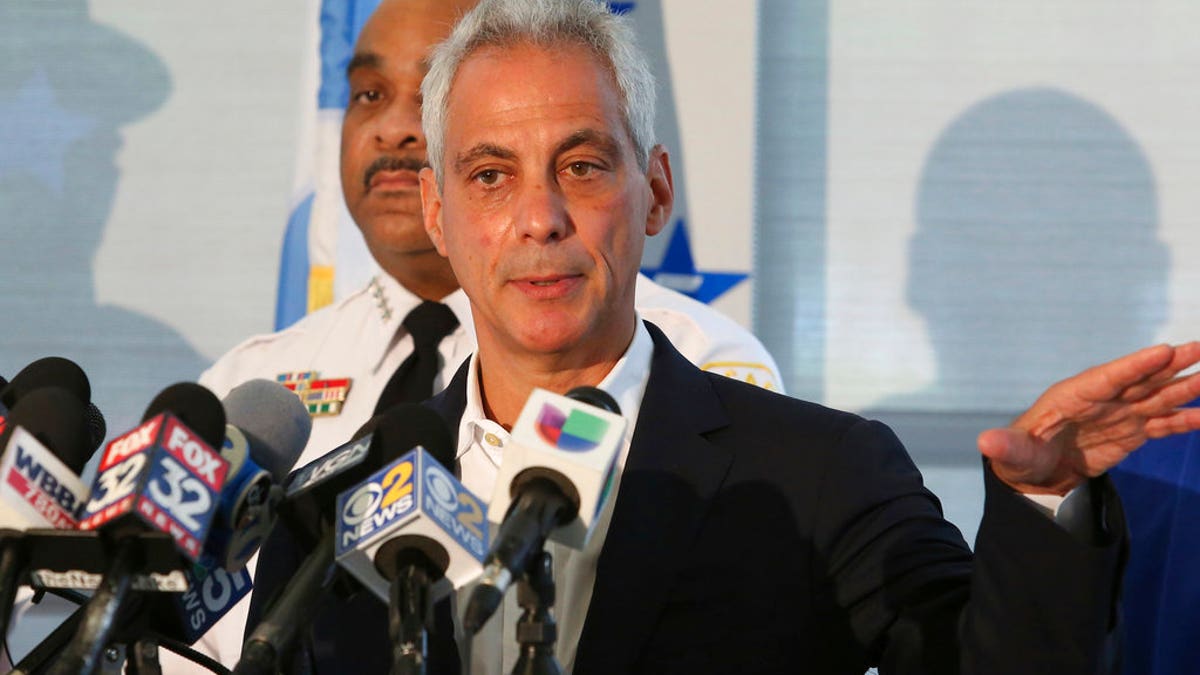 Chicago Mayor Rahm Emanuel announced Tuesday that he is not seeking re-election for a third term amid withering criticism over his administration's policies and a soaring violent crime rate in the Windy City.
"As much as I love this job and will always love this city and its residents, I've decided not to seek re-election," Emanuel said at a press conference on Tuesday. "This has been the job of a lifetime, but it is not a job for a lifetime."
Emanuel added: "For the last seven and a half years I've given my all every day and left everything on the field. This commitment has required significant sacrifice all around. … We have more to do and from now until then, we will do everything in our power to get it done and walk out the door hopefully leaving Chicago and Chicagoans in a better place."
Emanuel was a Democratic congressman and chief of staff to President Barack Obama before becoming mayor in 2011. He followed Richard M. Daley, who was mayor for more than 20 years.
Calling Emanuel "a tireless and brilliant public servant" and a friend, Obama released a statement on Tuesday praising Emanuel's work as Chicago's mayor.
"With record job growth and record employment over his terms in office, Chicago is better and stronger for his leadership, and I was a better President for his wise counsel at a particularly perilous time for our country," Obama said.
But while he came into office with high hopes, Chicago's high murder rate and an increase in violent crime soured many residents to his administration. Emanuel tried to fend off the attacks while calming an alarmed electorate, but the violence only fueled the calls for political change in the February 2019 election.
"What happened over the weekend is absolutely horrific and unacceptable. It's another tragic weekend in Chicago, and unfortunately, we've had too many of them," former Chicago Public Schools CEO and mayoral candidate Paul Vallas said after a bloody weekend that left a dozen people dead and another 62 wounded, according to the Chicago Tribune. "There is no substitution for providing the police resources we need to close this gap."
Besides taking heat from his rivals in the mayoral race, Emanuel was also besieged on the national level with Trump's lawyer, Rudy Giuliani, blaming Emanuel and decades of "one-party Democratic rule" for the violence in a series of tweets.
The former New York mayor also tweeted his support for mayoral candidate and former police Superintendent Garry McCarthy, a Democrat, referring to him as "Jerry" and calling him a "policing genius."
In mid-August, Emanuel drew widespread criticism for blaming a lack of morals in predominantly black and Hispanic neighborhoods for the uptick of violent crime.
Emanuel, who has been mayor since 2011, urged locals to "be a neighbor" and "speak up" to help law enforcement pursue killers, gang members and drug dealers.
"This may not be politically correct," he said, "but I know the power of what faith and family can do. … Our kids need that structure. … I am asking … that we also don't shy away from a full discussion about the importance of family and faith helping to develop and nurture character, self-respect, a value system and a moral compass that allows kids to know good from bad and right from wrong."
Critics quickly called him out for what they dubbed tone-deaf comments, in which he seemed to be blaming the victims.
Kwame Raoul, a Democratic state senator who is running for Illinois attorney general, took a similar view. "I think for the mayor to make a generalization about a community is more than just misspoken," Raoul said, "it's outright wrong,"
While Chicago has endured relentless criticism from President Trump – he has asked, more than once, "What the hell is going on in Chicago?" – the Windy City actually ended last year with 650 homicides – down from 771 the year before. The total, though, still exceeds the combined number of killings in New York and Los Angeles.
Fox News' Barnini Chakraborty contributed to this report.