Cheney formally launches bid for Wyoming US House seat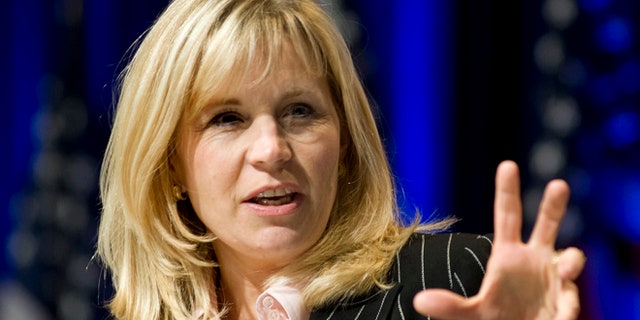 GILLETTE, Wyo. – Liz Cheney formally kicked off her campaign for Wyoming's lone U.S. House seat Monday with a newspaper interview in a region hard-hit by a downturn in coal mining, saying her top goal is to reverse Obama administration energy policies.
"There is no question Wyoming has been harder hit than any other state over the past eight years," Cheney told the Gillette News Record (bit.ly/203hnMz). "It's very clear to me this administration, this EPA, is only interested in falsely seeing the damage coal does."
She visited a senior center later and planned stops in Sheridan on Tuesday, Casper on Wednesday and Cheyenne on Thursday.
Gillette is a city of 32,000 near open-pit mines that supply almost 40 percent of the nation's coal.
Coal has been hard-hit by impending climate-change regulations and especially by low natural gas prices in recent years. More utilities are turning to natural gas to generate electricity.
Cheney, 49, is the elder daughter of former Vice President Dick Cheney. She has lived in Jackson since 2012 and in 2013 ran against U.S. Sen. Mike Enzi, a fellow Republican. Citing family health issues, she quit that race seven months before the 2014 primary.
This time, Cheney seeks to replace Republican Rep. Cynthia Lummis, who announced in November she plans to retire at the end of her current term.
Obama administration actions, including regulation of carbon dioxide emissions from coal-fired power plants and a moratorium on new federal coal leases, are examples of the federal government overstepping its boundaries, Cheney said.
"People are angry and frustrated, and I'm angry and frustrated," she said. "It's not enough to just elect a representative. We need someone with a strong voice and leader on the issues."
Eight other Republicans have announced they are running for the seat but Cheney said she's not concerned about the crowded field. Cheney spoke to the Casper Star-Tribune on Sunday, a day after The Associated Press broke news she had filed to run.
Cheney's family has ties to Wyoming that go back generations but Cheney herself was born in Madison, Wisconsin. As she did in 2013, she is facing criticism that she is an opportunist.
"Liz Cheney is only interested in being a Wyomingite when it is politically expedient to her ambitions," says Wyoming Democratic Party Executive Director Aimee Van Cleave said in a release. "If she is so interested to return to the East Coast, she could just as easily return to her home in Virginia."