Chance to sanction Kim Jong-un lures Rubio, Cruz back to Hill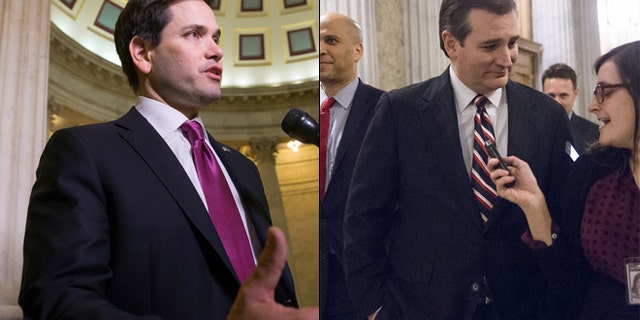 Someone may soon have to admire the skills of North Korean leader Kim Jong-un as a travel agent.
If Kim gets credit for bringing Dennis Rodman to Pyongyang, then surely the Supreme Leader bears some responsibility for getting Sens. Ted Cruz, R-Texas, and Marco Rubio, R-Fla., to abandon the presidential campaign trail and parachute into Washington on Wednesday.
Cruz and Rubio haven't been on Capitol Hill much lately. The two GOP presidential contenders have barnstormed Iowa, New Hampshire and South Carolina for months. They've skipped big Senate votes and hearings in favor of pig roasts, church socials and cups of java served on Formica countertops in Manchester diners.
Cruz and Rubio have been on the road so much, they make the Harlem Globetrotters look like shut-ins. Gideon Bibles don't spend as much time in hotel rooms as these guys.
Senate Minority Leader Harry Reid, D-Nev., found Rubio's attendance so lacking of late that he suggested the Florida Republican resign his Senate seat.
But there were Cruz and Rubio on the Senate floor late Wednesday afternoon, fresh from the New Hampshire primary and after canceling scheduled events in South Carolina. The magnetic tractor beam of Kim Jong-un towed the presidential aspirants to Washington to vote on a North Korea sanctions bill. The Senate ultimately adopted the package, 96-0. But the vote would have staggered across the finish line at a mere 94-0 were it not for the ayes of Cruz and Rubio.
"The national security threat is serious," said Cruz when asked why he diverted from campaigning to make the Senate vote.
Rubio aide Alex Burgos waved off reporters when his boss materialized through the Senate carriage entrance a little before 6 p.m. ET Wednesday.
"He's not taking any questions," hollered Burgos as Rubio entered in a suit and maroon tie, wearing no outer coat. But as the senator hiked up an ornate staircase near the Senate floor, Rubio told reporters that he wanted to vote because "it's an important issue."
The North Korea legislation may be critical. But one factor played into the decision of both senators to wing their way into Washington for the roll call: fear that their opponent may go to vote while they campaigned in South Carolina. Such a scenario could enable the senator who did vote to portray their opponent as weak on national security and nonchalant when it came to voting on major issues in Washington. And if you're running for president of the United States and the nation is on edge about terrorism and its global standing, you run back to Washington to cast a vote to penalize North Korea.
Moreover, Rubio tacked on some human rights provisions to the measure which allowed him to co-sponsor the pact. But it was Cruz who first publicly declared he would return to Washington Tuesday for the Wednesday vote – a tally Senate Majority Leader Mitch McConnell, R-Ky., set up a week ago.
Four senators missed the vote: Senate Minority Whip Dick Durbin, D-Ill.; Sens. Lindsey Graham, R-S.C.; Dan Sullivan, R-Alaska; and Bernie Sanders, I-Vt.
Of course, which of these things is not like the others?
Sanders defended his truancy. The senator indicated he was "necessarily absent" for the roll call. Hours after his Tuesday victory in New Hampshire, Sanders flew to New York to appear on the "Late Show" hosted by Stephen Colbert. However, Sanders says he would have backed the measure had he been in the chamber to vote. Naturally, a spokesman for Hillary Clinton upbraided Sanders for skipping out. Clinton flack Jesse Ferguson said that Sanders "has shown a lack of interest in vital national security issues."
Clinton's team may have taken Sanders to task. But unlike the dynamic on the GOP side of the aisle, the former New York Senator and secretary of state didn't have a vote to miss. So Sanders' absence was a lot easier than the decision facing Cruz or Rubio.
Of course, one could argue that Rubio had the most to lose whether he returned to the Capitol to vote or not. Rubio made a good showing last week in Iowa but stumbled in New Hampshire. Badly. One may argue that it was important for Florida's junior senator to come to Washington to establish his foreign policy bona fides – or make the case that he needed to be on the ground in South Carolina, shaking hands.
Cruz showed up later once the Senate began voting, maneuvering the underground tunnels which link the office buildings with the Capitol itself. A throng of reporters descended on Cruz, asking him about the decisions by Carly Fiorina and New Jersey Gov. Chris Christie to suspend their campaigns.
"I am grateful that they ran," said Cruz. "They energized a great many people."
When Rubio hustled in a few moments later, he didn't have much to offer a smaller coterie of scribes about the Fiorina/Christie withdrawals. Rubio said he had just gotten "off a plane." But later, Rubio headed over to the Russell Senate Office Building for an interview on Fox News. The senator addressed criticism that he relies too heavily on talking points and isn't spontaneous.
Rubio then left for his office, posing first for an impromptu chat and picture with students from Ohio's Miami University.
Capitol Attitude is a weekly column written by members of the Fox News Capitol Hill team. Their articles take you inside the halls of Congress, and cover the spectrum of policy issues being introduced, debated and voted on there.