California Gov. Brown on Trump: 'Something's got to happen to this guy...he's going to undermine America'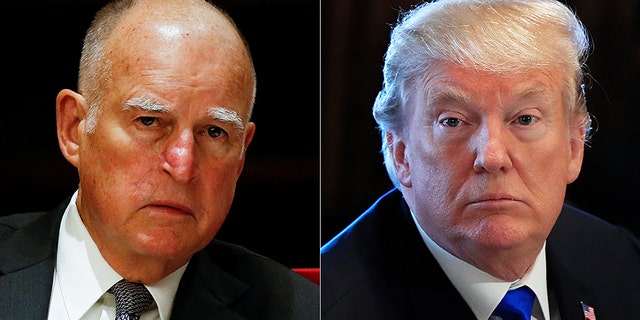 California Gov. Jerry Brown ramped up his criticism of President Trump in an interview that aired Monday – calling the president a "saboteur" in the fight to combat climate change and saying that "something's got to happen to this guy."
Speaking to MSNBC's Andrea Mitchell at an environmental summit in San Francisco last week, Brown tore into Trump for the president's controversial tweets about the death toll in Puerto Rico from last year's Hurricane Maria and urged voters to vote for Democrats in November's midterm elections in an effort to thwart Trump's agenda.
"We never had a president who was engaged in this kind of behavior," Brown said. "I mean he's not telling the truth; he keeps changing his mind; he's sabotaging the world order in many respects."
Brown added: "It's unprecedented, it's dangerous, and hopefully this election is going to send a strong message to the country; the Democrats will win…something's got to happen to this guy, because if we don't get rid of him, he's going to undermine America and even the world."
Under Brown, California has become one of the main opponents to the Trump administration's policies on everything from land use to immigration. But there is perhaps no area where California has been more combative against the White House agenda than the environment.
"California has positioned itself as the center of the Trump resistance," Jessica Levinson, a clinical law professor at Loyola Law School in Los Angeles, told Fox News. "It's bloody combat."
Earlier this month, Brown signed two pieces of legislation effectively banning the construction of any new offshore oil and gas pipelines in the state's waters. The new laws are meant to thwart a Trump plan to open nearly 1.7 billion acres of coastal waters to drilling.
Shortly before the climate conference began last week, the governor also put his signature on legislation phasing out electricity in the state produced by fossil fuels by 2045.
"It's really extraordinary that the president can deny science like that," Brown told MSNBC of Trump's questioning the veracity of climate change. "It's bad, and how we counteract it is with a climate summit, with normal people respecting the truth, and communicating that with other normal people, and combating the President of the United States in what are lies, distortions, and quite frankly, bizarre behavior."
Brown's criticism of Trump appears to have fallen on deaf ears at the White House, as the administration announced on Tuesday that it was rolling back an Obama-era rule meant to curb climate-changing pollution and easing restrictions on energy companies that allow huge volumes of natural gas to escape after drilling it from U.S. lands.
The move rescinds much of a 2016 rule adopted under President Barack Obama that forced energy companies to capture methane, a key contributor to climate change. The replacement rule from the Interior Department does not have the same mandates for companies to reduce gas pollution.
It comes a week after the U.S. Environmental Protection Agency proposed weakening a similar rule for emissions from public and private lands.
"We're for clean air and water, but at the same time, we're for reasonable regulations," Deputy Interior Secretary David Bernhardt told reporters.
The Associated Press contributed to this report.