Trump, Jerry Brown make dueling claims on cause of California fires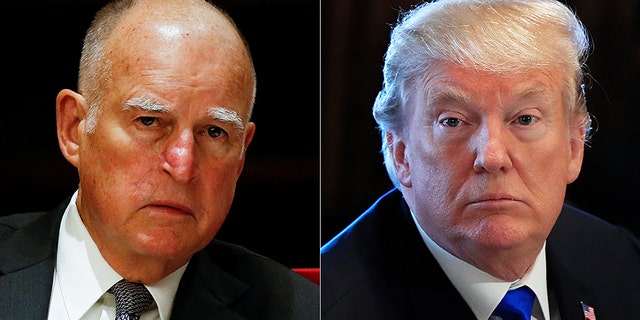 The president is pointing his finger at environmental laws. The governor is blaming climate change.
And both are getting hammered for their remarks.
As twin wildfires have destroyed more than 1,000 homes in Northern California, President Trump and California Democratic Gov. Jerry Brown are both making claims – and provoking criticism – about why the fires continue to spread.
Trump tweeted Sunday claiming the fires are "being magnified" by environmental laws that stop water from being effectively used. He also called for clearing more trees.
"California wildfires are being magnified & made so much worse by the bad environmental laws which aren't allowing massive amount of readily available water to be properly utilized," Trump tweeted. "It is being diverted into the Pacific Ocean. Must also tree clear to stop fire spreading!"
He followed up Monday, "Governor Jerry Brown must allow the Free Flow of the vast amounts of water coming from the North and foolishly being diverted into the Pacific Ocean. Can be used for fires, farming and everything else. Think of California with plenty of Water - Nice! Fast Federal govt. approvals."
A spokesman for the California Department of Forestry and Fire Protection shot back, according to a reporter for BuzzFeed, saying the department has "no idea" what Trump is talking about.
"We have plenty of water for the firefight. The Mendocino complex is next to Clear Lake and the Carr fire has the Whiskeytown Lake and Lake Shasta," the spokesman said.
Trump did not specify what water policies he was referring to, but environmentalists have argued in the past that rainwater could be better harvested. A local fire official reportedly acknowledged various streams run into the Pacific Ocean, but said firefighters have enough water. The same official did say they will need to clear trees, though, "to not add to some of the fuel," according to a local CBS affiliate. The official suggested forest growth is indeed contributing to the problem.
Meanwhile, Brown said during a press conference last week that climate change could be a factor. He spoke of climate change and said the "predictions that I see, the more serious predictions of warming and fires to occur later in the century, 2040 or 2050, they're now occurring in real time."
"You can expect that — unfortunately — to continue intensifying in California and throughout the Southwest," Brown said.
Conservatives, though, have pushed back, blaming policies including those to quickly put out smaller wildfires -- in turn allowing dry brush to build up.
"Brown does a disservice by attributing the huge and destructive fires such as we've seen in the past year to global warming, rather than to a combination of hot weather and mistaken government policies," reads an editorial in Investors Business Daily.
California fire officials said Monday that the two fires about 100 miles north of San Francisco were 30 percent contained and have scorched 428 square miles.
The two fires are burning about 14 miles apart and have destroyed 75 homes. Another 9,000 buildings are threatened.
The two fires cover an area larger than a deadly wildfire burning near Redding, California.
That blaze has killed two firefighters and five civilians and destroyed more than 1,000 homes.
The wildfire started two weeks ago by sparks from the steel wheel of a towed-trailer's flat tire. It is 45 percent contained.
The Associated Press contributed to this report.