Bucking A Trend, Select House GOP Group Eyes Bill Giving Legal Status To Undocumented Immigrants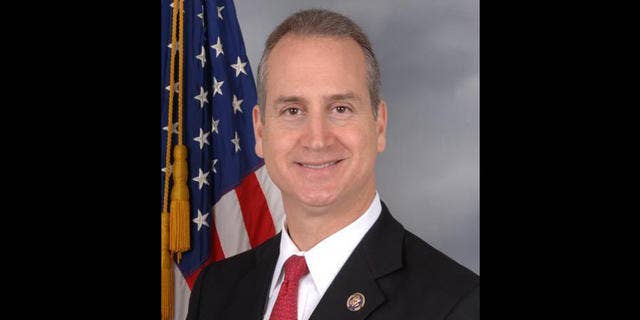 The only remaining Republican in what had begun as a bipartisan House group working on immigration says that he is crafting legislation that would provide a path to legal status for undocumented immigrants, a move likely not to sit well with some of his GOP colleagues.
Rep. Mario Diaz-Balart, of Florida, said he and several other Republicans are working on a measure that offers some of the nation's estimated 11 undocumented immigrants a way to "get right with the law," according to the Wall Street Journal.
The effort is significant, given that House Republicans, particularly a small but influential conservative faction, has vowed not to be part of any measure that gives people who break immigration laws a chance to legalize their status.
The bickering between the conservative lawmakers and others over giving undocumented immigrants any kind of break has been an obstacle in the House to moving forward on comprehensive immigration reform. In June, the Senate passed a bipartisan immigration bill that, at its core, tightened both border security and interior enforcement, and also provided a path to a legal status for people who are not here legally.
Diaz-Balart said he is mindful of the view among many opponents to providing a legal path that they should not get privileges that those who have gone through the legal process to be able to enter and live in the United States do not have.
"One of the things we keep hearing is folks that broke the law — whether they overstayed their visa or crossed the border unlawfully — they cannot have more or additional rights than folks who have been doing everything patiently and legally," he said, according to the Journal.
Diaz-Balart said his measure would tighten border security and call for strict immigration enforcement.
Rep. Darrell Issa, a California Republican, is working on his own bill to give temporary legal status to undocumented immigrants, the Journal said.
Several weeks ago, Rep. Joe Garcia, a Democrat from Florida, sponsored an immigration bill that has gained more than 150 Democrats as co-sponsors, but it would need a significant group of Republicans to sign on.
After Garcia sponsored his bill, proponents of comprehensive immigration reform staged a sit-in at one of Diaz-Balart's Florida offices, demanding that he get behind that bill or produce his own.
Diaz-Balart's Chief of Staff Cesar Gonzalez called it ironic that the activists "forgive the Obama Administration for its record-level deportations while....(attacking) those, such as Rep. Diaz-Balart, that is recognized as one of the few people who has and continues to pour all his energy into getting immigration reform passed."
Gonzalez added at the time that it would be easy for Diaz-Balart to introduce a bill that has no chance of becoming law but wants to work on a solution that "will stop the separation of families, protect the rule of law and help the economy."
Texas Republican Reps. John Carter and Sam Johnson announced several weeks ago that they were abandoning the effort of a House bipartisan group – originally made up of four Republicans and four Democrats -- to work on a comprehensive immigration bill, which President Obama has pushed to see passed in Congress by the end of the year.
The Texas lawmakers' withdrawal from the group follows the decision in June by Rep. Raul Labrador, a Republican from Idaho, to walk away. That left only Diaz-Balart in the group.
The congressmen blamed their decision on Obama, saying they could not trust him to implement the enforcement aspect of any immigration reform.
House Democrats unveiled a bill in early October that includes a path to legal status for undocumented immigrants who meet a strict set of criteria, and that tightens border security.
Minority Leader Nancy Pelosi and more than a dozen Democrats told reporters that they were ready to move on the legislation.
Democrats said they were hopeful that despite the partisan dysfunction, Republicans and Democrats could come together on immigration. The Senate passed a comprehensive bill in June, but the House has not acted on a handful of smaller bills from the Judiciary committee.
The House Democrat bill omits a controversial provision in the Senate measure that called for adding 700 miles of fencing and 20,000 agents on the U.S.-Mexico border, according to The Washington Post.
It adds, however, a provision approved by the House Homeland Security Committee earlier this year that requires the Department of Homeland Security to establish a strategy for arresting 90 percent of people who cross the southern border illegally, the Post said.