British diplomats apologize for tweets marking 1814 burning of White House with BBQ, cake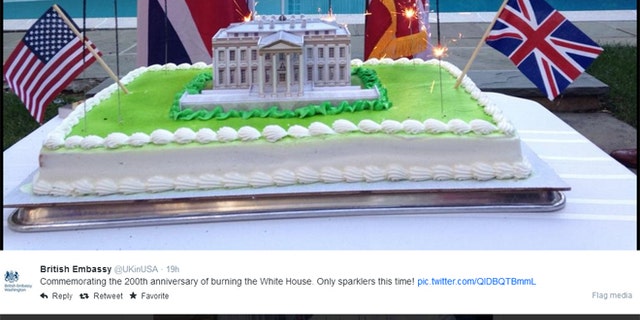 British diplomats in Washington are apologizing for Twitter posts that made light of the 200th anniversary of their troops torching the White House in the War of 1812.
The apologies were prompted after the British Embassy posted a picture Sunday of Patrick Davis, deputy British ambassador to the United States, with a caption saying he was participating in "the anniversary of burning of the White House with a BBQ."
The picture was followed by another, about an hour later, that showed a White House replica atop a sheet cake, flanked by sparklers. The caption said: "Commemorating the 200th anniversary of burning the White House. Only sparklers this time!"
Within hours of the tweets, the embassy received several angry Twitter responses and eventually backed off. "Apologies for earlier Tweet. We meant to mark an event in history & celebrate our strong friendship today," the embassy wrote.
British troops on Aug. 24, 1814, charged into Washington, setting the White House on fire and capturing the U.S. Capitol building.
The attack marked the only time in history that a foreign power captured the U.S. capital.
The British Embassy's social media blunder Sunday was preceded by two Twitter posts earlier in the day that talked about how much U.S.-U.K. relations have improved since the burning of the White House.
"The burning of Washington 200 years ago today. Thankfully UK/US relations are a little better now!" read the first tweet, which was followed by: "Commemorating 200 years of peace between the US & UK."