Billionaire Koch brothers take aim at Nevada Senate hopeful, Catherine Cortez Masto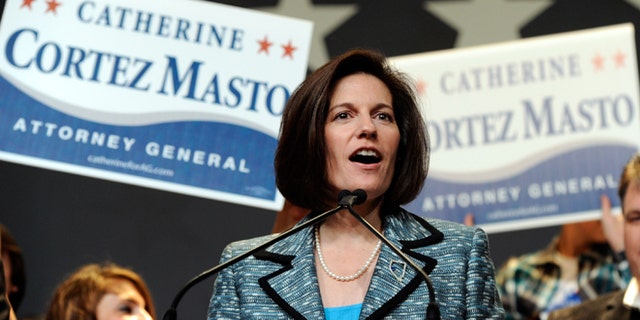 When you're a front-runner to succeed retiring veteran Sen. Harry Reid in a politically strategic state such as Nevada, Republicans wanting to grab the seat will aim at you.
And so it is that Nevada's former Attorney General Catherine Cortez Masto, who is running for Reid's seat and would be the first Latina in the U.S. Senate if she wins, is a target of an ad campaign by the billionaire Koch brothers, reports Roll Call.
It is the latest effort by Charles and David Koch to slam Cortez Masto through their super PAC, Freedom Partners Action Fund.
The new ad, like the past ones, take aim at Cortez Masto for what it says was her overzealous actions when she was attorney general to keep Uber out of Nevada because of some $70,000 she received in campaign contributions from taxi companies between 2005 and 2010.
The ad says Cortez Masto's actions made life difficult for Uber drivers who earned some $19 an hour, while the attorney general "lived large."
"Nineteen dollars an hour – it's not much for Cortez Masto," the ad says. "She lived large on more than $60,000 of trips and gifts from other special interests."
Then it concludes by asking: "In Washington, would she work for us? Or them?"
Uber ceased operating in Nevada under court orders, but then relaunched.
Cortez Masto's campaign responded to the last campaign – in June – saying that her fight against Uber was in the interest of public safety.
The campaign said the attack on her was motivated by the Koch brothers' support of her Republican opponent in the race, Congressman Joe Heck.
"Considering they support Congressman Heck, someone who is part of the dysfunction and gridlock in Washington, we guess it isn't surprising that the Koch Brothers would attack Catherine Cortez Masto for actually doing her job," said Zach Hudson, a spokesman for Cortez Masto, in a statement quoted by the Associated Press.
The campaign also argued that Uber was not kept out of Nevada forever, as it says the Koch ad campaign implies, because it resumed operations after state lawmakers wrote regulations for ride-hailing companies such as Uber.
The campaign in Nevada is one of three Senate-focused ones by the Koch brothers, who also released ads targeting Democrats running in Ohio and Pennsylvania.
The Koch brothers decided not to put money into Donald Trump's presidential effort, and instead are directing it at Senate races.
Like us on Facebook
Follow us on Twitter & Instagram